Mobipocket Windows and Mobile Device eBook Reader - Installation Walk Through and Syncing an eBook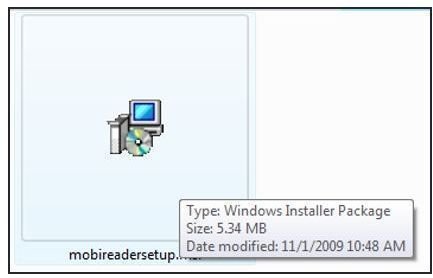 Mobipocket SA is a French company organized in 1999 and incorporated in 2000. Their free reader software will likely be familiar with most users of Palm OS devices, but the company has been diligent about supporting other devices, too. Currently, their software runs on Nokia/Symbian, Blackberry, Palm OS, Psion, Kindle (DRM-free only), Windows Mobile, and Java ME platform devices.
Mobipocket was purchased by Amazon in 2005. Thus their product competes in some ways with the Kindle product from their parents. Many people, however, prefer to read on the device they tend to have with them instead of a bulky dedicated device like a Kindle or Sony Reader. This article looks at Mobipocket in its traditional use- installing it on Windows PC and installing the reader on a smart phone. We will also look at what it means for Mobipocket to be supporting a product that is not well supported on the parent company's more prominent product, and examine what other sources, both commercial and free, there may be for eBooks that will work with Mobipocket.
Mobipocket - Download and Install on Windows PC
All the various versions of the Mobipocket Reader and the mobile reader software are available on Mobipocket's download page. We selected Palm OS for a Palm Treo, and Mobipocket was about a five MB download.
(Here's a tip: after viewing the image, click "Back" in your browser to return to the same place you were in the text.)
The installation is straight-forward. One needs to agree to the license terms and then approve the installation directory.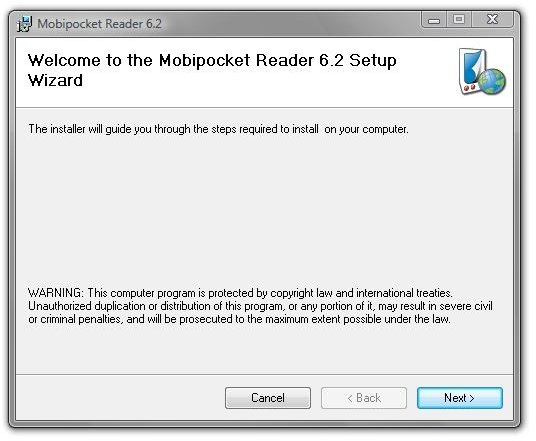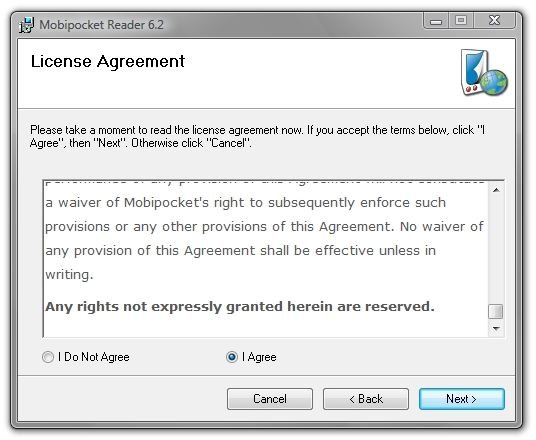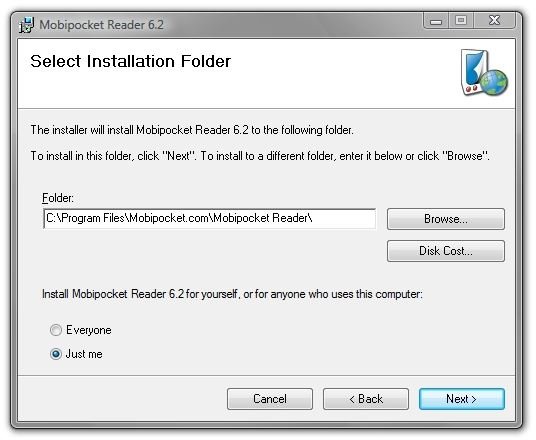 Installation takes about two minutes.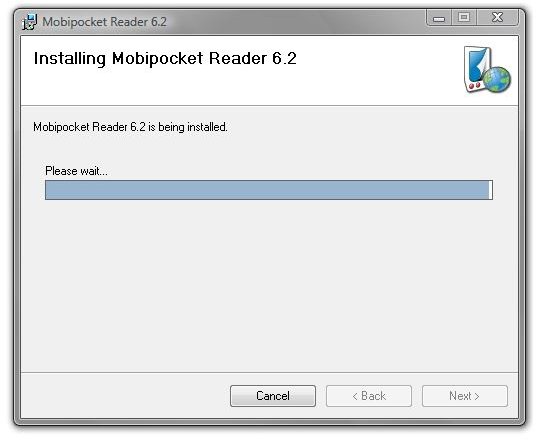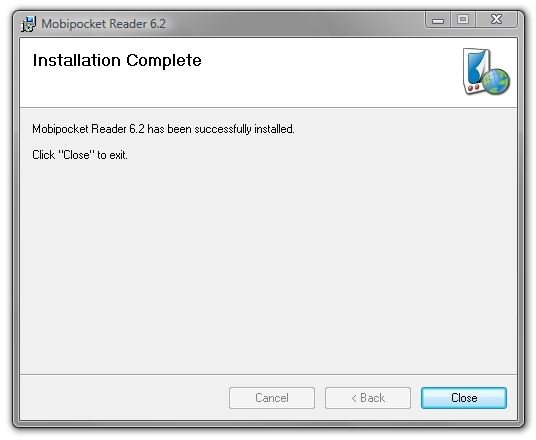 Mobipocket First Run and Finding an eBook
Upon first start, Mobipocket declares "The list is empty" when the eBooks tab is clicked.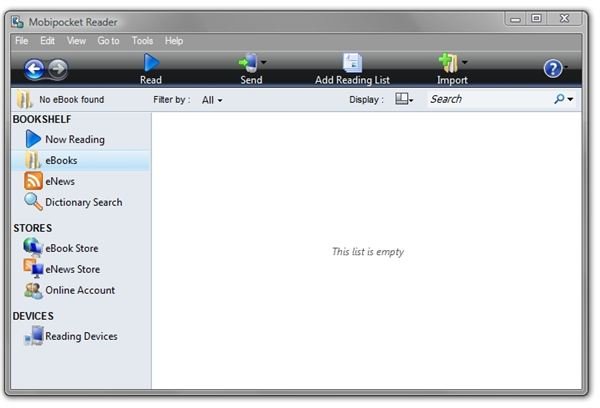 Clicking Help → About shows the program version number, but there is not actually any localized help under Help. The link opens your default web browser and takes you to their support forum.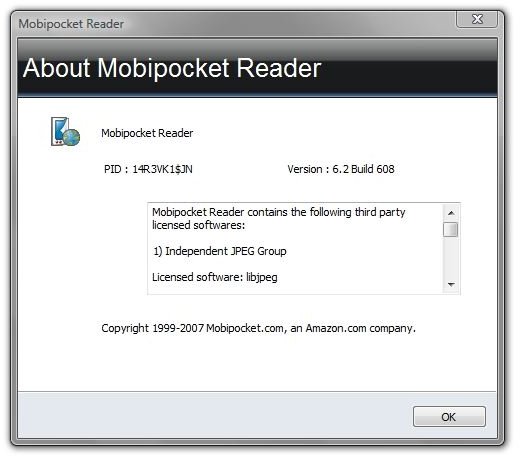 Click the "Store" link at left and the application conveniently offers to take you to the Mobipocket Store to purchase an eBook.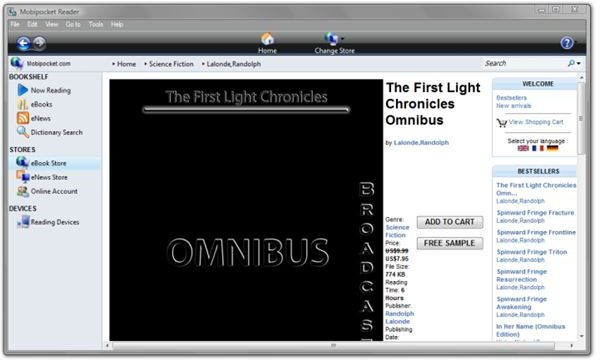 However, we had previously downloaded a free eBook from Project Guttenberg. It was added by selecting File → Open in Mobipocket, navigating to the download directory, and selecting the .mobi file.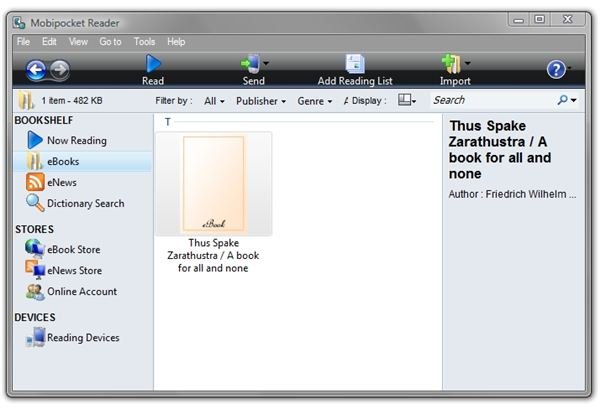 Setting Up the Sync Device
At this point, the eBook could be opened and read in Mobipocket Desktop. However, since we wanted to install both the reader and the eBook to the Treo, a little more set-up was involved. Here's what it looks like on the desktop.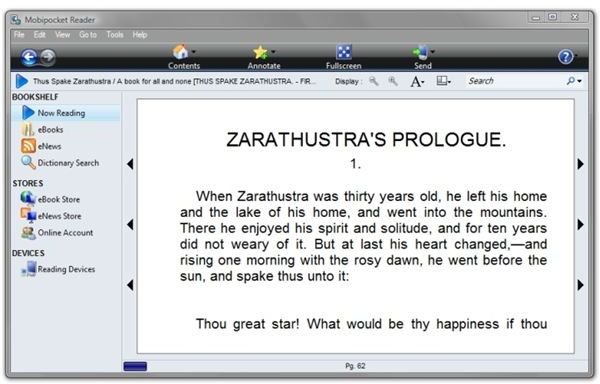 Tools → Install New Device → Palm OS Device led to a list of Palm devices that have synced with the PC at some time. Actually, all these Palms still work and can be synced with this PC. The Treo was selected, and Mobipocket suggested initiating a sync to install the reader.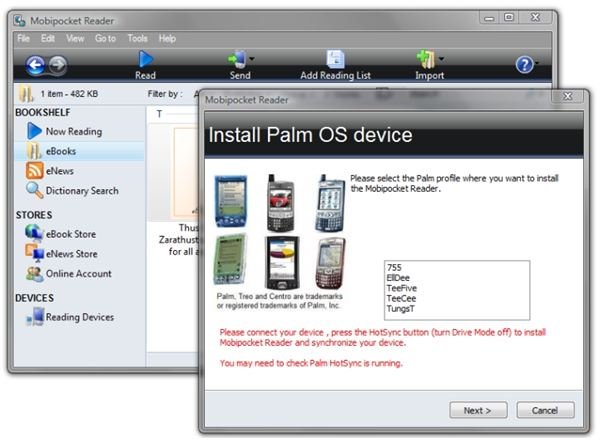 The sync installed the reader software, but then the sync came back with an error. Sync errors are nothing new when dealing with Palm devices, but a second sync went smoothly.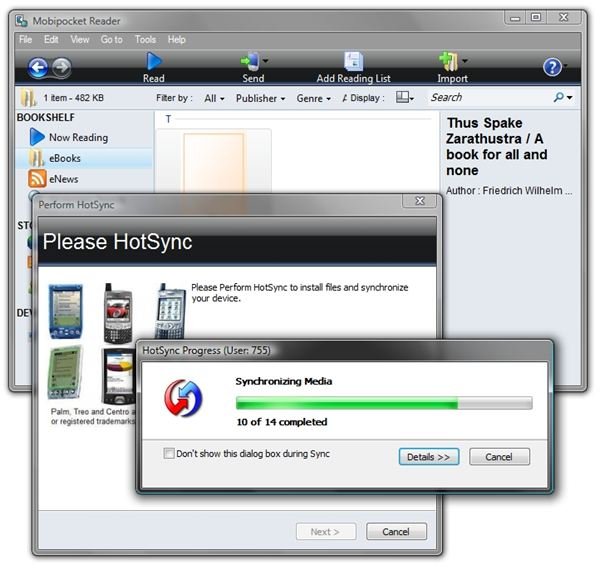 After the HotSync, Mobipocket showed two "registered" devices- the PC and the Treo.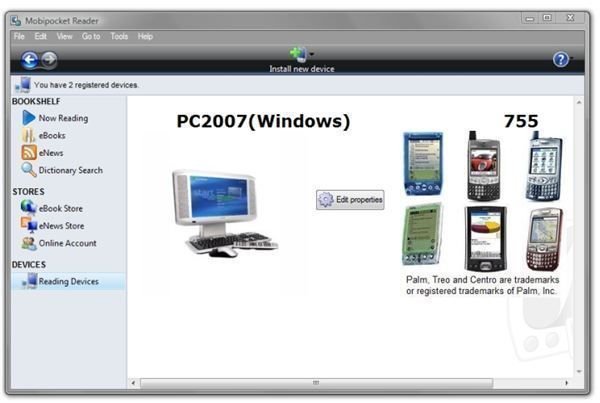 Clicking "Edit Properties" and the "Synchronization" tab on the "Reading Devices" screen shows the conduit settings for HotSync. If you wish to use a custom image and have a Palm OS device, many device outlines in jpeg format are available from PDA Reach. (Note that the images will require resizing to use in Mobipocket Reader.)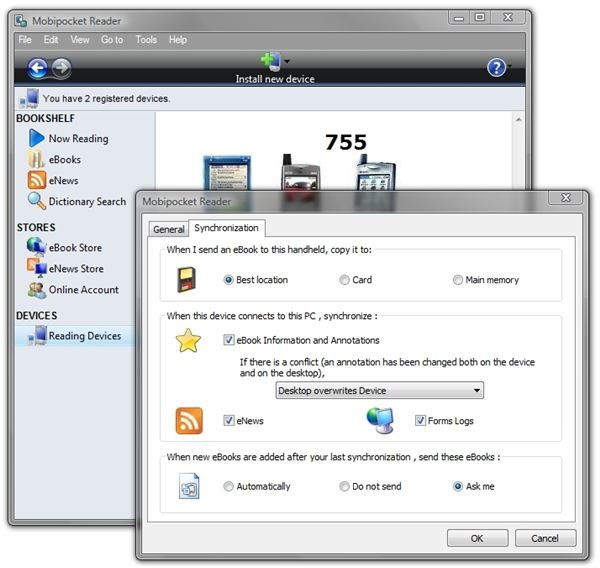 Sending an eBook to the Mobile Device and Opening it for Reading
Right-clicking an eBook in Thumbnails or Details view (but not in Cover List or Bookshelf view) offers "Send" to the receiving device. Another HotSync then sends the eBook to the Palm.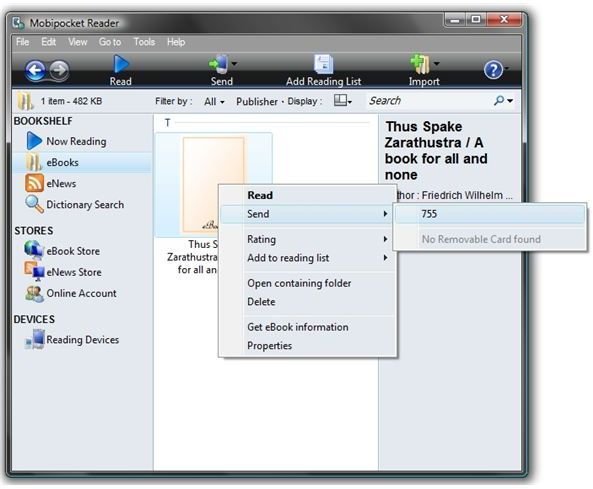 And here's an image of the eBook open on the Treo.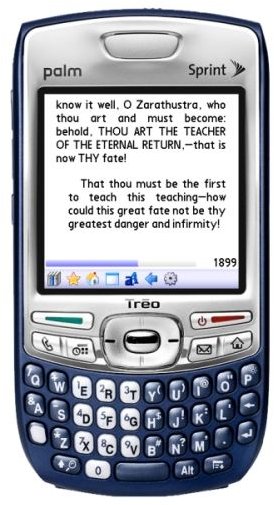 Kindle vs. Mobipocket vs. Everything Else
When Amazon.com acquired Mobipocket in 2005, many wondered if Mobipocket would be folded into Amazon's digital library and cease to exist as a separate entity. That hasn't happened yet, but it remains a possibility. Searching Amazon for "mobipocket" as this was written produced 358 results. eBooks for Mobipocket were priced from about $27 to less than a dime.
"Ayn Rand and the World She Made" by Anne C. Heller was a top-page headliner (in hardback) for $20.47. The same book in eBook form in the Mobipocket Store was $35, and the book in Kindle form (wireless download) was $19.25.
There is no economic advantage to using eBooks. Is it any wonder that the market for eBooks continues to be moribund and has been for over a decade?
According to Wikipedia, "Shovelware is a derogatory computer jargon term that refers to software noted more for the quantity of what is included than for the quality or usefulness." In DRM Watch, Bill Rosenblatt in a 2005 article about Amazon's purchase of Mobipocket wrote: "Both Adobe and Microsoft entered and then effectively abandoned the eBook market, mainly because publishers have been slow to adopt eBooks and to use them for anything beyond 'shovelware' derived from printed books. Makers of special-purpose eBook reader devices such as Gemstar and Franklin have also fared poorly; Gemstar has abandoned the market, while Franklin became a part owner of Mobipocket in order to diversify itself away from its own eBookMan device."
Not exactly an illustrious past…
Could it be possible that the Kindle is having its day in sun and the Sony Reader never will have one? It's possible because netbooks have become, in some cases, as inexpensive as the Kindle, and they are much more capable in all other regards except battery life and e-ink screens. Currently, many enthusiasts are awaiting the advent of an Apple Tablet. These folks are already poised to shovel dirt on Kindle and kin because they think the Apple Tablet will bury eBook readers for once and all… and for good.
And somewhere out there are those skinny, light, keyboardless MID (Mobile Internet Devices) PCs championed by Intel. They haven't worked out exactly as Intel intended, either. All of the current devices in that class sport keyboards and are wide clamshells or convertible tablets!
Even our phones are applying pressure against the Kindle-type devices. The new Verizon Android-based Motorola Droid comes with an over-VGA (854 x 480) screen resolution (widescreen), and guess what? The price of the phone and the plan, to the penny, is identical to the iPhone 3G .
Never too late to the party, Amazon has a Kindle application for the iPhone, too.
Mobipocket for the Rest of Us, but Not Their Store!
But for those who don't have a Kindle or a Sony Reader and who can't afford to lay down $1419.50 per year for an iPhone 3G or a Verizon Droid, there's Mobipocket Reader.
Mobipocket's Store is simply a terrible place to purchase brand new books, but Project Guttenberg supports Mobipocket format and Fictionwise.com carries Mobipocket format eBooks, too. Today, after various discounts and participation (one has to join Fictionwise.com to participate), the Anne C. Heller book was available for $19.34 in secure (DRM-laden) Mobipocket format.
Isn't it odd that the Mobipocket Store wanted $35? Isn't it odd that the Kindle does not support purchased, DRM-protected content from Mobipocket? And isn't it odd that dead tree books, even in hardback, are cost-competitive or even cheaper than eBooks?
Odd, indeed.
And, hey, Mobipocket. Why don't you sync the page number back and forth from the mobile and the desktop? That surely would make reading on both the PC and the mobile device a lot friendlier.