Programmable Robotic Arm Kit Buying Guide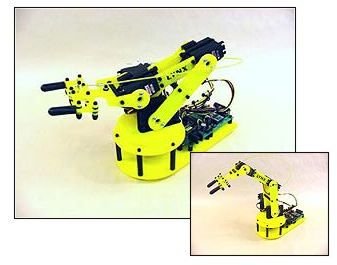 These are the top five choices in the robot arm category. There are both programmable arms and those that use a standard remote as well as buildable kits and fully assembled models.
Lynx 5
The Lynx 5 programmable robotic arm kit is currently so popular that you have to check on several online sites just to find one. For under $300, this kit offers a fully buildable, four-way arm. This is far more than a toy, not to say it isn't fun to play with (because it sure is). It can be used as a science fair project, a teaching tool or simply to pour you a hot cup of Joe. It will pivot at the wrist, elbow, shoulder, and has 360-degree base rotation as well. Other technical specs include 3.75 inches between each axis giving a forward reach of 11 inches. The body is constructed of ultra-strong Lexan and the servos are made from black anodized aluminum so this baby is built to last. It can handle both analog and digital input and is easily programmable through the RIOS interface that is downloadable from the Lynx 5 website.
Arduino 6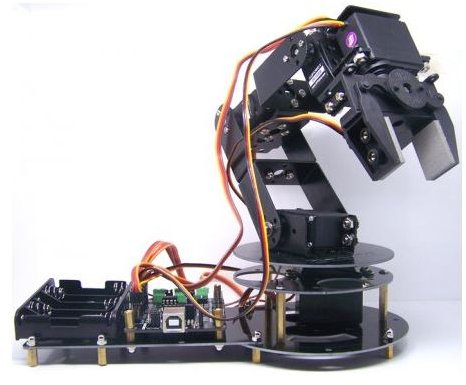 The Arduino 6 DOF Programmable Clamp Robot Arm Kit is a perfect example of reverse engineering as a way to take industrial robots and bring them into the home. This small six- degree of freedom robotic arm features a clamp that is precise enough to use for delicate operations yet hardy enough to use in a continual perpetual motion job. It connects to the programming computer via USB port and all of the necessary firmware and software are available for download from the company website.
It also comes with a Bluetooth manual control for testing various operations and a self-recovery fuse in case there is a need for debugging the system. The Arduino comes in at around the same price point as the Lynx 5 but is not made of the same materials and could be seen as a less sturdy version of the Lynx 5.
Harmonic Arm

AAI Canada offers up the impressive Harmonic Arm as its entry in the at home robotic arm market. Although this is not a kit, the Harmonic Arm is fully customizable with several options for the end of the gripper arm; a Universal gripper with different sensors attachable at the end, a special gripper, designed for specific tasks, with an additional joint or rotating tools turned by using an additional motor. The price point of this unit has not yet been determined although individual quotes can be given to those who know exactly which sensors and arm style is desired.
RA-02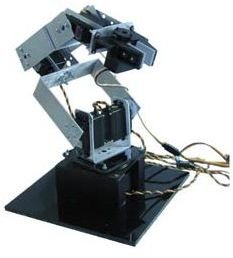 The RA-02 is a standard free motion robot with five or six degrees of freedom depending on the setup of the gripper arm. The arm is designed to grab, lift, lower, wrist rotate and pivot through either automated or manually controlled interface. It was initially produced to teach the basics of robotics but has applications that can be used in both light industrial and home situations. It is possible to program up to 10,000 individual motions with up to 10,000 repetitions all of which are programmable with free to download Windows XP software. This is also not a full kit but does require the servomotors to be assembled so it does have merit as a robotics teaching tool. The price point is in the $450 dollar range and it doesn't offer many advantages over the Lynx 5 or Arduino 6 but it is an excellent choice if neither of these others comes available.
Robotic Arm Edge and Program Kit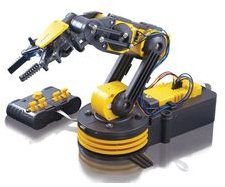 I was ready to dismiss this robotic arm kit on price alone. It simply did not make sense to me that a kit costing under $60 could really be worth anything at all. I was wrong. This kit is not only a full robotic arm kit but it comes with an optional ($40) USB hookup that allows it to be programmed as well. If you are looking for a great gift for someone between eight and 12 years old, this might just be it. While it only has three degrees of freedom (rotatable base, extendable arm and shoulder servo), it is solidly constructed and even comes with built in warning sounds if the servos are installed incorrectly, preventing inadvertent damage from an inexperienced builder.
Choosing the Best Kit
Strictly speaking, there is only one robotic arm that is both programmable and comes in a buildable kit, the Lynx 5. If you have to choose one item from this list, the Lynx 5 is it.
References
 "Arduino 6 DOF Programmable Clamp Robot Arm Kit [Ready to Use] [bzb8780201] - $260.99." Bizoner.com, Online Shop,Arduino Boards,Shield,Tools,Sensors,Robot,Cables,Hobby,Sell. Web. 26 Aug. 2011. http://www.bizoner.com/arduino-6-dof-programmable-clamp-robot-arm-kit-ready-to-use-p-238.html
"TheRobotLab.com: Lynx 5 Programmable Robotic Arm Kit." The Robot Lab. Build a Robot Using a Kit. Robot Toys. Web. 26 Aug. 2011. http://www.therobotlab.com/robotic-arms/lynx-5-programmable-robotic-arm-kit.html
"Robotic Products and Parts." Images Scientific Instruments - Science Projects, Electronic Kits, Robotic Kits and Accessories, Microcontroller Compilers and Programmers, Parts. Web. 26 Aug. 2011. http://www.imagesco.com/kits/robotic-arm.html
"AAI Canada, Inc. - Intelligent Robots - Harmonic Arm." AAI Canada, Inc. - Intelligent Robots - E-puck. Web. 26 Aug. 2011. http://www.aai.ca/robots/h_arm.html
All images used under the terms of "fair Use" from the referenced websites.
"Robotic Arm Edge - MindWare." Educational Toys For Kids, Learning Toys For Kids & Children - MindWare. Web. 26 Aug. 2011. http://www.mindware.com/p/Robotic-Arm-Edge/45203