Digital Toaster Roundup for the Kitchen With Everything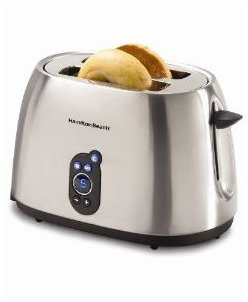 Innovations in the kitchen are less dramatic than entertainment technology, but these advances improve the quality of the products and enhance their aesthetic appeal. The toaster is a simple device, but it has been improved with a digital interface, making it easier to set toast times and achieve an optimum shade. The following list of toasters includes models that have a digital display, as well as features that are unique to digital models.
Digital 2 Slice Toaster by Hamilton Beach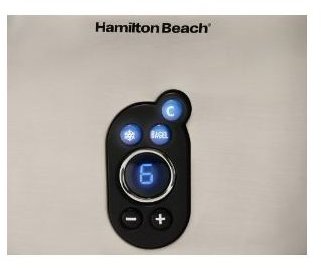 The Digital 2 Slice toaster manufactured by Hamilton Beach includes a digital display that indicates the toast shade. The interface features a plus and minus button that increases or decreases the toast setting number. There is a defrost button and a bagel button for quick toasting. A cancel button is also available. This digital toaster may not function as great as it looks, according to several reviews of this product. The most common complaint is that it does not fully crisp bread in one toast cycle. The Digital 2 Slice is available on Amazon.com for $36.99.
T-Fal 4-Slice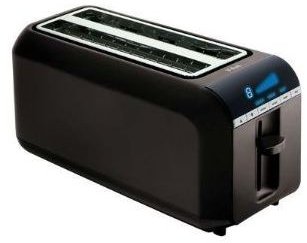 Want a more complete toaster? Check out the T-Fal 4-Slice. It toasts four pieces of bread completely, while its bagel function heats the interior part of the bagel and only slightly warms the exterior. This toaster features an LCD display that includes a countdown of the remaining toast time and you can set the toasting intensity between one and eight. Many reviewers give this toaster positive remarks for its appearance and function; its ability to toast large sized breads is definitely a plus. Another positive is that the digital controls allow for repeatable settings each time you use the toaster. The T-Fal 4-Slice is available at Amazon.com for $34.00.
Krups TT6190 2-Slice Stainless Steel Digital Toaster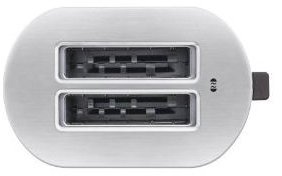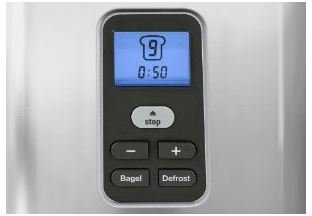 Another highly rated digital toaster is the Krups 2-Slice. It features a stainless steel body and a digital display that counts down the toast time. It has several levels of browning and separate buttons for heating bagels or defrosting. You can stop a toast cycle with the stop button. Many reviews covering this toaster mention the convenience of the breadcrumb tray, while citing the size of the toast slots as something that could be improved upon. The Krups 2-Slice is available at Amazon.com for $57.49.
Toastess TT-513 2-Slice Toaster with Digital Countdown Timer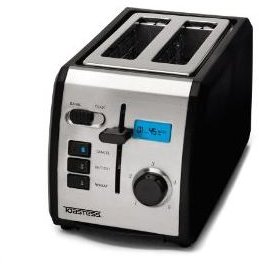 The Toastees 2-Slice toaster received mixed reviews. It features a LCD display that presents a digital countdown of the toast time and the setting. According to one review, the backlit LCD display and LED button lights contrast well with the rest of the toaster. With three one-touch toast buttons, this toaster quickly warms various types of bread. It features an electronic sensor that prevents over-browning, but a handful of reviews reveal that this feature may not work well. Some have complained about burnt toast, even on the lowest setting. There is a control knob for adjusting the toast shade. This toaster automatically shuts off if pieces of toast are jammed in the slot. Another feature of the Toastess 2-Slice that is convenient is the removable crumb tray. The Toastess TT-513 toaster is available at Amazon.com for $29.99.
KitchenAid 2-Slice Toaster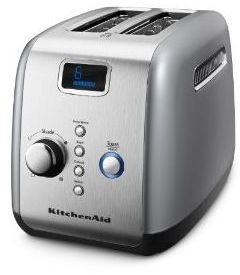 One more toaster to consider is the KitchenAid 2-Slice. It features an LCD screen that displays the toast level and a countdown bar, which lets you view the progress of a toast cycle. A feature that makes this model unique is the touch control. With it, you can lower or raise the slot holder by simply pushing a button. It even works during the middle of a toast cycle. Several reviews of this product have noted that the beep that sounds when the toast is ready is a bit irritating. Another concern among some users is that the sleek metal construction smudges easily and is hard to clean. The KitchenAid 2-Slice is available at Amazon.com for $77.97.
Recommendations
If you are looking to upgrade your current toaster, consider one of the high tech toasters mentioned above. The T-Fal 4-Slice toaster looks good, toasts well and is affordable. Its LCD screen countdown and repeatable settings are great features to complement the large slots. If the digital display and countdown are not enough, try the KitchenAid 2-Slice. Although a bit more expensive, its auto-lower and auto-raise feature distinguishes it from other toaster models.
References
Amazon.com - www.amazon.com
Image Credit - Images courtesy of amazon.com