Top 5 Digital Kitchen Timers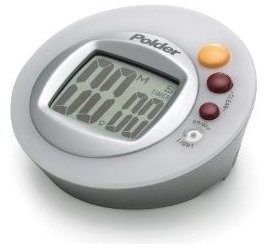 There are many ways to cook a meal. Whether you follow a recipe to the letter, or incorporate some of your own steps, the cook time is generally unchanged. Leaving a pot over a medium flame for too long, or setting something in the oven past its cook time, will result in a scorched meal. So, it's important to keep track of the cook time. The following kitchen timers are designed to count down from a set time. Some have additional features including a clock and mounts. Find out which one is the best value.
Polder Traffic Light Kitchen Timer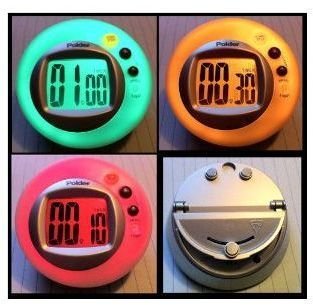 The Polder Traffic Light Kitchen Timer is a circular countertop digital timer with a large display. Set the countdown to start from any increment up to 100 minutes. The timer displays the minutes and seconds of the countdown. When the timer approaches zero, it will start to display different colors. At the one minute mark, it will appear green. At 30 seconds, the display changes to orange. When there is 10 seconds left, the timer turns red. At zero, an alarm sounds. The combination of lights and sound is unique to this digital timer.
Price: $14.11
Taylor Classic Digital Big Digit Kitchen Timer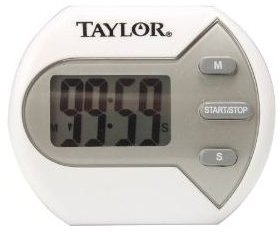 Another kitchen timer with a large display is manufactured by Taylor. This timer displays the minutes and seconds for each countdown you set. After setting the time, you can have the timer count down to zero or count up from zero. Either way, the timer will emit a beeping sound once the set time has expired. It operates on a single AAA battery, which is included in the package. After setting it up, place it flat on a countertop or stick it to a fridge. The back of the timer is magnetized.
Price: $5.03
All Clad Stainless Steel Kitchen Digital Timer and Clock T225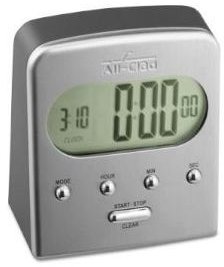 All Clad manufactures a stainless steel kitchen timer that features a clock. Next to the countdown is the time of day. Set the timer on a countertop. Its retro style matches with standard kitchen appliances. You can set the timer up to 99 hours 59 minutes and 59 seconds, which is considerably more than standard digital timers. This timer is ideal for meals that take several hours to prepare, like roasting a turkey. After passing one minute in the countdown, the timer will emit a warning ring, and after it reaches zero, a sustained ring is produced. It is powered by one AAA battery.
Price: $33.99
Amco Stainless Steel Digital Kitchen Timer with Magnetic Clip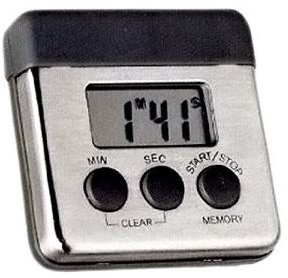 Another kitchen timer made of stainless steel is manufactured by Amco. Unlike the All Clad model, this timer features a magnet. Attach it to a fridge or stovetop and view the digital display as the timer counts down. It also features a spring-loaded clip which can be attached to an apron. Another great feature of this timer is the memory button. Press it and the display will read out pre-programmed times, which saves you time from setting the same countdowns. This timer has a quieter alarm sound than other models, which is probably difficult to hear if you step out of the kitchen.
Price: $14.95
CDN Digital Extra Big Digit Timer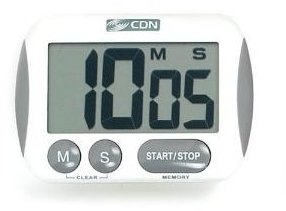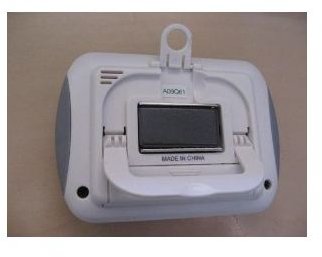 One more kitchen timer to consider is the CDN Extra Big Digit Timer. Its large display conveys the minutes and seconds left in a countdown. An unique feature of this timer is that once the timer reaches zero, not only does it emit a loud alarm, it also starts counting up. This will show you how long after the buzzer went off that the pot was on the stove or the turkey was in the oven. The limit on this timer is 100 minutes, and it features a magnet, stand, and hoop. It is ideal for a countertop, fridge, or wall.
Price: $7.59
Recommendations
The next time you prepare a meal, consider using one of the digital kitchen timers mentioned above. For a big display and multiple features consider the CDN digital timer. Its count-up feature, loud alarm, and various mounting options give it an edge over similarly priced kitchen timers. A close second is the light-up timer from Polder. Although a bit more expensive than the CDN, the changing color countdown display will surely grab your attention when you are preoccupied with other tasks.
References
Image Credit - Images courtesy of amazon.com.