Cool Travel Gadgets: Market Trends for Travelers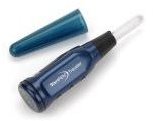 There are a variety of cool new gadgets designed to make your life easier when vacationing or away on business. These are the best of the best personal and laptop accessories to with you in your travels.
Personal Gadgets
When it comes to traveling you shouldn't have to put your health or hygiene at risk. These gadgets will keep you both happy and healthy while away from home.
Steripen
More than just a cool travel gadget, the Streripen has been around since 2001 and is well known in the backpacking and geocaching world. For some reason though, everyday travelers seem to have missed it completely. This gadget purifies water with ultraviolet light (just like major bottled water companies do). The Steripen has undergone extensive testing that has proven it to be 99.9% effective in eliminating bacteria, viruses and protozoa that cause water-borne illness. It has also received the Water Quality Association gold seal of approval.
According to the U.S. Center for Disease Control, "an estimated 10 million people develop Traveler's Diarrhea each year. High-risk destinations include developing countries of Latin America, Asia, Africa and the Middle East." With those numbers it's no wonder a traveler might want to invest in this awesome little gadget.
The Steripen traveler edition (not the mini) fits neatly into commercial water bottles as well as in normal glasses and runs on four AA batteries. A single set of batteries will purify up to 100 liters of water (pair it with the USB rechargables a little later in the list and you can have an unlimited supply of fresh water without the hassle of carrying twenty batteries on a long trip). For a reasonable $49.95 you can be sure to have only crisp, pure water on your next trip abroad.
Chrome Pocket Toothbrush

Sometimes it's nice to have a travel product that is as nice as (if not nicer) that the one you have at home. This is the case with the Chrome pocket toothbrush from OSHO. This little gadget holds toothpaste in its base so there is no need to carry a tube with you (which is great considering all of the restrictions on travel amenities for airplane flights). The water tight cap can double as a rinse cup and the bristles are replaceable so you don't have to purchase a brand new toothbrush when they wear out. This $21 gadget may seem a bit pricey but it scores high in the style category making it perfect for the business traveler.
Bose QuietComfort 15 Noise Cancelling Headphones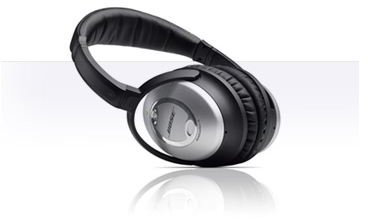 If you like your music and don't like all of the outside noise interfering with your enjoyment the Bose Quiet Comfort 15 noise cancelling headphones are the perfect choice for you. Whether you are on a bus, plane or just sitting out on your deck overlooking the Reine these headphones will eliminate all of the ambient noise in your environment.
These are audiophile quality headphones offer a comfortable around the ear cushion. The Bose audio quality is unparalleled and these hit all of the highs and lows without any tinny treble or cracking base. They run on 3 AAA batteries for about 35 hours so you won't be needing to change them out on long flights. The price point is kind of high at $299.95 but can you really put a price on serenity?
Skeletool CX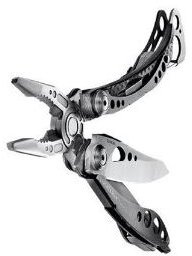 Any avid traveler knows that one of the first things to check when purchasing a gadget is the weight. The 5 oz Leatherman Skeletool CX passes this test with flying colors. This handy tool has everything you might need in a pinch including; a Stainless Steel Clip Point Knife, Needlenose Pliers, Standard Pliers, Wire Cutters, Hard-wire Cutters, a Large Bit Driver (with two double sided bits – Philips #1 and #2 and standard 3/16" and 1/4"), Bottle Opener and a Carabiner Clip. The Skeletool is coated with a scratch and corrosion resistant DLC coating. It can also be opened with a single hand which is invaluable when you are in a travel situation. The $60 price point may seem extreme but for such a useful tool it is more than reasonable.
Laptop Accessories
Travelers that rely on their laptops heavily will find these storage and power accessories must haves for their next trip. The power adapter is one of the best gadgets I've ever come across.
PQI i512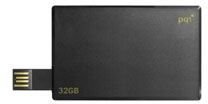 The PQI i512 is a credit card size 32 GB USB storage drive. The ingeneous design of this device allows it to be carried directly in a wallet or purse just as any other card. At only 3.3 mm thick and complete with a retractable USB interface this unique jump drive is one of the easiest to carry and because of where it can be carried will not be easily lost. Although there are smaller drives available they often run the risk of being misplaced or lost in the crevices of hotel furniture. This is not something a traveler should have to deal with.
The PQI i512 is USB 1.1 and 2.0 compatible and runs on both Mac 10.x and above and Win 2000, XP, Vista and Win 7. All of the necessary software for the card interface is available at the PQI website and the drive comes with a lifetime warranty as well.
Sony MicroVault

If you are one of those travelers that think smaller is better and the PQI i512 just isn't quite small enough for you then take a look at the Sony MicroVault series. These flash drives are the size a thumbnail (yep, remember when thumb drives were the thing – now its thumbnails). The tiny size of these devices is their draw and to keep them from getting lost they come with a flexible soft case that can clip to a notebook or shirt pocket. There is a cute warning about these devices being swallowed by children so if you are a traveler with little ones maybe this isn't the drive for you. Apparently the little bright colorful drives look yummy to little eyes.
The MicroVault comes in sizes from 1 to 8 GB and runs on all of the same operating systems as the PQI i512 so compatibility shouldn't be a worry. An entire library could be handled by one of these tiny flash drives so one of these would be perfect to carry around near your e-reader (especially if it has a USB interface).
Universal Power Plug Adapter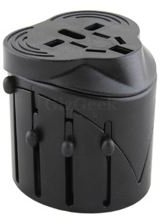 If you are an international traveler, for $13 you are never going to find a more useful gadget than this universal power plug adapter. By maneuvering four separate switches you can align the plug with over 150 countries power systems. The unit then determines the incoming voltage and changes it to 120 V so all of your electronics will work. It weighs in at a paltry 1/5 of a pound and measures slightly over 2 1/3 inches across you won't even notice the bulge in your laptop case. This is the single 'must have' item on the travel gadgets list.
USB Cell Rechargeable Batteries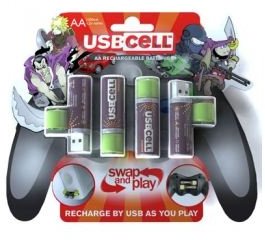 What can you really say about this product, a rechargeable battery with a built in USB charger – genius. When you talk about cool travel gadgets this one takes the cake. These batteries are available in all of the standard sizes from AAA to D (C and D sizes area chieved by placing the AA batteries in an adapter) and charge in under an hour depending on your computers potential. For a traveler this means no need to weigh down your bag with extra batteries for all of your gadgets. Just bring enough of these for the gadgets you have and recharge them as needed. Prices aren't bad either with a 4 pack of AA running about $30.
Comfortable Travel Accessories
Getting there is half the fun, or is it? Travel has become more of vacation hassle than part of the enjoyment. Fret not, there are some neat gadgets to make your plane or car ride far more comfortable.
Skyrest Travel Pillow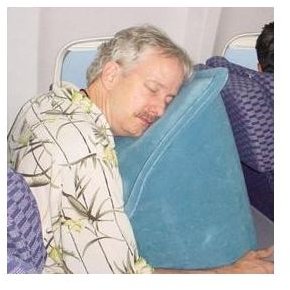 This is an inflatable take on the air travel pillow. It's smaller than a traditional bead pillow and can be inflated without the aid of a pump. It is purported to be the most comfortable travel accessory available and for only $30. There are some drawbacks though, as some reviewers at the skymall site have mentioned. First, if the person in front of you doesn't have their seat in an upright position you might as well forget using this item. The space needed is simply too large for a reclined seat (on a long plane trip how many people leave their seats in the upright position?). Of course, there are other uses for this pillow. It can be used under the legs to offer support there. This seems to be the best use and the reason I have put it on my list. Therefore, the Skyrest travel pillow is a great leg support that can also be used to sleep on if the conditions are right.
All Day Gel Seat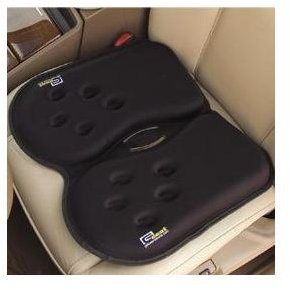 A more practical travel accessory (and one that isn't a pain in the butt) is the all day gel seat by Hammacher Schlemmer. This 16" by 18" seat is filled with a viscous gel that eases the pressure between the buttocks and seat. No longer will you have that terrible need to shift your sitting position every few minutes. Because it was designed for use in cars, it will fit most bucket or bench seats but can also be used on surface you might sit on (airplane seat, desk chair, grassy knoll, etc.). Although the price may seem steep ($100) what exactly is a reasonable cost for comfortable cheeks?
Ultra Fast Dry Towel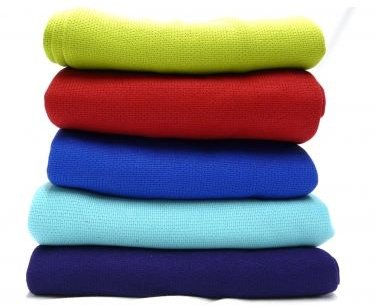 As Douglas Adams succinctly put it in "A Hitchhiker's Guide to the Galaxy" any man who can hitch the length and breadth of the galaxy, rough it, slum it, struggle against terrible odds, win through, and still knows where his towel is, is clearly a man to be reckoned with. So, it makes perfect sense that a towel should be one of the main travel accessories that every traveler should have and this is that towel.
The ultra fast dry towel by Discovery Trekking Outfitters is a wicking towel that pulls moisture off from your skin for faster drying. It distributes water throughout the towel to promote faster evaporation (more surface area = faster evaporation). There is also an antimicrobial factor because recycled Silver in the towel fibers prevents bacteria-growth, which isn't just more sanitary it also prevents that musty towel smell. Its ultra lightweight (the largest size is less than 10 oz.) and it can be used as UV protection as it blocks up to 93% of UV rays. There are 16 colors to choose from in four sizes ranging in price from $12.95 to $29.95.
Do you know of other cool travel gadgets which should be added to our list? If so, be sure to visit our comments section below.
References
BoseQuietComfort 15, https://www.bose.com/controller?url=/shop_online/headphones/noise_cancelling_headphones/quietcomfort_15/index.jsp
USBCell, "Products", https://www.usbcell.com/products
USBGeek.com, https://www.usbgeek.com/travel-outdoors/1949-universal-power-plug-adapter?keyword=universal+power+adapter
PQI, https://www.pqi.com.tw/product2.asp?oid=156&cate1=156&proid=418
Skeletool, https://www.leatherman.com/product/Skeletool_CX
OSHO Chrome Toothbrush, https://www.amazon.com/OHSO-Marko-Pocket-Toothbrush-Chrome/dp/B000F0BXLK
Sony Micro Vault, https://www.sony.net/Products/Media/Microvault/products/usm-h/index.html
SteriPen, https://www.steripen.com/
SkyMall; SkyRest Travel Pillow, https://www.skymall.com/shopping/detail.htm?pid=96981577&c=10980#moreinfo
SkyMall; All Day Gel Seat, https://www.skymall.com/shopping/detail.htm?pid=203745767&c=10980
Discovery Trekking; Ultra Fast Dry Towel, https://www.discoverytrekking.com/ultra-fast-dry-towel
All images courtesy of the afforementioned webpages under the terms of "fair use."