How to Use Sony Reader Software to Manage Your eBooks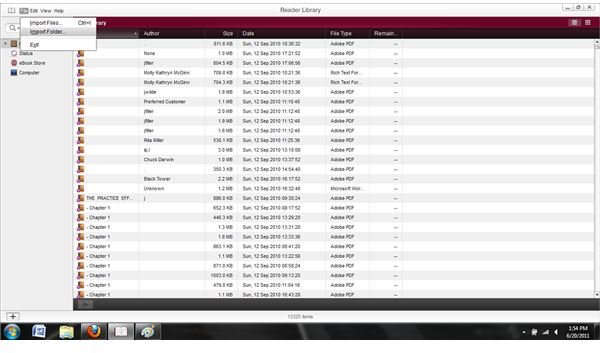 One of the major advantages that the Sony reader line of eBook readers has over its competitors is the Sony Reader Software. This means that rather than having to do most of the work on the eBook reader, which is optimized for reading rather than organization and shopping, you can download a program which is faster and easier to use. Not only does the software make it easier to manage your Sony Reader ebooks on your computer, it can also be used for a number of different devices such as Android phones or multiple Sony Reader devices.
Installing Sony Reader Software
The first thing you will need to do, naturally, is to download the Sony Reader software. It is worth noting that you don't have to have any Sony eReader devices in order to do this, so if you want to buy eBooks to read on a smart phone, tablet or your computer this software is worth downloading as well. It can be found on the Sony Reader homepage and is available for both the PC and Mac. This is not a large program and is very easy to install.
Adding Books to Your Reader Library
Once the program has been downloaded onto your computer the next step is to add any books you have to the Sony Reader library. To add those from your eReader you should only have to sync the two, so attach the device with the USB and start the software. To important other books is a bit more difficult but not overly so. Go to the file tab at the top and choose either import files or import folders depending on whether you have one book or many. You will then need to locate the files on your computer. If you have a number in subfolders then make certain to choose the lowest level folder and the program should go through and search for any books in formats it understands and put them into the library.
Converting Books into The Sony Reader Format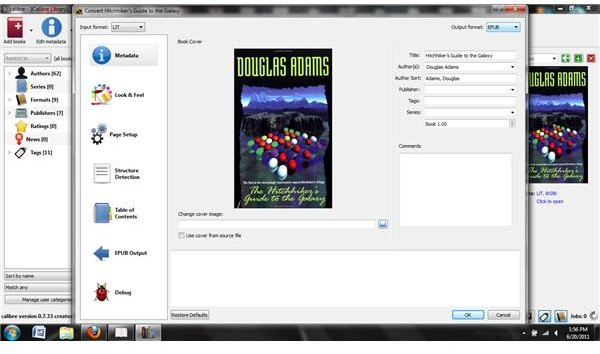 Unfortunately the desire to sell books has lead many of the eBook libraries to create their own file formats. This means that in order to add these books to your eBook library you will need to convert them into a format that the software understands. The closest to universal formats are .txt, or plain text files, and PDFs (Portable Document Format), which are generally hard to read because they are not optimized for the screen size of eReaders.
The best format for ebooks that you want to use Sony Reader software on is going to be ePub this is an open format (though it can still have DRM). In order to convert into this format you will need to download a converter. The most popular of the converters is Calibre, which should allow you to convert any eBook that doesn't have DRM into any format you want. In order to do this you will need to import the books into its eBook library by choosing add books button and finding the files.
Once in the library you will right click on the book you want to convert and choose the convert books option. You can do this individually or bulk convert. Once you have done this another window will open. At the top right hand corner you can choose the format you want the eBooks. For the Sony Reader you'll choose ePub as the format in most cases. You will then important them into the Reader software library.
Moving Sony Reader Books to Other Devices
The final thing that you will want to do is to put the eBooks onto the device that you want to read them on. If you want to read them on the computer then all you need to do is double click on the book in the library. This will allow you to read it on the computer.
If you would rather read it on some other device then the easiest solution will be to download the apps for the Sony reader onto that device. Unfortunately Apple rejected the Reader software for the iPhone, so if you're not using Android things become a bit more complicated. You will need to get an iPhone app, such as Stanza, which can read books. This can read ePub so converting them shouldn't be necessary. Next you need to plug in your phone and open iTunes. Now go to the phone on the left hand menu and to the apps tab. Scroll to the bottom of that screen and you'll see a file sharing option. Here you can choose Stanza and then find the books you want to read on the iPhone, iPad or iPod touch. It also seems likely that Sony and Apple will find a way to put Reader software on the iPhone sooner or later making it even easier.
Buying Books from the Reader Store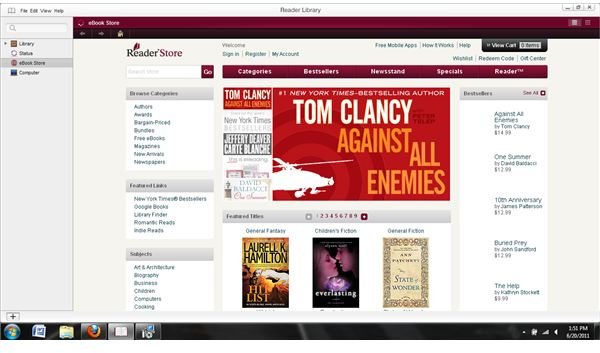 Buying books through the Sony Reader is also very easy. Once you open the program you will notice that on the left hand screen one of the options is to the Sony ebook store. If you want to add books this will be the easiest part of your experience. It is effectively the webpage but without having to open up a browser. In addition books you buy here will automatically be in the Sony Reader library and if nothing else there are a few free books worth looking at including some of the best novels ever written.
The Sony Reader Software gives you a lot of extra options that you won't find on those eBook readers that do not have downloadable software and because the Sony Reader software will let you read books on the computer or other device as well so that you don't have to own any Sony hardware to make this a good way to manage your Sony eBooks on your computer and not a bad way to manage books you get from other sources.
Resources
Source, author's own experience
Images, windows screen capture