Kobo E-Reader Comparison: Kobo vs Sony 350 vs Nook vs Kindle 3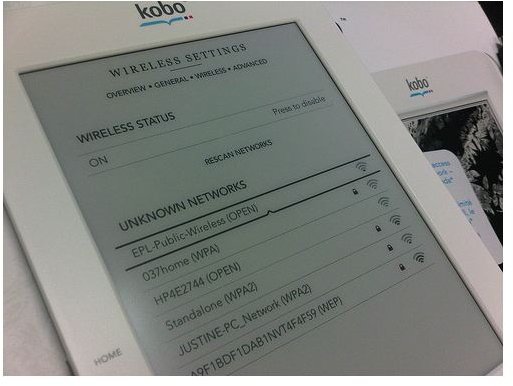 Appearance and Display
One of Kobo's major attractions is its appearance. Kobo Touch basic comes in Lilac, Blue, Silver, and Black options, and the Wireless model is available in combinations of Porcelain-Metallic Silver, Porcelain-Pearlized Lilac, or Onyx. A new quilted soft-touch back stands out as an unique feature, which adds to both appearance and supposedly reading comfort as well. In comparison, Sony 350 comes in three standard colors: Black, Red, Silver, Kindle 3 comes in Black, White, and Graphite, and Nook Touch in Black.
Kobo, Sony, Nook, and Kindle all use the latest six-inch e-ink screen, with 16 grayscale levels. Kobo Touch without wi-fi, however, has only eight grayscale levels, compromising display. Kobo incorporates 2 font styles and 17 font sizes that allow easy reading. In comparison, Kindle 3 comes with three font types. Nook has a fixed standard font and allows only changing size, and Sony Touch has an option of five font sizes.
Size and Ease of Use
Size wise, all the major e-book readers fit in the pocket easily. Kobo's basic Touch measures 6.5" x 4.5" with a 0.4" thickness, and weighs 7 ounces. Kobo Wi-Fi version measures about 6.5" x 4.5" and weighs almost 8 ounces. In comparison, Sony 350 is 6.6" long, 4.7" wide, almost 0.4" thick, and 7.5 ounces in weight. Nook has Kobo's same length, is exceedingly wide and thick at 5" and .5" respectively, but weighs just about the same as Kobo. Kindle 3 is the largest among the lot, measuring 7.5" in length, 4.8" in width, and weighing about 8.5 ounces, but also the thinnest at one-third of an inch.
The Kobo Touch eReader has just one button and a few keys, making navigation simple. Sony has a neat touch screen interface. The Kindle 3 has a new sliding power button, but the presence of a keyboard seems to clutter the available space. Navigation is nevertheless relatively easy in KIndle compared to Kobo, for Kindle's five-way controller stick allows jumping from article to article quickly. Nook has a small touch screen at the bottom, allowing for both more options and still easier navigation.
Memory
Kobo comes with 1 GB storage, capable of storing up to 1,000 books. Expandable storage for both is a 32 GB microSD Memory Card that can store an additional 30,000 e books. In comparison, Sony has a miserly 512 MB internal memory and the same 32 GB memory card. Nook has 2 GB internal memory and 32 GB Memory card. Kindle 3 is far ahead in internal memory with 4 GB, but does not offer any memory card expansion.
Kobo's battery has a suggested life of a month, but Nook and Kindle has better batteries providing up to two months support. Sony's battery is the weakest, offering just two weeks' support.
Features and Functionality
Kobo offers the standard functionality offered by other e-book readers, such as the ability to highlight text and save favorite passages, zoom up to 200 percent with a simple double tap, and more.
Feature-wise, all the e-book readers under review come with an in-built directory. Kobo and Nook offer the Merriam-Webster dictionary, whereas Kindle-3 and Sony offer the New Oxford American dictionary. The Kobo's major drawback is the lack of a screensaver. Keeping the Kobo on for a long amount of time may leave a burn mark in the home screen.
Kobo Wi-Fi and Kindle have robust international wireless coverage. Nook's Wi-Fi pales in comparison, and Sony and Kindle's basic Touch model does not offer Wi-Fi in the first place.
Kobo is a device-neutral platform. Downloading a free Kobo e-Reading app allows accessing e-books downloaded in the Wi-Fi model from the smart phone, tablet or desktop. Kobo's synched bookmark technology allows the reader to pick up from wherever he stopped. Nook and Kindle offer more or less similar facility, but Sony allows only USB support with no automatic bookmark facility.
Support
Kobo scores over competition in supporting the maximum types of file formats. Kobo supports EPUB, PDF, JPEG, GIF, PNG, BMP, TIFF, TXT, HTML, RTF, MOBI, CBZ, and CBR formats. In contrast, Sony supports only EPUB, PDF, BBeB Book, TXT, and RTF, and Nook supports only EPUB, PDF, PDB, JPEG, PNG, and BMP. Kindle 3 supports a different set of AZW, AZW1, TXT, MOBI, PRC, AA, AAX, PDF files and, unlike other e-book readers, does not allow importuning books from other open-standard bookstores. To compensate, Kindle offers file-conversion support that converts some type of files to make it readable on Kindle.
All offer free book preview. All except Kindle offer access to the public library (EPUB extensions) and allow borrowing library books. Nook even allows sharing and lending books to others.The advantage of Kindle and Nook is the support offered by Amazon and Barnes & Nobles respectively. Visiting the local Barnes & Nobles, for instance, allows the Nook to download the latest book news, freeebook and reviews, and much more. Barnes & Nobles also offers the unmatched facility of reading any Barnes & Nobles e-book for an hour a day. Amazon, being the world's largest online bookseller offers more e-Books than anyone else does. Nook and Sony, not brought out by booksellers, do not offer such support.
Cost & Verdict
Kobo Touch is available for $99.99, and the Wi-Fi version costs $129. Both Nook Touch Wi-Fi and Amazon Kindle 3 Wi-Fi costs $139, and Sony $150. Kindle 3 also has a 3G version for $190+.
Kobo e-reader comparison with its peers suggests that it suits the need for the price conscious customer who requires a basic e-book reader and does not have much use for the frills offered by competitors. Kobo started out at $150 and aimed at offering a basic no-frills e-book reader, at about $100 less than Kindle and Nook. Kindle and Nook responded to competition by cutting prices while retaining the enhanced functionalities and features. This means that Kobo, although still costing less than other e-readers, is not as attractive as when it was conceived.
References
Image Credit: flickr.com/Cloned MIlkmen