How Can I Download PDF Files to the Kobo eReader?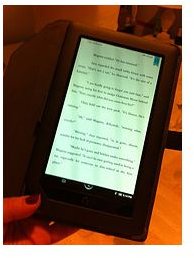 The Kobo wireless eReader can download a multitude of e-books, but you may be asking yourself, "Can I download PDF files to the Kobo?" Although many e-readers don't accept files created through PDF scanning, the Kobo eReader does and it's a pretty simple operation.
E-books are great, but it can get pretty boring just looking at black-on-white print after a while. The Kobo eReader accepts PDF file format so that you can enjoy visuals such as those in graphic novels, comics and Manga. Your Kobo eReader supports all types of documents in PDF format, even those that have Adobe digital rights management (DRM) protection. So, when you want to download something to your Kobo eReader it can be in EPUB or PDF format.
You can transfer the eBooks you want, plus other PDF files to your Kobo wireless eReader using one of several methods. You can use the Kobo Desktop Application that comes with your eReader; Adobe Digital Editions; use an SD card; drag and drop; or library management software such as Calibre. The method that will work the best will depend on if the book you want is protected by DRM. For downloading a PDF file, these instructions will cover the drag-and-drop through a USB cable connection.
How to Download PDF Files to the Kobo Wireless eReader?
When you are ready to download PDF files to Kobo, the procedure is the same whether it is an EPUB or a PDF file. Here is what you need to do when using Windows OS:
Turn on your eReader and connect to your computer with the USB cable. You will be asked if you want to keep reading or manage your library.
With the navigation pad, select MANAGE LIBRARY. Windows should detect that you have input a new device. When asked, select 'Open Folder to View Files" and a window will open that shows what is in your eReader.
Open another Explorer window and go to where you have stored the eBook that you want to move to the reader.
No need to save file as PDF, just drag-and-drop the eBook into the eReader window.
Now to disconnect the eReader, open My Computer.
Right click on Kobo eReader and select the Eject option.
Unplug your eReader from the USB cable and the computer.
You're done!
How to Find Your PDF File
With your Kobo eReader, EPUB format and PDF format files are located in different folders. Your PDF files will be in the DOCUMENTS folder in your library.
Press MENU.
Choose DOCUMENTS. The display will list all of the documents added to your library. The information provided includes:
Each document name.
When it was added to the library.
Whether it is OPEN, FINISHED or UNREAD.
So, there is the answer to your question of "Can I download PDF files to the Kobo," and it was pretty easy after all. Now you can sit back and enjoy your new book wherever you happen to be. Enjoy!
References
Kobo Customer Care, https://kobo.zendesk.com/entries/170584-how-to-transfer-pdf-documents-to-your-kobo-ereader
Kobo Introduces The Kobo Wireless e-Reader, NewsWire, https://www.newswire.ca/en/releases/archive/September2010/29/c6171.html