Great Office Gadgets That Make Office Life Easier and More Interesting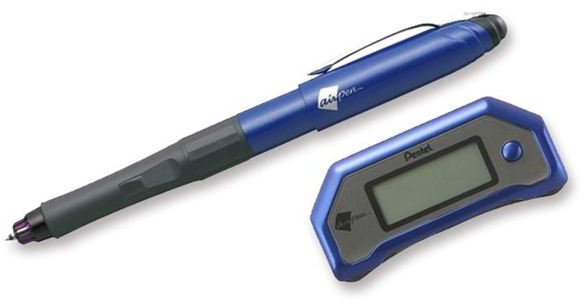 1. Pentel Airpen Pocket Digital Pen
The latest product by Pentel is the Ai
rpen Pocket Digital Pen. It is not just a pen, but a unique digital pen that is capable of transmitting characters and images drawn on a paper directly onto a computer or mobile phone's display using wireless technology. This specially designed digital pen features Bluetooth connectivity option, and 2 MB of built-in memory, which acts as the transit point between the pen and computer/mobile phone. The pen digitizes and transmits the handwriting to computer or Android phone as you write and you can take the softcopy of your handwriting anywhere with you, with convenience.
The battery life of the pen is approximately 90 hours, and is expected to be released by Pentel on the markets by end of May, 2011. This is a great gadget for both office and home users as they can use it to write down notes quickly, and store them as well for future references.
2. The DocuScan
Another item in our list of cool office gadgets is The Do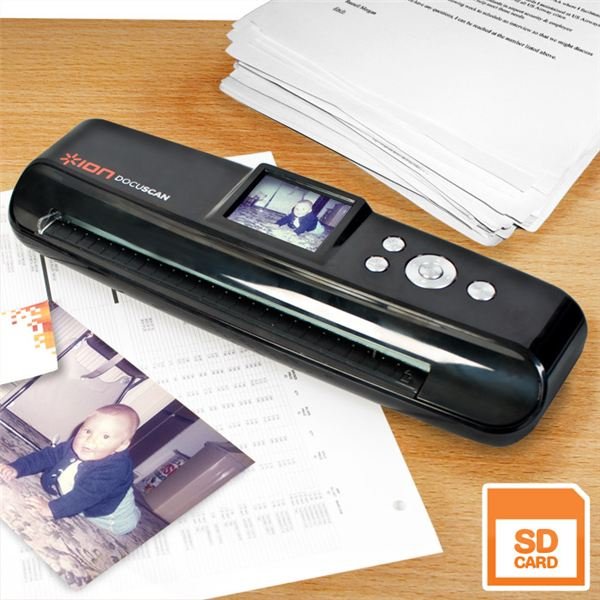 cuScan. It's a portable document scanner that is sleek, compact in design and very easy to use. As an all in one color scanner, this unit scans photos, documents, objects and converts them into a digital form instantly. Once the scan is finished, the digitized form of the image is stored in the scanner's internal memory (or SD Card if inserted) and can be previewed on the built-in 2.4-inch color display of the device.
This lets you scan your important documents and send them - anywhere and anytime - without needing to have a typical bulky scanner available. So whether you are in your office or traveling, this is a one-touch, standalone solution for all your scanning needs. It is available at firebox.com for $124.
3. 't'Light
The 't'light is a charging device that can c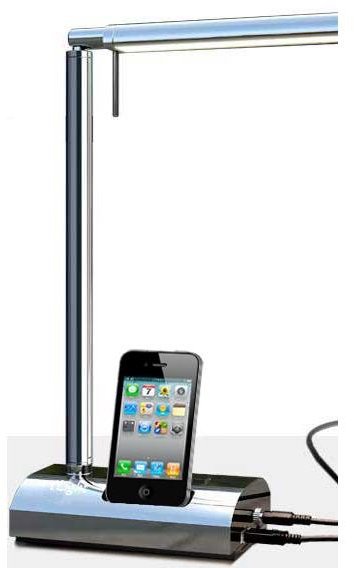 harge various electronics like your notebook, your mobile phone, etc. It is also a desk light, which illuminates your desk and charges your electronic at the same time. It has a three watt LED lamp on the top that has a lifetime of at least 50,000 hours. On the base there is an iPhone dock that holds and charges your iPhone, and on the base's side sits a USB power connector that you can use to power your electronic gadget via a USB cable. The light comes with one USB cable along with multiple jacks for a wide range of mobile phones and MP3 players. This cool gadget is a great piece of electronic to enhance your office desk, and charge up your notebook, phone or other electronic, without using a power outlet. The 't'light is available at tlight.cc for $139.
4. Desktop Doughnut Factory
Sometimes there is a lot of work on the desk that it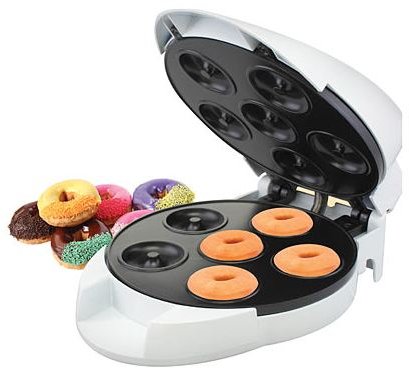 becomes impossible to walk to the kitchen, even for a drink. If such a condition prevails at your workplace, and you wish you could get something to eat right at your desk to quench your hunger, then the Desktop Doughnut Factory is what need. The Desktop Doughnut Factory is compatible with any store-bought doughnut mix and is safe to use in offices. SInce the doughnuts are baked instead of deep-fried, they are also healthier. The handy Desktop Doughnut Factory can be purchased at thinkgeek.com for a meager $19.99.
5. Desktop Teeth Whitening Lamp
There are times when you are sitting at your o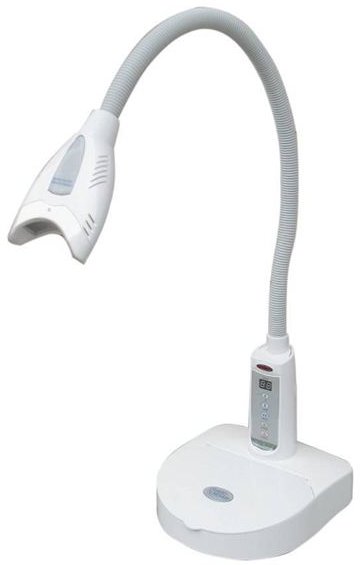 ffice desk and do not have anything to do. At such times this teeth whitening device can not only help you in passing your time, it whitens teeth that have become yellow due to excessive consumption of coffee, tea or food stains. This modern electronic gadget converts electric energy into blue light, which activates the whitening gel and whitens the pigments of the teeth in a very short time. The device is powered through AC power mains and is very easy to use. The Desktop Teeth Whitening Lamp can be purchased at amazon.com for $399.
6. Brainwave Desktop Microwave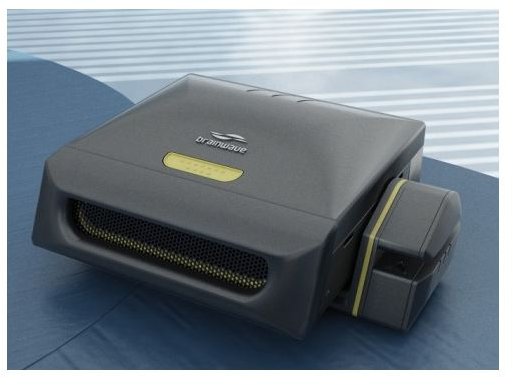 This is a lightweight, compact-sized microwave oven designed to be used on small desks. It is powered by connecting the power lead to the mains, and you can even hook it to your computer's USB port via USB cable. The Brainwave Desktop microwave is surely one of the best office gadgets to be used by busy professionals, bookworms or workaholics to heat up their snack foods right on their desk. The concept was developed by the famous designer Stephen Richard Gates, and while it is not curently available, it expected to hit the markets soon.
7. Thirsty Light Signals for More Water
In offices, workers don't have much time to care f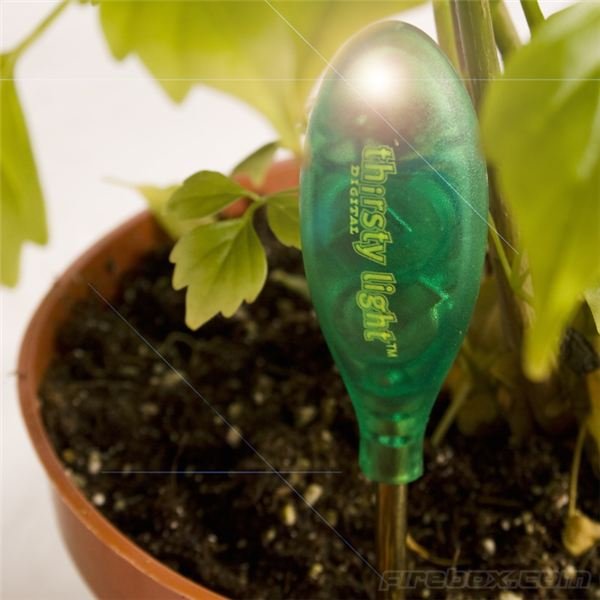 or the plants growing on or beside their office desks. The lack of time for plants can result in plants dying or failing to thrive. Now, however, there is no need to worry! The Thirsty Light Signals For More Water will alert them when the conditions will be too dry. The LED on the device starts blinking when there's an immediate need for water and it will stops blinking as soon as you will water the plant. The device is available at firebox.com for $10.99 and includes free delivery to your doorstep.
8. Pictionaire
Pictionaire is a 4 x 6 foot table and an overhead

camera that work together. It is a new technology which is currently being developed by Microsoft Research and the University of California, Berkeley. The table allows you to make soft copies of objects like a picture, diagram, etc from a book placed on the desk. With drag and drop gestures, users can instantly digitize objects which are projected on the desk, where they can be resized, edited and spun around with fingers. Pictionaire aims to bring collaboration to touch screen tables, replacing many of the existing methods. Tt is expected to be available on markets later in 2011.
9. Scosche Freekey
The Scosche Feekey is a wireless keyboard for Bluetooth enabled devices like the Tablet PC, iPhone, iPad, etc. Virtual keyboards that come built in with today's m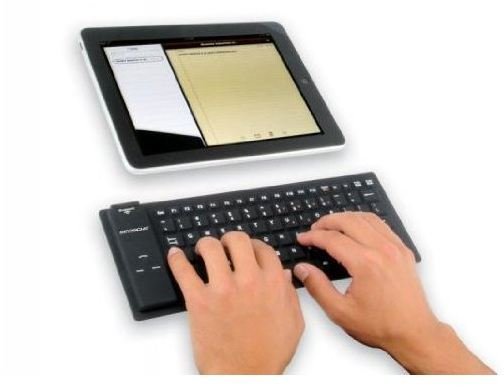 odern devices are not easy to use for everyone, so the Scosche freekey keyboard has been introduced as the perfect alternative that makes typing much easier and quicker.
The flexible roll-up design makes it easy to carry the keyboard in your purse while you travel, and the silicone material protects the keyboard by repelling dust in the air. The keyboard is water resistant and can be used anywhere to a range of up to 30 feet. The keyboard is available at amazon.com with a starting price of $46.68
10. USB Cup Warmer
The last one in our list of cool office gadgets is the cup warmer. The USB Cup Warmer is powered directly off your comput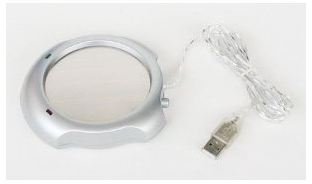 er's USB port using a single cord and keeps your coffee, tea or other drink hot as long as you keep the cup on the device. The cup warmer is a plug-n-play device, requires no batteries and is easy to carry around to be used anywhere, anytime, with convenience. The USB Cup Warmer can be purchased at amazon.com, for $0.90 (excl shipping)
Do you know of other innovative or handy items which should have made our list? If so, be sure to visit the comments section below.
References, Image Credits