Building Mindstorms Robots for Fun and Education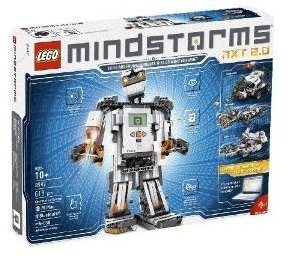 Many people in the world love to tinker. Kids especially find it fun to disassemble things to learn how they work. With the proliferation of electronics, kids and the young at heart have even more devices to explore, dissect and create. With robot building kits, there is almost no limit to what an imagination can build. If you have a mini-engineer in your house, or are a tinkerer in your own right, Lego® Mindstorms robots are right up your alley.
Mindstorms NXT 2.0
Mindstorms is a kit that has the parts needed to create a robot with the option to create most anything your imagination can come up with using the available Mindstorms components.
The current release is Mindstorms NXT 2.0. These robot building kits have 612 pieces, which includes three servomotors, a sensor for sound, light, color and distance, plus two touch sensors. There are also gears, wheels and loads of other pieces to create great robots. The brains is the NXT Lego® brick 32-bit microprocessor that features a large display, three output and 4 input ports, USB communication link and Bluetooth capability. The kits include software programming for PC and Mac. It also includes building instructions for four different robots.
Projects to Try
As amazing as the featured Mindstorms robots are, there are thousands of applications of robots. There are additional Mindstorms products available to expand the original kit. Everything from additional Lego® bricks, to cables, gears and programs. There is also a Lego® Mindstorms community online for sharing ideas. Here are a few projects to get your imagination started.
1. NXT 2.0 Multi-Bot
With eight different modular attachments, you can have all kinds of fun with the Multi-Bot. With the distance sensors, this will roam a house and back away from obstacles. It will find and shoot targets. It will pick up certain colored balls and use a putter to hit them into a 'hole.' With the light and color sensors, it will follow a line (colored tape) on the floor and travel like a locomotive.
2. Baseball Game
This project gives you instructions to build a pitching and hitting machine. The robot will pitch the ball and you must decide when to swing. Sounds simple, but the machine is tricky and you never know when a fastball is coming or when you might need to bunt.
3. NXT Segway with Robot Rider
This is a fun project for kids, or just kids at heart. Your little robot stays balanced on his Segway and can travel around the house, make his way around walls and other obstacles. The color sensor acts as a ground proximity sensor that allows the robot rider to balance itself.
4. NXT Forklift
This forklift can run on carpet or bare floor. It can raise a pallet up to 7 inches, place it down and pick it up. The color sensor acts as a light that signals different operations. If you have the Bluetooth option, you can control it from your computer and carry things around the house.
5. Explorer
This little robot is on a mission to explore whatever you set its mind to. It will travel around, avoiding bumping into walls and furniture. It swivels it head and looks around when it needs to change directions. This travels around on its own and is just fun to watch. We are sure it will keep the family cat busy for a while too.
While there are many robot building kits on the market, the Lego® robots kit has the versatility that the majority do not. They also don't have the extensive fan base of actual users to get help from and share ideas with. Available starting at about $260.00, you cannot go wrong with this kit if you or your kids love playing with electronics.
References