The Best Electronic Game Call: Buying Guide & Recommendations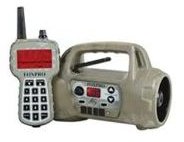 When you're an outdoorsman and hunter, it goes without saying that you enjoy being out in nature, but having the best of the electronic game calls can make your time even more enjoyable. Whether you're in the woods or out on the plains, being surrounded by the natural elements can bring peace to your inner self.
There is only so much that can be said about having to lie in wait for your game to come by, however. Having the best game calls on the market will make your time spent lying in wait more productive. These devices are by no means some handheld electronic games. You could take along an electronic game to pass the time, but with one of these electronic game call devices, you probably won't have time for it.
1. Foxpro Fury
This is Peterson's Hunting Editor's Choice. The Foxpro Fury can store and play up to 500 different sounds and comes with 100 sounds preloaded. It offers 24-bit audio, 2 built-in speakers, and two jacks on the front for additional speakers. The Fury has a large, red-backlit LCD display for easy operation and operates on 8 AA batteries. It comes with the TX-500 remote control and features the advanced Foxcast and Foxfade technology allowing for hands-free hunting. It sells for around $600 on Amazon.
2. Foxpro Firestorm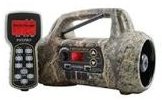 Portable, lightweight, and easy to operate, the Firestorm comes standard with 50 high-quality sounds and is capable of storing up to 200 sounds. Firestorm features dual speakers. It comes with the advanced TX9 remote control. In addition, you have two external speaker jacks and a USB port. With a red-backlit LCD display, it runs on 8 AA batteries. The Firestorm features Foxbang, that will automatically switch the unit to your #1 preset after discharging your firearm. The Firestorm sells for around $420 on Amazon.
3. Extreme Dimensions Phantom Pro-Series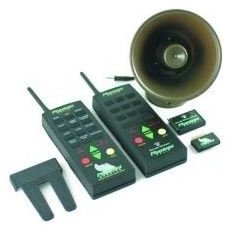 The Phantom Pro Series is the flagship of the Phantom line and features interchangeable sound modules. When pursuing different types of game, you want the versatility that this unit offers. Available wired or wireless remote with 2 long-range antennas, remote receiver module and transmitter with a 200-yard range. This will play two sounds at the same time with up to 126db and 16-bit processor. It uses 4 AAA batteries and offers a raised rubber keypad, all for around $300 on Amazon.
4. Johnny Stewart Prey Master PM4 with Remote Control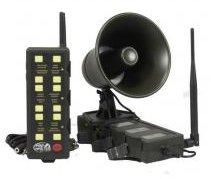 The Johnny Steward Prey Master gets high marks from hunters for its ease of use. This wireless, remotely operated device has a range up to 100 yards. The transmitter has a highly water resistant, durable, raised button keypad for easy operation, even while wearing gloves, and a lanyard for carrying. It operates on one 9-volt battery. With realistic digitally mastered sounds, calling in your prey is as easy as inserting the memory card and pushing play. It comes with a 10-foot cord, 50-foot extension cord and belt clip. Available for $199.99 on Trail Hunt.
5. Western Rivers Apache Digital Caller with Remote Control WR610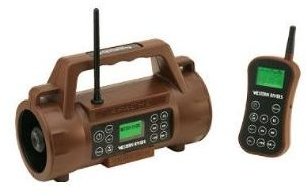 The Apache offers a huge LCD screen with glow in the dark keypad. for easy viewing along with twin stereo horn speakers with amazing volume. Will run on 8 AA batteries for up to 12 hours. With instant scanning of sounds, you can recall 10 sounds at once. This offers a USB port and remote control uplink with extended range control and 381 call sound library. Selling for around $230 on Amazon.
References
Sources and images: Amazon.com