Play Bridge on the Go with Top 5 Electronic Bridge Game Boards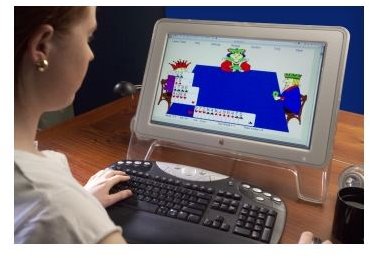 Learning the intricacies of the bidding and playing process of the card game bridge can be simplified with a handheld electronic bridge game. While some are available for computers, there are several handheld devices that are either stand-alone or add-ons for handheld devices.
1. Bridge Doctor - Great Way to Learn the Game
For the novice bridge player, it can be best not to employ handheld electronic games. Rather, the best teacher is to play on a platform that is easy to see and geared toward the new player. Most electronic bridge game platforms are very small, and assume that you have knowledge of the game. Playing against the computer sitting comfortably at your desk is the best way to learn the subtle nuances that have made bridge such a sustainable game. Using computer card games as a learning tool is strongly recommended for the newbie. You can use the free trial offered at the site, before you pay $7 per month. Bridge Doctor is the tool you would love.
2. Excalibur Electronic Handheld Bridge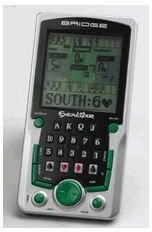 Available for just under $35.00, the Excalibur Electronic Handheld Bridge Game has 500 hands to teach the intricate strategies required to become an expert at the game. Designed with the help of Life Masters and Grandmasters of Bridge, each hand offers the option of expert hints and tips. Like most computer card games, Excalibur offers replay of each hand with bidding tips and electronic scoring. This electronic bridge game uses contract bridge rules for scoring.
3. Bridge Mate Electronic Handheld Bridge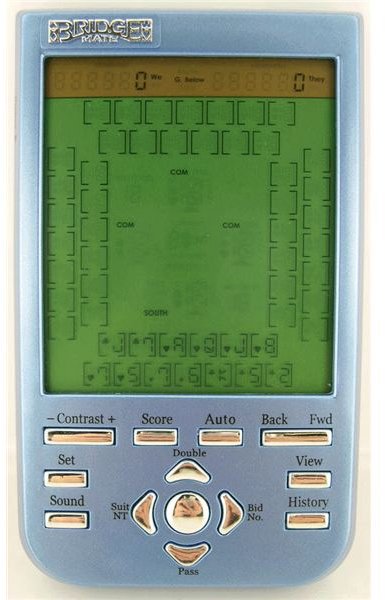 With a manufacturer's suggested retail price of $59.00, the Bridge Mate electronic bridge game is the most inclusive of all the handheld electronic games for learning and playing bridge. With a 2 3/4 inch by 3-inch screen, it can be played with up to 4 players. You can connect the Bridge Mate device to 3 more units to play any one of 6 different bidding variations including Preemptive 3 Level Opener, Short Club Opener, No Trump, Take Out Doubles; Blackwood Slam Convention and Stayman 2 Club Conversion. Scoring can be accomplished with Rubber, Contract or Duplicate scoring systems.
4. iTunes Bridge Baron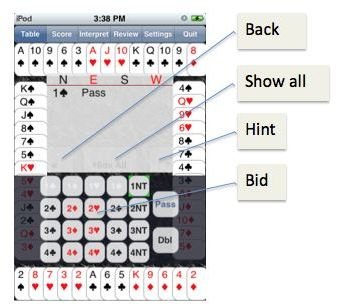 Should you already own an iPhone/iPod, the best recommendation for you may be the iBridge Baron, available at iTunes for $19.99. With 'Beginner', 'Intermediate' and 'Expert' levels, this electronic bridge game offers both Duplicate and Rubber versions of scoring. With a choice of over 2 billion deals, the player can save game on exit. With the option of either loading a saved game or starting a new one, the player can continue play over a period of time. With the option of either choosing your hand or having the hands randomly generated, you can practice specific hands if desired.
5. Bridge Training (Nintendo DS)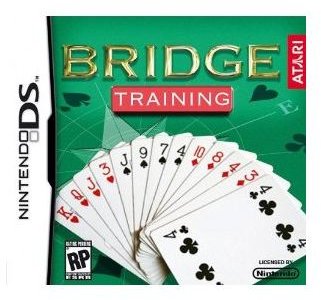 A great alternative to a stand-alone an electronic bridge game is the Nintendo DS (handheld) game cartridge Bridge Training. The cartridge is available for about $20.00 on Amazon and is geared for all skill levels. By practicing standard "contract bridge," even expert bridge players are challenged. The biggest drawback to this particular option is that you must either own or have access to the Nintendo DS game device.
References
Bridge Doctor: https://www.bridgedoctor.com/index-adw-50-120109.php?gclid=CNSXlb3pg6gCFcJx5QodTCdCtA
Fantasy Toyland: https://www.fantasytoyland.com/fm-exc-417-d.html
Classic Chess and Games: https://www.classicchessandgames.com/BridgeMateModel277.htm
Great Games Products Inc: https://www.bridgebaron.com/ibridgebaron/
Amazon: https://www.amazon.com/dp/B003I4J5D8/ref=asc_df_B003I4J5D81490725?tag=thefind0116896-20&creative=395261&creativeASIN=B003I4J5D8&linkCode=asn
Images: Directly from product website and Amazon