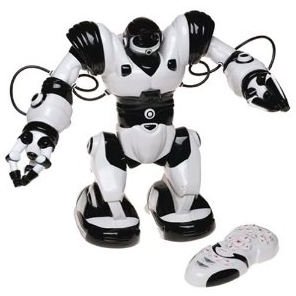 1. WowWee Robosapien Humanoid Toy Robot with Remote Control
Those who want to go all out with a toy robot will love the Robosapian Humanoid toy robot for sale on Amazon.com for $199.99. This toy robot was actually designed by NASA and has up to 84 programmable steps as well as different speeds for turning, walking and running. The arms are also fully functional, and it is the perfect robot toy for kids ages 6 and up.
2. Schylling High Wheel Robot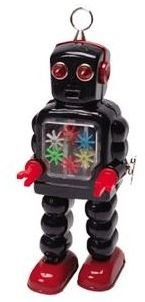 People who love toy robots and enjoy a robot that has a classic look will love the Schylling high wheel robot. This black robot features a wind-up motor as well as the ability to flash its eyes as its wheels turn. Kids will love how the chest sparks as it moves forward. Great for kids ages 6 and up, this toy robot is sold on Amazon.com for only $20.41.
3. Erector Spykee the Spy Robot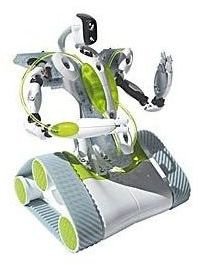 When it comes to a high-end robot that does just about everything there is, you've got to choose Erector Spykee the spy robot. Sold at Amazon.com for $389.99, this robot delivers. This robot toy not only is able to hear, speak, move and even observe all that is going around him, he also has the ability to take pictures and movies with real sound effects. In addition to all those features he is also a digital music player and is a video surveillance device.
4. WowWee Tribot Talking Companion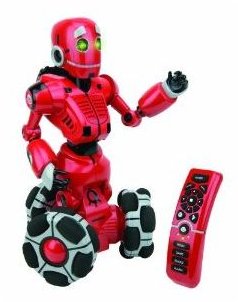 WowWee does it again with their tribot talking companion toy robot. What's better than a robot? A robot with personality! This robot makes for an entertaining companion and is very interactive. This tribot comes with a built-in wheel encoder for driving games as well as multiple activity modes and alarm modes. This toy takes 3 AAA batteries that are not included in the package and it sells for $67.49 on Amazon.com.
5. Mr. Robot Remote Disc Shooting Robot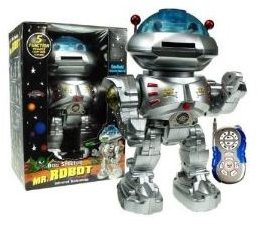 Younger robot toy lovers ages 5 and up will appreciate the Mr. Robot remote disc shooting robot. This toy robot comes with a remote control that has 5 different functions and features as well as the ability to shoot out discs. He is able to walk forward and backward as well as slide side to side. He is also able to turn his head. This robot even does a special robot dance! It sells on Amazon.com for $43.99.
6. WowWee FemiSapien Humanoid Robot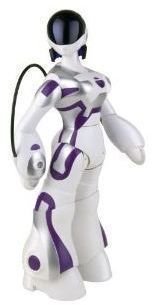 When it comes to girl power, WowWee thinks outside of the box with its FemiSapian robot. This robot looks as feminine as any female robot can and has three main functioning modes that she corresponds with by moving her head. This robot also has the ability to correspond with humans as well as act as a special back-up singer with her special Shoop feature! For an added bonus, there are 59 secret functions to find! She sells on Amazon.com for just $79.99.
7. Playskool Alphie
Toddlers will benefit from Playskool's Alphie. Alphie is a wonderful robot toy that is able to sing, play music and interact with toddlers. Alphie is not simply like other toy robots; he is an educational toy that teaches younger children important lessons including math and reasoning as well as helping them learn their letters. Alphie sells on Amazon.com for $33.46.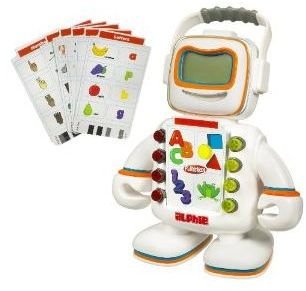 8. WowWee 8405 Roborover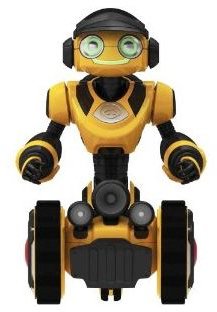 Another popular toy robot from WowWee is the 8405 roborover. This robot is able to play driving-based games like Tag and Swamp. This robot also has up to 5 minutes of spoken content and can tell you when he has fallen over! Good for ages 5 and up, this toy robot is sold at Amazon.com for $73.99.
9. Bossa Nova Prime 8 Gorrilla Robot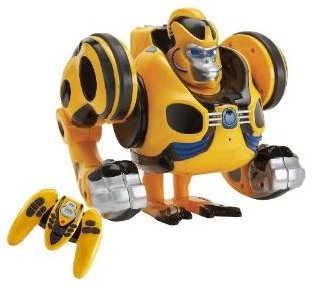 This yellow gorilla robot is lots of fun since he is packed full of personality! Kids will love how this gorilla robot has the ability to play up to 5 games and is even programmable. The Prime 8 will also respond to his environment and his owner with whatever personality he is feeling at the moment. This robot sells at Amazon.com for only $28.99.
10. Chicco Baby Space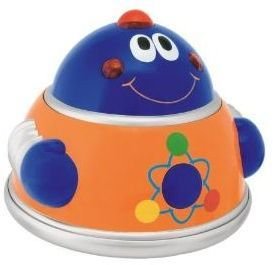 For those who are looking for the perfect "first" toy robot, there is the Chicco baby space robot. For sale at Amazon.com for $10.95, this robot toy moves with a swaying that babies and young toddlers will find funny and is full of lights and sounds that babies will love! With infared control, this robot is activated by a large button.
Sources
Sources Cited: Amazon.com