A Top 10 List of Cool Electronic Gadgets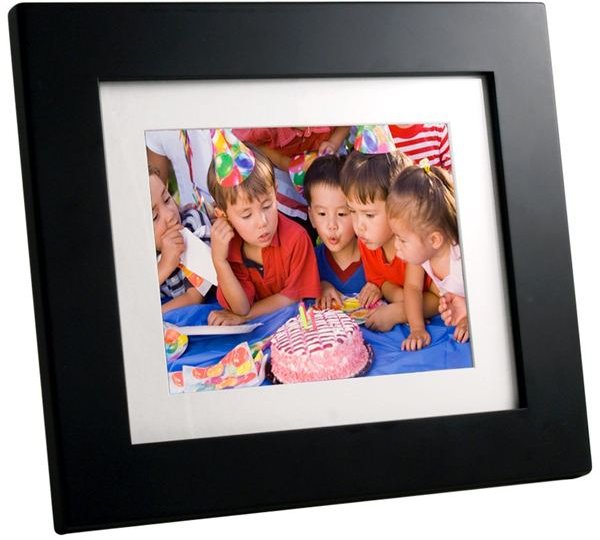 1. Pandigital PAN7000DW 7-Inch Digital Picture Frame
Unlike typical digital pictures frames, the Pandigital PAN7000DW besides bei
ng a digital picture frame, it is also an audio and video player. that plays your favorite multimedia straight from the memory card. Built on advanced technology, the frame allows easy transfer of music from your computer to the frame, with no software needed. This cool gadget can read many common multimedia files including JPEG, MP3 and AVI from different memory cards like SD, MMC, xD, MS and MSPro. Offered at Amazon for around $65, this digital frame has lot more to offer! It features a digital clock, calendar, alarm, Bluetooth and four free digital greeting cards that you can personalize with a nice message to the recipient.
2. High-End Audio Spy Pen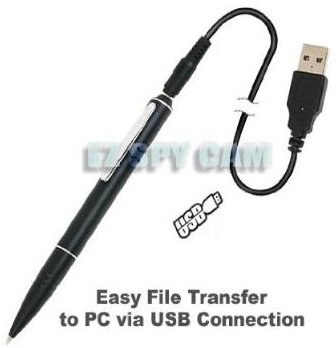 This is a large capacity spy pen that can record up to 18 hours of recordings on the built-in memory. The pen features a high sensitivity microphone for near or far recordings. The recordings are easily transferable with the provided detachable USB cable. Supporting all versions of Windows starting from Windows 95 to Windows 7, you can use this pen to record, transfer, edit and then play spy videos with ease. The spy pen comes with a remote control unit that allows you to stop, play, pause or edit videos with a touch of a button. This spy pen gadget looks like a real pen with the dimensions of 11.4 x 133.5 mm, and can easily be carried in a shirt pocket like any other pen. This special spy pen comes with price tag of $189 and you can buy one at Amazon.
3. USB Diffuser - Scented Oil Aromatherapy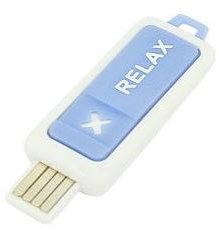 Want to enjoy a fresh smell in the air while working on your computer? Enhance your working environment with this handy USB stick that makes your living or work area more pleasant. The stick contains scent-diffusing pad on which you add a drop of your favorite scent or the included oil, and the stick does the rest of the work. The oil diffuser slowly scents the air via molecules, leaving your living/work area fragrant a long time. The USB scent diffuser is one of the best cool electronic gadgets to have. It can be purchased at Amazon for around $10.
4. BagTV
Available in white, pink, tan, glossy red, glossy black, navy

and white, this bag is not just a ladies bag, it is also a TV. A beautifully designed leather hang bag has an attached TV right inside! It's a great way for the ladies to pass the time while traveling with this unique bag. The bag features a seven-inch LCD screen, an integrated digital photo viewer and a MP3 and DVD player. You can use your own DVDs to watch your favorite videos on the go, and if you have an SD card, you can plug that in too. The BagTV is a great product for gals who want to make their travel time a fun time. It is available at Bag TV for $320.
5. Emerson Robotic LED Notebook Light
This LED notebook light provides a very bright light for la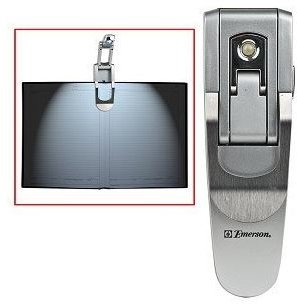 ptop users so they can read a book in dark without disturbing others. The provided clip secures the light to a book or book jacket and can be folded down so you can carry it with you anywhere. It is powered with three button cell batteries that provide up to 72 hours of light. Measuring 4.6 x 1.3 x 0.75 inches, the light is very portable and lightweight and offers good value for the money. It can be purchased at Amazon for only four dollars!
6. Ocean Sea Wave Projector
This mini projector creates beautiful images on the ceiling that look like real ocean waves moving and rising out at a constant sp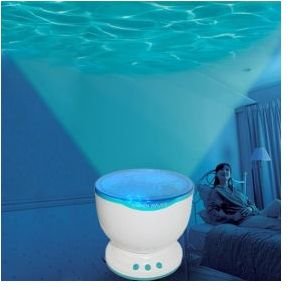 eed. The projector includes a mini speaker that allows you to plug in a MP3 player via a 3.5mm jack. A volume button is provided that you can use to set the music volume to your requirement. It is lightweight and portable enough to be moved to anywhere in the house. Available with a reasonable price tag of $28 from Mini in the Box, this cool electronic gadget is a great thing to enhance the environment or get the kids off to sleep quickly and easily.
7. Leaf Light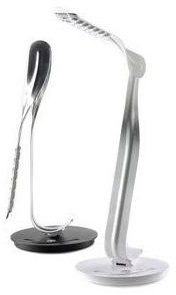 This is an amazing, beautifully designed LED light with a very high price tag of over four-hundred dollars. Weighing 27 pounds and measuring 8.63 x 8.63 x 36.5 inches (LWH), it has been uniquely designed for both living and office areas. The LED bulbs used are energy-efficient and have up to 100,000 hours of life. Available for $429 at Amazon, this product is worth the price and a great way to set the mood or enhance your surroundings.
8. Future Blue LED Watch
This blue LED watch comes from the future with a unique way of showing the time. Look at the image below to see how beautiful the watch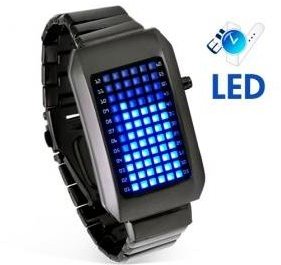 looks and the small blue illuminating squares depict the time. The first column on the screen displays week, and the second two columns are for hours and minutes. This is an ideal gadget to gift someone or for your own usage. It is offered at Mini in the Box for around $14, but often you can find sales on this LED watch as high as 50 percent off!
9. Eton Raptor
This is an all-in-one emergency gadget that does pretty

much everything for a trekker, cyclist, or any adventurer. It is also a great electronic device for those in emergency situations. It features a huge panel from where it obtains powers, and it can also be powered from a mini-USB connector or a rechargeable battery that is included with this cool electronic gadget. It has a digital FM/AM radio, alarm, barometer, altimeter, compass and National Oceanic and Atmospheric Administration (NOAA) weather alert that will send an emergency signal to the radio should there be a local weather disaster. The gadget comes with a clip for a belt loop and is available in orange, green and black colors and is available at Amazon for around $150.
10. Silent Vibrating Alarm Clock
Alarm clocks can be very disturbing when they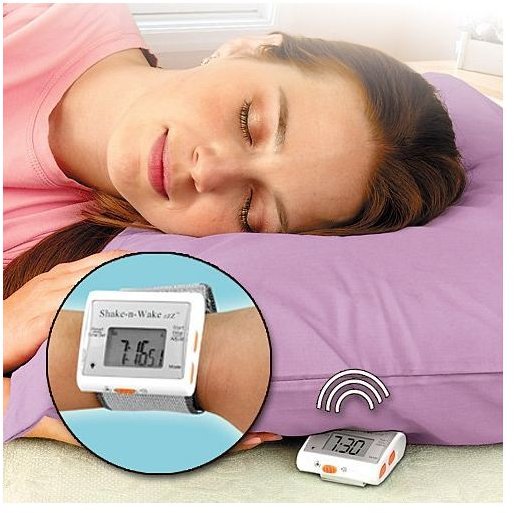 wake you up in the morning with those annoying sounds. But no annoyance anymore! With the silent vibrating alarm clock you will wake up not by an alarming sound but a vibration. The silent vibrating alarm clock can be worn on the wrist or placed under the pillow and it will wake you up at the time you set. The alarm watch features a built-in reminder and backlight that lets you see the time even in the dark. This cool gadget is available at Amazon for around $17.
References
Images courtes of https://www.amazon.com, Future Watch from https://www.miniinthebox.com, BagTV from https://www.bagtv.com