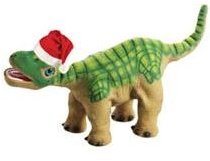 PLEOrb
After the huge splash it made at CES 2011, the PLEOrb is the hottest dinosaur robot around even though it has just begun shipping. The $469.00 price point scares many potential buyers away. After seeing what this robot can do, though, the price seems far more reasonable. This is what the Furby was trying to be: an interactive toy that grows with its owner. The PLEOrb is an autonomous robot that learns and grows as it is played with. It has programmed emotions, which range from happy and curious to sad and vexed as well as randomized interactions. This robot is even able to change its mind in mid-action. The internal sensor array helps PLEOrb recognize its orientation and exhibit a response both audibly and physically. On top of all this it is plush! Yep, it is a cuddly, smart, fun toy appropriate for kids (and adults) of all ages. The Pleo has downloadable personalities that can be obtained from the Pleo website and plugged directly into Pleo via its SD card slot. There is also a performance program called MySkit that works on Windows-based systems that allows you to program dance routines for your dinosaur. This amazing dinosaur robot is a must have.
RoboRaptor Robotic Dinosaur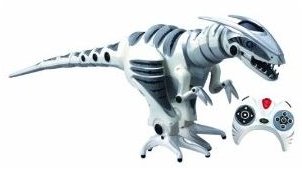 The Roboraptor took the world by storm when it came out and is probably the first toy you think of when someone mentions dinosaur robots. Well, it is still here and still lives up to the original billing. The price has come down to $125.00 even though all the things that made it a star are still there. The hunter, cautious wanderer and playful companion modes give the robot three personalities and the remote control give you the option to use it just like a remote control racer. The motion is as fluid as ever and the jaws still clamp down tight. A great interactive toy that can be laser line programmed to follow a preset path or wander on its own. Still one of the best ever.
ROBOTIME R/C Dinosaur Triceratops Large/ Dinosaur T-Rex Large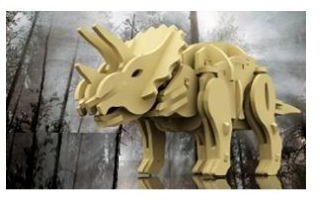 The Robotime R/C Dinosaur series has two great additions to the robot dinosaur category, the Triceratops ($30.82) and the T-Rex ($30.29). These wooden robots are actually kits that have to be built. Each dinosaur comes with four planks of precut wooden pieces that when assembled and attached to the enclosed motor form remote controlled robots. These robots can also be put in a free-range walking mode so that they wander around free of the RC unit. The controller unit looks like a dinosaur egg and offers the walking/running, raising the head, roaring and turning. This is like a 3-D jigsaw puzzle and robot all wrapped up in one.
4M Dinobot Kit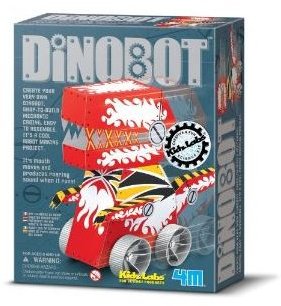 If you are extremely budget-minded, the $11.99 4M stylized DinoBot Kit from Toysmith is for you. This kit is a snap together plastic robot chassis with a stylish cardboard cover. It is an inexpensive, fun toy with little more to offer than a ridiculous good time from a dinosaur robot.
References
https://www.pleoworld.com/Home.aspx
Images Courtesy of Amazon.com and PleoWorld.com