Robot Dog Buying Guide and & Top 5 Recommendations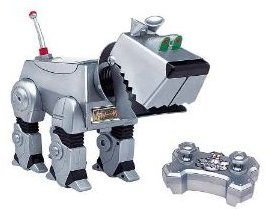 WowWee Megabyte - Ultimate Robotic Dog
The first choice of robot dogs comes in the form of "Megabyte" a robotic dog made by WowWee robots. This robot dog features a full range of motion including the ability to not only go forward and backward but also the ability to spin and go from the left to the right as well. Megabyte comes with a tail antenna that is flexible and has several different play modes. These play modes include Megabyte being able to show when he is hungry and when he is on guard acting like a protector! Megabyte also has the ability to bark and growl and make other neat robotic dog noises. As for appearance, Megabyte has LED eyes and a special compartment on his back. Also included with the dog is a twin joystick controller shaped like a bone with 7 function controls. This robotic dog sells on Amazon.com for $69.49.
Photo Credit: Amazon.com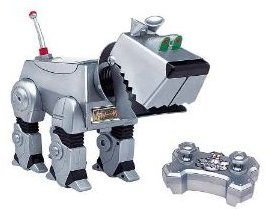 Tekno- The Robotic Puppy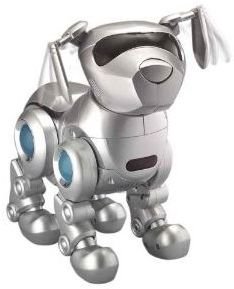 Manley makes an excellent robotic dog in the form of "Tekno- the Robotic puppy." Tekno is a silver robot dog that has a full range of sensors located on his head, nose, side and neck that allow him to perform a number of neat puppy tricks that would do even a real dog proud! Tekno can walk both backward and forward as well as left to right and even has neat eyes that change color. Included in the package is Tekno as well as a wireless translator, ball and bone.
Tekno is a good choice of robotic dogs for children ages 3 and up because it is an excellent tool to help teach them how to take care of a real dog. He acts like a real puppy even letting the child know when he needs to play, when he needs fed and as he ages, he gets smarter. This is a good way to test the waters and see if they are ready for a pet. Tekno sells at Amazon.com for $79.99 requires 4 AA batteries.
Photo Credit: Amazon.com
Fisher Price- Puppy Grows and Knows Your Name
For those younger dog lovers, Fisher Price has made an excellent robotic dog in the form of the "Fisher Price Puppy Grows an Knows Your Name" robotic dog. Sold at Amazon.com, this robotic dog magically grows to his or her full age just within four days and can return to being a puppy again. This robotic dog comes with programming CD and special accessories that allow it to actually interact with a child. The puppy is taught to know it's own name as well as the child's name. The CD can be put into any CD rom and it once the installation is complete the robotic dog is then ready to meet the child! The dog can wag its tail, address the child, let it know when it wants to play as well as make other neat puppy noises. The robotic dog actually grows over four days and the child can watch it and map out the progress and start it over again if he or she wants to.
Included in the package is the dog, accessories including a brush and bone, a birth certificate, the batteries the dog needs to work, the CD and even a USB cable. The robotic dog sells for $88.99 and is great for kids ages 18 months and up.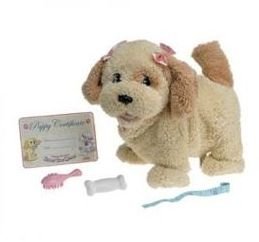 Photo Credit: Amazon.com
Hasbro i-Dog Robotic Music Loving Canine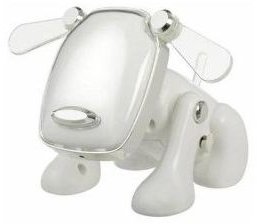 Hasbro came up with their own version of a robotic form in the fantastic "i-Dog- Music Loving Canine". Sold at Amazon.com for $39.95, this white robotic dog is able to move and groove along to music! This palm sized robotic dog just needs to be plugged into a portable music device with the special duel connector cable included in the package and music lovers can watch as this i-Dog with built-in speaker starts to respond! This robot dog is able to tilt its head, move its ears and even growl! It can also be placed next to speaker or anywhere where there is music playing and it will respond. This robotic dog can dance along with just about any music genre and has a number of fun flashing lights and sounds all dog lovers will enjoy.
This robotic dog is good for dog lovers ages 8 and up and requires 3 AAA batteries not included in the package.
Photo Credit: Amazon.com
Hasbro-Mio Pup
Hasbro has another robotic dog in the form of the "Mio Pup". Mio pup is a neat, interactive robotic dog that is able to show real emotion thanks to the neat EMOTRONIC technology. The Mio pup is also able to walk, talk and let his owner know when he wants to play or is hungry. The Mio pup also shows excitement when it is getting played with when you tickle his sensors!
This robotic dog is sold at Amazon.com for $105.00 and it comes with a special bone accessory but does not include the 4 AA batteries it needs to function. This robotic dog is good for dog lovers ages 6 and up.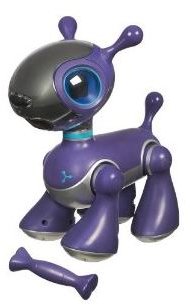 Photo Credit: Amazon.com
Sources
Amazon.com