Electronic Baby Toys: Learning with VTech Toys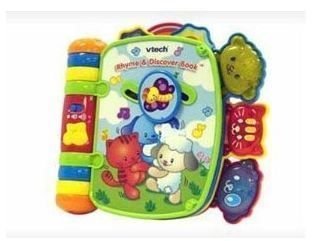 Are you interested in the very best of the best in electronic baby toys available for parents today? VTech, LeapFrog and Munchkin are the leaders in this industry, and have created toys that stimulate an infant's brain in ways that help create the neural pathways to allow for critical thinking later in life. Many of their toys have one major component in common – the combination of music and learning. The much talked about "Mozart Effect" is the most commonly referenced study claiming music facilitates both spacial and cognitive memory in children as young as 3 months of age.
In this article, we take a look at several toys which fit the Mozart category, and deserve a spot on any list of the best electronic baby toys available.
VTech Infant Learning Rhyme and Discover Book
The VTech Infant Learning Rhyme and Discover Book is a great interactive toy. The four hard plastic pages include interactive pieces that can be slid back and forth or jiggled to toggle a sound or phrase. Each page offers up a nursery rhyme complete with a brightly colored picture and the text of the rhyme so this book will grow with your child. The music mode plays each song when the page is flipped and responds to the animal "bookmarks" at the edge of the pages. These animal faces light up and make animal sounds when pressed followed either by a sentence that both congratulates the child and tells the child what the animal is saying "Peek-a-Boo, you found me, I'm the cat," or a short musical number.
The sturdy construction will stand up to the abuse that a baby or toddler can dish out while remaining intact through the teething stage (unlike board books that will end up a mushy mess) and well into the third year. We believe you won't find a better electronic baby toy for under $14.00.
VTech Move & Crawl Ball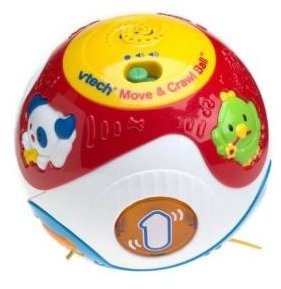 Start your baby out right with the $15.99 VTech Move & Crawl Ball. This toy is great for babies who are just starting to move around. It encourages crawling by wobbling just out of the reach of little hands. The ball is a brightly colored orange and white durable plastic with large light up number buttons and colorful animal buttons. Each one will play a song or make an animal noise when touched. The ball also sings a catchy song (based on the tune for row, row, row your boat) while it wobbles away. The mechanism that rolls the ball is designed to keep it near the child so that it can easily be reached so as not to discourage the little one. The top of the ball has six colored fabric strips that add another texture to the ball. The number buttons teach shapes and numbers so this can be one of the earliest teaching tools your baby ever uses.
LeapFrog My Pal Scout or My Pal Violet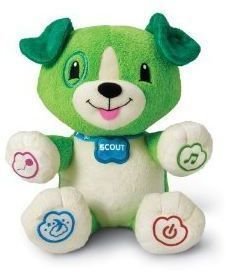 For only $18.88, LeapFrog really got it right with the My Pal Scout and Violet stuffed animals. Scout and Violet are the same unit just one is in green for boys and one is purple (violet) for girls. These dogs are more than just plush animals to cuddle with, they are interactive toys that play music, talk to your child and even sing songs. The customizable audio can be changed via USB connection to your computer. Changing the music and customizing phrases is simple through the intuitive guide on the website. Scout and Violet both come with light up name tags on their collars that will pulsate while the pet is singing or light up while it talks. Each paw has activates a different mode, one for phrases, one for upbeat songs, one for bedtime songs and one that toggles the unit on and off. The bedtime mode will play soft music for two, five, or ten minutes which is really handy if your child likes to cuddle to go to sleep. My only complaint about these electronic baby toys is that although it is surface washable if you get a tough stain on it you're out of luck. The internal electronic won't allow you to run it through a washer. It is best to use Scotch Guard on it to prevent set in stains (follow the directions carefully and don't let your child play with the toy until it is completely dry as Scotch Guard vapors can be harmful to children and pets).
LeapFrog Learn & Groove Musical Table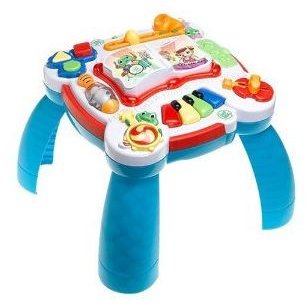 Does your child like to move and groove? If so, the $37.00 Learn & Groove Musical Table will keep that booty shaking for hours. This toy has two modes, one purely music and the other that teaches fundamental numbers and letters in both English and Spanish. There are 15 songs and over 40 musical snippets that react to your child's actions. A baby will be able to roll, tap, slid and spin different parts to get different sounds while being introduced to shapes, colors and number.
As baby gets older you can pop on the legs and raise it up to promote standing. There really is nothing better than watching a baby dance and giggle when they make a song play on the Learn & Groove.
Munchkin Mozart Magic Cube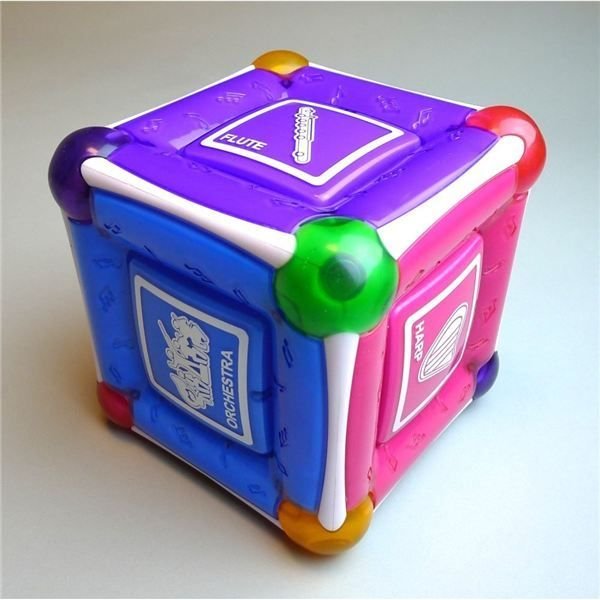 Munchkin doesn't play around when it comes to the Mozart Magic Cube (the second coming of the Embryonics Mozart Magic Cube). Although the sound is not as good as the original model it makes up for it in pure durability. Where the Embryonics version often cracked around the battery cover this unit is practically indestructible. The soft rubber corners of this electronic baby toy prevent anyone from being hurt by it. The cube is the perfect size for baby hands and the push buttons encompass most of the face of the cube so they are easy to push.
The Mozart Magic Cube plays eight different Mozart compositions with a full orchestra or a selection of individual instruments. Instruments including harp, French horn, piano, flute, and violin can be added or removed from the song by pressing on their buttons. When the music is playing any instrument that is being heard will visually pulsate with the beat of the music (this is really nice at night and works like an interactive night-light).
This is a fantastic electronic baby toy that will be played with for years to come and the fact that the sounds are generally pleasing means that you won't be driven crazy if it is played with for hours on end. For $19.54 you just can't go wrong.
Electronic baby toys are a great way to start your child learning. The choices that have been given here are the best of the best for early learning, and will continue entertaining and educating your child for years to come.
References
All Images Courtesy of Amazon.com