Robot Building Kits You Can Build on Your Own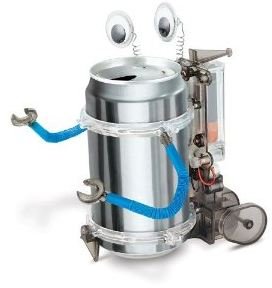 Don't let yourself be intimidated by the term "robot building kit," it's not some super complicated chore that takes a rocket scientist. Most of these robot kits are easier to put together than a bicycle and the instructions are far better as well. Of course there are several different levels of robot building kits so ease yourself in from the basic kits that don't require anything more than a couple of standard tools compared to the much more advanced ones that require a bit of soldering.
Beginner Level Robot Building Kits
A beginner level robot building kit has a limited number of pieces that either snap together or can be assembled with a basic set of screwdrivers and/or wrenches. It will offer movement and may have the ability to be programmed. Kits like the Toysmith 4M Tin Can Robot is a simple introduction to robotics and emphasizes recycling at the same time. This kit is particularly effective because of the humorous robots that can be created with it. This kit runs under $20 at Amazon and can fit into any budget rather easily. A whole army of these 4Ms could be purchased for under $100. This kit doesn't offer any control as the robot simply moves and gyrates on its own due to the configuration of the motor and gears but it still has the general robot feel.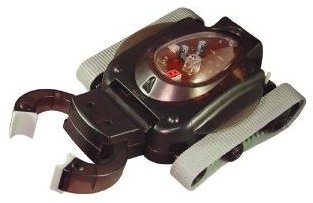 A bit more advanced beginner level robot kit would incorporate controls for the built machine. The OWI Kabuto Mushi Robot Kit offers just that. This beetle like robot comes with an infra-red (IR) remote control and caterpillar type traction device. This model is a bit more pricey at just under $50 at Amazon, but it is really a snap to put together. This kit contains considerable more pieces than the Toysmith 4M and will take at least a couple of hours to complete the construction. As a beginner kit, it looks much harder than it actually is so the child or ten putting it together will get a great sense of accomplishment just having put it together, that's before they even try to use it. The Kabuto Mushi is based on robots currently used in the fields of bomb diffusion and dangerous terrain rescue.
Mid Level Robot Building Kits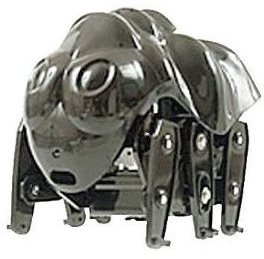 A mid level robot building kit is much more likely to contain small parts that will need a small screwdriver kit. These kits offer robots that can be programmed or contain audio and/or visual sensors and recorders. The easier of these kits have the audio visual components hardwired to the circuit board while some of the more advanced models have snap together interfaces. The iBOTZ InsultaBotz Robot Kit is one of the kits that has these pieces hardwired. It is relatively easy to put together using common household tools and comes with an audio unit that can be used to record messages. The robots IR sensor will help it maneuver around objects and cause it to play the recording when it detects movement or an obstacle. At just over $120 and available at Amazon, this one is near the high end range of mid level robot kit pricing.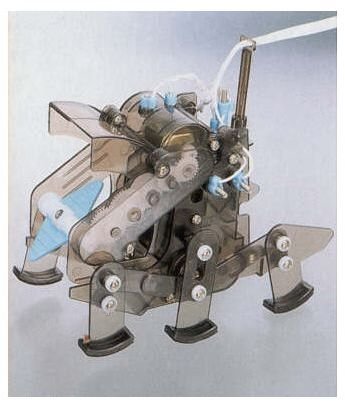 While some robot kits have limited re-playability the Soccer PRO isn't one of them. This kit allows you to build a soccer playing robot with six legs, the ability to kick, catch and carry a ball. It has three motors controlled by a wired controller and remarkable quick articulation of movements for a $50 machine available at Science Kits. This kit takes a bit more patience to put together because the smaller leg joints and screws have to be adjusted so that all six legs reach the ground but other than that, this kit is very nice for the younger robot builder.
Please continue to Page 2 for even more robot kits anyone would want.
Advances Level Robot Building Kits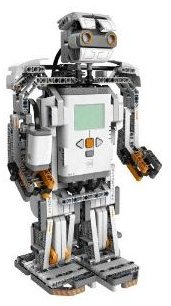 When you are looking for something to engage older teens Legos might not jump to the front of the pack but the LEGO Mindstorms series takes the art of building and adds robotic intelligence to it. Lego has merged together three interactive servo motors and four sensors; ultrasonic sensor, 2 touch sensors and the all-new Color, with the simple snap together construction of Lego building blocks. The NXT 2.0 kit includes instructions for four different robots as well as USB and Bluetooth connections. The software that is included runs on Windows or Mac systems and includes 16 different building challenges as well as drag and drop movement and action icons. This kit is infinitely reusable and will keep even the most hardcore science kid interested. For under $300 at Amazon, you get four robots, can't beat a deal like that.
Lego isn't the only non solder system out there. One of the first building sets on the market was the Erector Set and they haven't fallen by the wayside. The Erector Spykee is billed as the ultimate spy robot and it really delivers. According to the manufacturer, "Spykee can move, observe, hear, speak and take real time pictures with video and sound effects." Not only that, it's a digital music player and video surveillance system that alerts you via alarm of e-mailed picture when the system is tripped.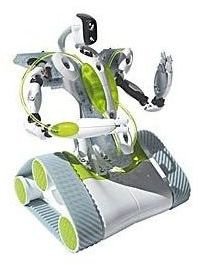 The $400 price tag at Amazon might seem a bit steep but remember this is a fully functional, intelligent robot. When the charge starts to run low, Spykee returns to its charging station automatically. And, this is the best part, Spykee can be controlled via WiFi through the interactive command center on your computer. This means as long as Spykee is within range of your home WiFi access point you can use your laptop to maneuver it. Advanced robot building kits like this one are some of the best gifts for the technically gifted teenager or young adult.
Advanced Robot Building Kits that Require Soldering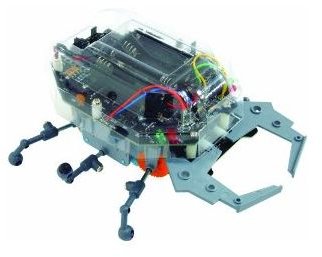 The easiest solder robot kit is the Elenco Scarab Robot kit. Kits like this one give you step-by-step instructions on how to solder correctly. An easy kit like the Elenco Scarab has a very simple layout with all of the soldering done in very open and accessible places. For under $25 at Amazon, this is the best way to introduce a younger child to the world of electronics and robotics. This particular kit doesn't include a soldering iron but one can be purchased at a local hardware or electronics shop for under $10.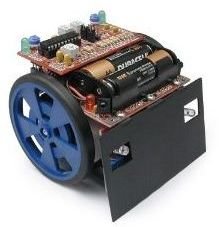 A slightly more advanced model of Advanced robot building kit that requires soldering is the Solarbotics Sumovore Mini Sumo Kit. This kit creates a bulldozer like robot that can be programmed in "line follow" mode or "sumo" mode which puts it in a robot combat mode. There are several brain configurations that can be programmed in and the power that this little bugger has is quite impressive. If multiple units are purchased, they have built in settings that keep them from circling around each other endlessly so they can actually battle. (If you remember "Battle Bots" or "Robot Wars" then you'll know exactly what to do with these guys). For just a bit under $100 at Amazon, this is quite a kit.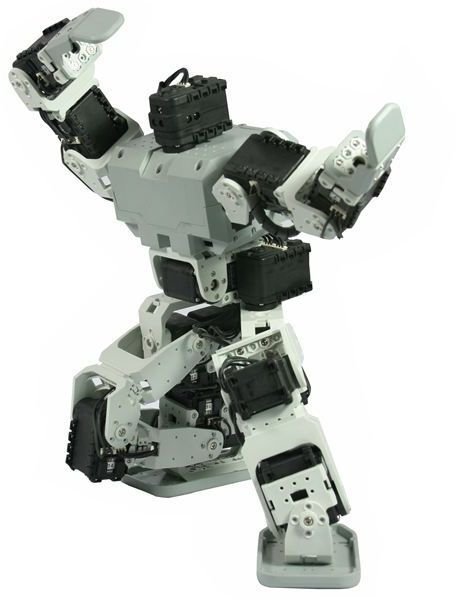 For the serious builder there is the Bioloid Comprehensive Robot Kit. This is just one of several humanoid robot building kits built around a serialized servo motor kit. At almost $900 and available at Science Kits, this kit isn't for the inexperienced or the faint of heart. You'll need a steady soldering hand and the ability to read circuiting schematics to unlock the full potential of this kit, but if you have the patience and knowhow, there really isn't anything more satisfying than creating your very own anthropomimetic machine.
With the explosion in robot building kits you can find just about any type of robot you like, robot dogs, robot dinosaurs, and humanoid robots are only the beginning. There are kits by HexBugs that are literally bug-like, kits for underwater remote operated vehicles and a whole range of solar powered robots. The current state of robot kits looks good and we can expect the future to only get better.
Product Information & Screenshots Courtesy Of:
All Images courtesy of Amazon.com
Electronic Kits - https://www.electronickits.com
Science Kits - https://www.sciencekits.com
This post is part of the series: Robot Building Kits & Underwater Robot Kits
Looking for robot building kits, cheap robot kits or underwater robot kits? If so, here in this series, we'll show you where to get them, the features and how much they cost.