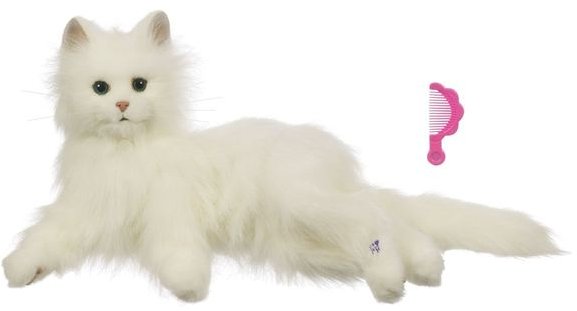 Robot Cat: The Cats Meow in Robots
While robots and robot toys have always been an item of interest for those both young and old, they have gained popularity and there are several different types to choose from. Robot cats are no exception. There are robotic cats that can play, purr and even meow. Here is a look at the top five robot cat choices as well as how much they cost and where to purchase them.
Furreal Friends Lulu My Cuddlin Kitty Cat
The first choice in top five robot cats is Lulu the white kitty cat from the Furreal Friends line. This item is a great toy for children, but also an excellent choice for those who collect robot cats or cat items in general. The fluffy white robot cat actually moves and makes cat noises that sound very realistic. If you pet her head, she will purr and roll as a living cat would. She even comes with her own accessories including a comb for her fur and adoption certificate. This robot cat weighs just over 3 pounds and sells on Amazon.com for $33.54.
Photo Credit: Amazon.com
Kitty the Tekno Kitty
Manley Toy Quest came out with a robot cat in the form of "Kitty the Tekno Kitty." This robot cat is brown with gray stripes and is very unusual because it can actually sense when you touch it and respond. There are three different sensors on the cat that measure when it is touched. The cat also comes with several neat accessories including a fish treat and a special mat. Included in the package are the Tekno kitty and accessories. Not included in the package are the four AA batteries it needs to work. This item sells for $89.99 and is sold at Amazon.com.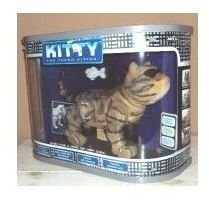 Photo Credit: Amazon.com
White-Hasbro i-Cat Robotic Music Loving Feline
A perfect choice for music lovers is Hasbro's i-Cat, the robotic music-loving feline. Sold at Amazon.com for $61.99, this clever robot cat responds to the type of music that is being played. Whether you play pop, rock or hip-hop, the i-Cat will respond to each type of music with a different personality. It also has LED lights that flash on its face when it plays music. This i-Cat is pocket sized and you can even scratch its head to hear it make a DJ scratch sound. It includes the two AA batteries it needs to work and is great for cat lovers ages 8 and up.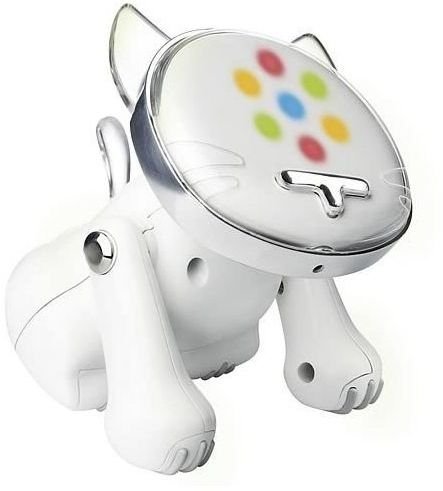 Photo Credit: Amazon.com
FurReal Walking Kitty White and Orange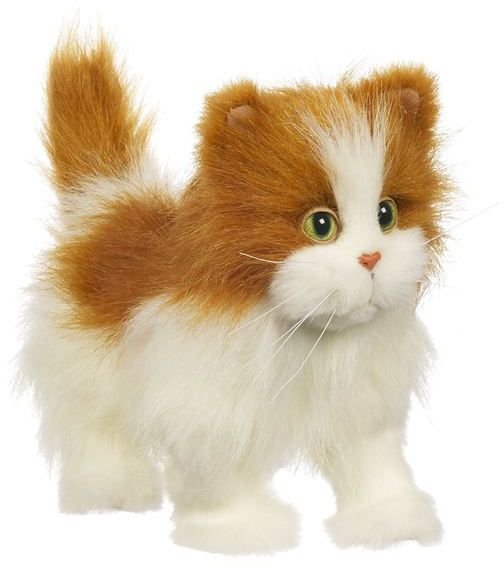 Another favorite from the Furreal line is the orange and white walking kitty. This robotic cat is adorable and fun. With a long orange and white coat, this robot cat will walk towards you when placed on the ground and even respond when you play with her. She meows and kneads her paws like actual cats do, as well. This robot cat is a good choice for even younger cat lovers as young as four years old. Inside the package, you will find the walking kitty as well as the three AAA batteries she needs to work. This cat is sold at Amazon.com and is very affordable at only $26.99.
Photo Credit: Amazon.com
L'il Kitty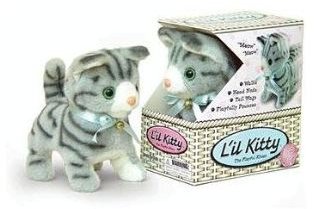 For those who are searching for a robot cat on a budget there is the L'il Kitty by Westminster. Sold for just $17.84 at Amazon.com this is a charming choice for cat lovers ages 3 and up. The cat is grey and white striped and comes with a pretty blue ribbon. Standing at six inches, this cat will open its mouth when it squeaks. Included in the package is the cat and ribbon around its neck. Not included are the two AA batteries it needs.
Photo Credit: Amazon.com
Sources
Amazon.com