5 Recommended Electronic Toy Guns

Electronic toy guns are very popular among boys. Whether they shoot lasers, water or foam bullets, guns give young boys a rush that is a great part of their childhood. Safety, of course, is a concern. So when picking a toy gun, make sure that it is safe to be used whether it shoots projectiles or not.
Star Wars Clone Wars Electronic Blaster – Boba Fett
Based on the blaster gun of the Star Wars character Boba Fett, it features battle damage effects, electronic weapon sounds and a barrel that lights up. It lets kids pretend that they are part of the Star Wars universe as a mercenary bent on bringing in the galaxy's most wanted. The lights and sounds that it creates when used makes play time more fun and it enhances the imagination of kids with their intergalactic flights of fancy. You can get it for $24.47.
Star Wars Clone Wars Ultimate Blaster

If Boba Fett is not your kid's kind of character, you can still let them play in the Star Wars universe with this Star Wars-inspired blaster. It gives your kid the choice of pretending as a clone trooper or a rebel who is determined to bring down the emerging evil empire. It can be configured in a variety of ways, and each configuration gives you a different sound when firing the gun. It also lights up whenever the trigger is pulled, adding to the excitement of the role-playing session. It not only encourages kids to explore their imagination, it also inspires them to be creative by customizing their blaster features. You can get it for $49.95.
Saturator SIG556 Electronic Water Gun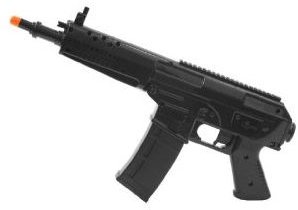 It resembles a real gun with its black color design. This realistic-looking gun with a powerful water burst firing feature that supports four bursts per second will enhance a child's imagination. A removable magazine that is used to contain water also enhances the realism of the gun. It is an ideal toy for summer that lets kids pretend they are in a fierce battle. The intensity of playing is made more intense by the rapid-fire ability of the toy, soaking their targets in blazing fast action. You can buy it for $22.95.
Combat 3 Toy Gun – Electronic Machine Toy Gun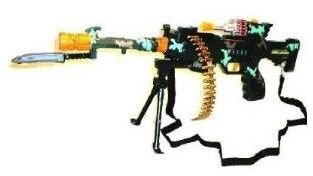 This colorful and cool looking toy machine gun does not just look fun. It works in a fun manner as well. Firing it up induces machine gun sounds and it is complement by a rotating plastic bayonet, removable muzzle and bipod and a bullet clip with exposed shells. Realism is mixed with exaggerated features that give kids an over-the-top experience. You do not need to worry about the included bayonet because it is not sharp and it is made of plastic, which means it cannot hurt anyone. You can get it for $12.50.
Frontier Quick Draw Electronic Target Shooting Set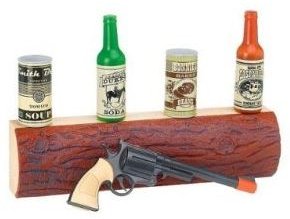 Unlike most of the electronic toy guns available out there, this one does not just enhance kids' playtime experience by letting them shoot guns that produce sounds and lights. This toy gun comes with target shooting accessories that include bottles that break apart when hit by the gun. The toy gun does not actually fire any kind of projectile. It uses an infrared beam to hit the targets so it is perfectly safe. This gives a more satisfying play session for kids since they actually "hit" something when they fire their gun. You can buy it for $46.95.
For more electronic toys, you may want to check this article on the Top 5 Electronic Word Games.
References and Image Credits
https://www.amazon.com/Star-Wars-Clone-Electronic-Blaster/dp/B003A14QQ0/
https://www.amazon.com/Saturator-SIG556-Electronic-Water-Black/dp/B003JFYKJ0/
https://www.amazon.com/Star-Wars-Clone-Ultimate-Blaster/dp/B002453JW0/
https://www.amazon.com/Combat-Toy-Gun-Electronic-Machine/dp/B0047PCGBK/
https://www.amazon.com/Frontier-Quick-Electronic-Target-Shooting/dp/B000I1CM2A/