What to Look for in a Cheap eBook Reader: Buying Guide & Recommendations $100 or Less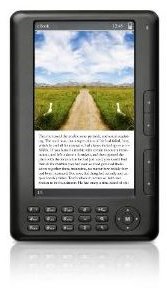 Choosing a low cost alternative to the Kindle, Nook or Sony eReader isn't as hard as you think. There are several to choose from, each with their respective strong points. These are the top few available to look at if you are thinking of going with a cheap e-Book reader. In this review we won't be discussing native formats that these books can read because there is the Calibre free converter program that will change any format to a readable text file.
Ematic 7
If you are serious about buying a cheap e-Book reader the Ematic 7 is the top model out there for the money. It doesn't do video but everything else is there, 4GB internal memory with and SD slot capable of handling up to 16GB cards. The $79.69 price point is the lowest around and considering you can listen to your MP3s while reading it's well worth that price. It also sports an FM receiver and voice recorder. The only knock on this little beauty is the battery life. At 3-4 hours max it's not the best for long trips or extended outings.
Jetbook Mini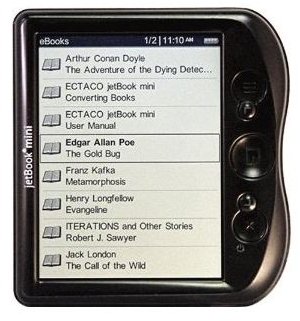 The Jetbook Mini e-Reader is an interesting entry as it runs, not on a lithium ion battery like most others but on 4 AAA batteries. It comes with a 2Gb SD card slot, weighs in at a paltry 5.8oz and features a 5-inch TFT screen. With the purchase of the optional car charger rechargeable batteries can be charged while in the unit just like a lithium ion battery. It runs a mere $89.99 and comes in a myriad of colors.
Iview 700EB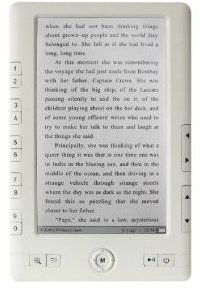 The Iview 700EB is a bit more than a standard e-Book reader. It offers a 400Mhz processor and 2GB built in memory. There is also an SD card slot that supports up to a 32GB SDHC card. For $98.03 you get 12 hours of e-Book reading or 8 hours of music or 3 full hours of video. The Iview weighs in at half a pound but feels a bit heavier do to the elongated form. Some reviewers didn't like the cheap feel of the Iview but for me it felt sturdy enough. I was disappointed in the power system though. There are two power buttons, a physical switch and a push button. The push button doesn't actually turn the unit off it just puts it in sleep mode. This could cause your unit to discharge the entire battery if you set it to the side for an extended period of time. Other than that and the unique keyboard and placement of some of the keys this is a completely adequate eReader.
SKYTEK Primer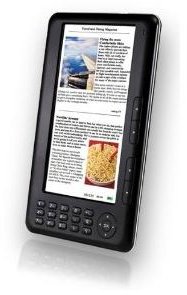 The $109.00 SKYTEX Primer is a plug-and-play compatible unit that connects directly to your Computer (PC or Mac) allowing drag and drop transfer of your files. With this easy interface, a 7 inch screen, 2GB of onboard storage (expandable with up to a 16GB micro SD card), a built-in mic and recording software, audio and video support, a built in FM tuner and a full color display it's almost not fair to call this an e-Book reader. This is a multipurpose, multifunctional media device. The one major drawback that this unit has is the incredibly long (12 hours) charging time and has a so-so battery life of 7 hours max only 2.5 in video mode.
Although there are several other cheap e-Book readers available none of them make the cut. Some of them are cheaply made and won't withstand much wear and tear while others simply don't have useable interfaces or readable screens. These four are the cream of the crop if you are looking to stay around a hundred bucks.
References
All Images Courtesy of Amazon.com