Where to Find a List of DLNA Devices (Certified)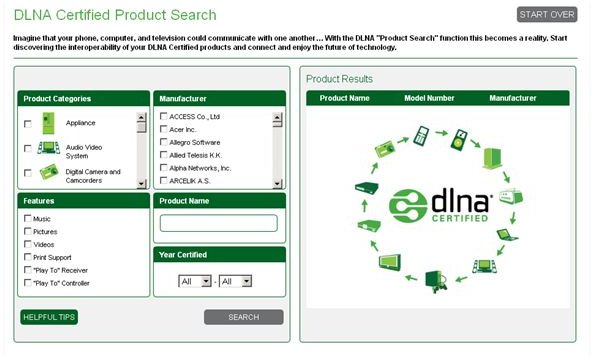 The objective of the Digital Living Network Alliance (DLNA) is to provide a standards-based technology that allows consumers to easily enjoy digital music, pictures and video that reside on separate devices. Since its introduction in June 2003 by Sony, the Digital Living Network Alliance has, up until January 2011, certified more than 9,000 different devices ranging from mobile phones to consumer electronics.
It is estimated that the Alliance has sold more than 440 million DLNA-certified devices. These devices include mobile handsets, TVs, PCs, DVD and Blu-ray players, game consoles and cameras. While there may be many other devices that support the standard, certification ensures that a device works seamlessly with other DLNA devices; DLNA-certified devices carry a unique green logo and the 'DLNA' acronym on the back.
Complete List of DLNA Certified Devices
As we stated before, there are more than 9,000 DLNA-certified devices, which is too many to include here. If you are looking to purchase a DLNA certified TV, PC or game console, you can find a complete list of DLNA-certified devices at the Digital Living Network Association website. Notwithstanding, due to the recent rise in popularity of Android phones, we have include a list of DLNA-certified Android phones that can work as a
server, or remote control.
DLNA devices include:
Samsung
Samsung Galaxy S -SHW-M110S
Galaxy S -SGH-I9000M
Samsung i8910HD
Samsung Galaxy Tab JP -SGH-N023_JPN_DCM
Motorola
Motorola Droid2 -A955

Motorola DROID2WE -A956

Motorola Milestone2 - Froyo -A953

Motorola Droid2 -A957**

**

Motorola Droid X -MB810

Motorola Droid2 -A955

Motorola Milestone -XT720
HTC
HTC Desire HD
HTC Desire Z
HTC Thunderbolt
LG
Conclusion
Based on the DLNA sales figures, it is apparent that there are quite a few of these devices in the homes of consumers, a fact that some owners may not be aware of. Once they realize the potential for seamless interconnectivity, it is expected that the popularity of these DLNA devices will grow even more rapidly.
If you would like to walk into your living room after a long and seamlessly stream music to you home audio system or later watch a funny YouTube video that you discovered during the day, currently your best option is to ensure that your next electronic purchase is compliant with the DLNA standard.
It is a good idea to check the official DNLA website for a list of DLNA devices before you go shopping, or at least look for the logo at the back of any device that is said to be compliant with the standard.
References
DLNA website, https://www.dlna.org/products/
Best Android Apps, "List of DLNA certified Android Phones"
Image Credits
"List of DLNA certified devices," Author
"List of DLNA Devices," LGEPR
This post is part of the series: DLNA Devices
What is DLNA? Where can you find a list of DLNA devices? This series will provide you with all the information you need on DLNA (Digital Living Network Alliance) devices.