Solar Power Radio: Review of The Eton American Red Cross ARCFR360W Solar Powered Radio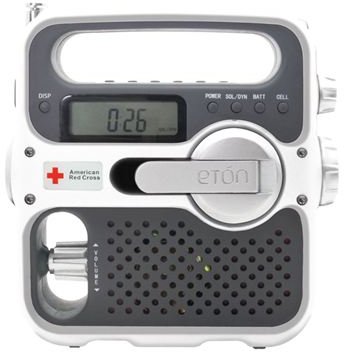 Introduction
A solar power radio is a great product for trekkers, hunters and travelers who do not want their radio to run out of power. All battery powered radios do not have a very long playback time and if batteries run out while listening to your favorite song or show on the radio, you miss that show and wish you had some extra batteries. But, you no longer need to keep extra batteries with you, if you own the Eton American Red Cross ARCFR360W radio because it is solar powered. You might be wondering what if there is no sunlight, how will the radio work? Well, the Eton American Red Cross solar powered radio is not an ordinary radio. It is a distinguished, multi-functional radio that can be powered from the following four different sources:
Solar energy, which charges the built-in rechargeable battery.
Three AAA batteries.
AC power via USB adapter.
Integrated hand crank/dynamo.
This is not all the Eton American Red Cross ARCFR360W radio has to offer. The radio acts as a charger, too. So whenever your cell phone, iPod, MP3 player or any other small electrical device that has USB interface runs out of charge, you can use this radio to charge it up again. All you will need to charge your device is a USB cable (not included in the package), and that's it. The Eton American Red Cross ARCFR360W also features a siren, to help people find you if you are in an emergency situation. The red LED light is also a nice add-on that comes in handy when you need to light your way or point out something in the dark.
Design (5 out of 5)
The Eton American Red Cross ARCFR360W radio has impressive des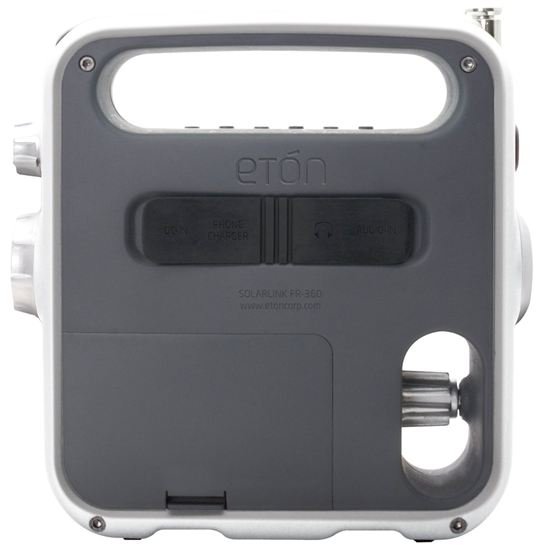 ign and solid construction. The built-in solar cells are shatterproof, water resistant, and high performance so a user can drop the radio without worry. The radio has a LCD clock and a hand crank on the front. The LED flashlight is on its left, the manual station tuner, and the band changing clock are on the right. The USB charging port, DC, and headphone in ports are found at the back. The overall look of this radio is clean and quite lovely. Holding it in your hand, you can tell that it's some advanced electronic you're holding. The dimensions and weight of Eton American Red Cross ARCFR360W go as follows:
Dimensions: 6.25 x 6.5 x 2.75.
Weight: 1 pound.
Shipping weight: 2 pounds.
Specifications (5 out of 5)
Dimensions: 7.5 (L) x 2.25 (W) x 8.25 (H) inches

Weight: 1 pound

3.5 mm headphone jack

Ni-MH rechargeable battery

FM (87 – 108 MHz)

AM (520 – 1710 KHz)

Digital tuner

LED Flashlight

Emergency siren

Digital Display

Alarm

High performance solar cells
Performance & Durability (4 out of 5)

Eton Corporation is a manufacturer of some of the best and most demanded emergency radios and the ARCFR360W is one of them. This is a very durable solar power radio with impressive design and skillful construction. The Eton American Red Cross ARCFR360W uses a digital tuner so when it comes to signals and sound clarity, it is very good. No negative feedback on the AM or FM reception is found on the Internet. However, keep in mind that weather, network and battery conditions can affect the radio's performance and that's true for any radio. When charging your cell phone or other electrical device from the radio, make sure that you don't charge your device to full capacity otherwise the radio's internal battery, which is not very powerful will drain in minutes and you won't be able to use the radio until the next charging.
Price to Value (5 out of 5)
The Eton American Red Cross ARCFR360W radio costs around $70 in the US, and is available for purchase at Amazon. Is it not a large price for a solar power radio. Of course you can buy a good radio from a branded company like Sony, just for US $20 or $40, but considering the multi-functional capabilities and durable construction of the Eton American Red Cross ARCFR360W radio, it is absolutely worth the price.
References
Etón American Red Cross ARCFR360W: https://www.amazon.com/exec/obidos/ASIN/B001QTXKDS/project60mwp-20
All images from: Amazon.com