5 Top Solar-Powered Computer Chargers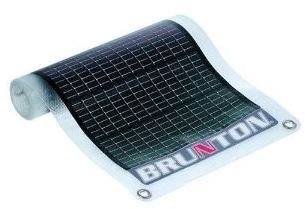 The Brunton Flexible Solar Module (Solar Roll)
The 14-watt Brunton Flexible Solar Module is one of the most user friendly solar-powered computer chargers available today. The simple roll design weighs in at a mere 17 ounces. That makes it very easy to carry around; in fact, it is used by several professional mountain climbers because the weight is so much less than that of additional battery packs. This "solar roll" is made of rip-resistant materials and comes with a battery clamp for charging car batteries, a vehicle outlet cable and multi-linking cable. The multi-linking cable has four different sizes of circular connections that will fit most rechargeable devices (excluding cell phones). This is a major upgrade from the previous version which only had a cigarette lighter input. The Solar Roll retails at $300.49 on Amazon.com, a huge price drop from the previous $529.99 price.
Brunton 26-Watt Foldable Solar Array (Solaris 26)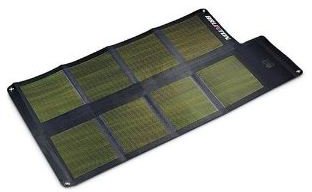 For just a bit more, $379.00 on Amazon, you can get yourself the 26-watt foldable array from Brunton. It weighs slightly more as well, 28 ounces in total. The design isn't as portable as the Solar Roll but, when folded, the entire charger is 11 inches by 8.5 inches and just a hair over an inch thick. This makes it difficult to fit in a pocket but it fits in a backpack, gym bag or briefcase without much trouble.
The Solaris 26 utilizes CIGS (Copper Indium Gallium diSelenide) technology which is the most efficient thin film solar technology currently available. It also employs a built-in blocking diode that keeps the charger from allowing reverse discharge. This charger also comes with the car battery clamps, vehicle outlet cable and multi-linking cable. If you are looking for a faster charge or the ability to charge more than one device at a time this charger is clearly better than the Solar Roll.
The Voltaic Generator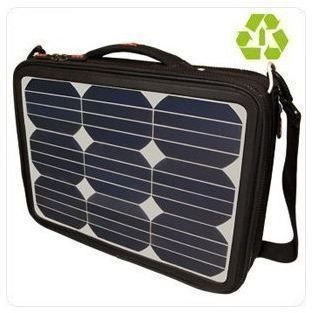 If you have a bit more cash on hand then you might be interested in the $499.00 Voltaic Generator laptop case. The 15-watt charging system can fully charge a laptop in five hours in full sunlight. It connects to the laptop via USB port or car charger and has a backup battery that holds the equivalent of a full laptop battery charge. This case will hold laptop computers as large as the 17" Mac Book Pro. The case itself is aluminum with recycled PET (soda bottles) fabric that makes it both rugged and water resistant.
Manufacturers at Voltaic say that most laptops by Apple, Dell, HP, IBM/Lenovo and Panasonic will charge without problem, but some laptops from Fujitsu, Sony VAIO and Toshiba may not support external battery charging from a USB hook up. If you have one of these latter computers check with the manufacturer to see if it will be compatible.
20-Watt Portable, Foldable Solar Charger

If you are looking for a military grade solar power computer charger the 20-watt portable, foldable solar charger from Powerfilm was initially design for use by the military. The entire unit weighs in at just under one pound and is completely waterproof. The amorphous solar cells produce 1.2 Amps at 15.4 Volts and deliver a steady electrical charge to your laptop computer. The panel comes with a canvas carrying case and female car lighter adapter. It was a top award winner at the Consumer Electronics Show (CES) in 2010 and is now available for $499.00. The most unique feature of this system is that it is mounted on a 600 denier polyester fabric that is resistant to the shrinking that often happens to nylon units.
Wagan EL2501 20-Watt Solar E Panel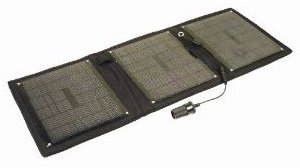 At $163.49, the Wagan EL2501 is the cheapest solar-powered computer charger on the list but it still offers quite a punch with its 20-watt potential. This charger does not require direct sunlight to reach its 20-watt capabilities, standard daylight (or even a 100-watt bulb) will work. The charger is made of high-impact tempered glass and is both shatter resistant and still flexible.
The reason this charger isn't farther up the list is that it requires the use of a cigarette lighter interface. If you don't have a car charger for your laptop you won't be able to use this one. If you like the capabilities but don't have a car charger, contact your laptop manufacturer or aftermarket computer store (Circuit City, Best Buy, Office Max, etc.) to locate one that will work for you.
References
All Images Courtesy of Amazon.com