Just What is a Digital Pen, Exactly?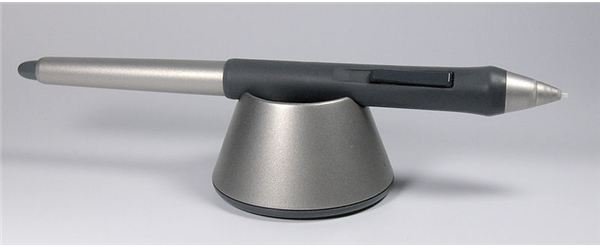 When digital pens were first introduced in 2000 by the Swedish Anoto company, the company struggled to find buyers. The technology was clunky and the uses for the pen weren't readily defined. Initially targeted at doctors and businessmen, the Anoto digital C-pens would record notes and make paperwork more streamlined. They were not a total failure, and the original concept grew to include partnerships with Acer computers and Sony Ericsson.
Anoto, in partnership with the Leapfrog company, launched the FLY pentop computer with a huge media blitz. The FLY was able to use handwriting-recognizing software to allow users to write on any surface as a virtual paper. The FLY would record the pen movements and transfer them to a computer where they could be transferred to a text file. Later incarnations of the FLY system incorporated teaching software including higher level math and language learning.
With the recent acceptance of tablet computers by the general public, the digital pen has experienced a revival. Logitech has introduced a line of digital pens including the Logitech io Personal Digital Pen that takes optical images of everything that is written or drawn by the user. The new advanced handwriting and digital imaging software can now quickly transfer the written words into computer fonts, charts and graphs.
The Iris Notes Executive Digital Pen takes a high-end approach to imaging and allows the handwritten notes of an executive to be immediately turned into edit-ready text. The USB connection connects the pen directly to a laptop or desktop computer for instant data transfer.
Another take on the digital pen has been launched by LiveScribe. The LiveScribe Eco Smart Pen uses a special notebook to allow the taking of notes while recording any audio at the same time. The Eco Pen then links the audio files to the notes that were being taken at the time. The audio can then be played back at a later time by tapping the notes. The audio that was recorded while the notes were being taken will be played. On top of this application the Eco Smart Pen has several other productivity apps including language translators (which are perfect for frequent travelers) that allow you to write a word or phrase in one language and have it translated into another. There are several educational, entertainment, music and miscellaneous applications to add for better productivity and off-time entertainment.
Digital pens are also used to work directly with tablet computers as advanced styluses. Most tablets will either come with a stylus or offer one as a peripheral for easier use of some applications. The new found love of tablets and the advances in handwriting recognition have brought digital pens back to the forefront of technology. What is a digital pen? Simply put, it's the accessory you never knew you wanted until it fell into your hands.
References
LiveScribe.com: https://www.livescribe.com/en-us/ (accessed Feb 2011)
Anoto.com: https://www.anoto.com (accessed Feb 2011)
Image Courtesy of Wikimedia Commons/Metoc