Top 5 Fun & Educational Electronic Games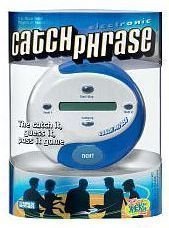 Electronic games are not just fun, but they can be educational too. Setting them apart from traditional educational games is the efficiency it adds to the whole game dynamic, making things faster, easier, and in effect, more fun. Here are some of the best electronic games available.
Electronic Catch Phrase
This electronic version of the classic word game makes playing it easier and more efficient. It contains 10,000 words in several categories, a timer and a scorekeeper. It makes guessing a chosen word and passing it on to the next player more fun and efficient, letting all players enjoy the game more with little effort. Giving clues is much easier too since the device helps you with useful and fun clues for the other players to figure out the chosen word. All you need to play it is at least 4 players and 3 AAA batteries.
Price: $27.99
Brain Games 2
This is a collection of five games designed to help you train your brain for better memory. The games are puzzles that you have to solve using your wits and brain power. You can control the game using your fingers via the touchscreen or you can use the included stylus. It includes a score keeping feature that lets you track your progress, as well as tips to help you in improving your memory. It is both fun and useful, so it is perfect for young people developing their brains, as well as more mature people who want to keep their mind sharp.
Price: $29.95
Electronic Hyperslide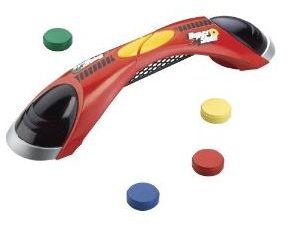 If you are feeling competitive, this game can provide you the competition you need whether you are playing alone, against someone else or in teams. The object of the game is to break the code or make a guess as to which color will be focused on next and pass the device before time runs out. Voice commands give you instructions during the game and you must follow them to abide by the rules. It is designed to be played on a table top, preferably with someone else so that there is an air of competition, making the game more fun. The device has a built-in feature to turn itself off when not in use, so you don't have to worry about leaving it on and having the batteries die out.
Price: $12.99
MindQuest Quiz Game Electronic Learning Toy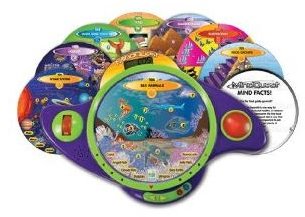 This educational toy can help children develop spelling, language and math skills while enjoying themselves. It includes 35 game cards and more than 280 questions, so there's a lot of variety in it, preventing the game to become boring for young people. It is made of durable materials so you can be sure that even with frequent use, it will not wear out easily.
Price: $22.99
Monopoly Electronic Banking Edition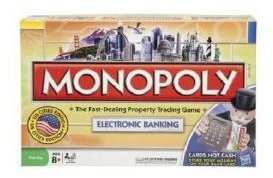 Monopoly is one of the most famous electronic games we all know and love. The game is still played as it usually is but an electronic banking system is now involved, making the game more relevant as it reflects how business and economics work in current times. Instead of dealing with play money, transactions are now done using electronic banking accounts and debit cards.
Price: $35.19
You may also want to check another Bright Hub article on the top VTech toys for all ages.
References
https://www.toysrus.com/product/index.jsp?productId=2264798
https://www.amazon.com/Radica-L9744-Brain-Games-2/dp/B0010TCG48/ref=sr_1_7?ie=UTF8&qid=1296142094&sr=8-7
https://www.amazon.com/Hasbro-44694-Electronic-Hyperslide/dp/B000OKW1DU/ref=sr_1_1?ie=UTF8&qid=1296142094&sr=8-1
https://www.amazon.com/MindQuest-Quiz-Game-Electronic-Learning/dp/B0015Z2D40/ref=sr_1_15?ie=UTF8&qid=1296142094&sr=8-15
https://www.amazon.com/Hasbro-114-Monopoly-Electronic-Banking/dp/B000OOLNTY/ref=sr_1_31?ie=UTF8&qid=1296142232&sr=8-31