Where to Buy a Solar Powered Alarm Clock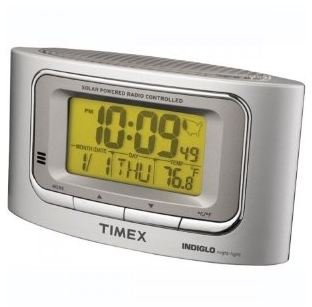 Timex Solar Powered Radio Controlled Atomic Alarm Clock
A popular maker of all sorts of timepieces, Timex offers a solar powered alarm clock with numerous features. With this clock, you don't have to worry about setting it as it does so automatically. This atomic clock receives a signal from the U.S. Atomic Clock, so it is always as accurate as possible. It even adjusts itself for Daylight Saving Time. Not only will the clock power up with exposure to sunlight, it will also do so from ambient room light making it ideal for a bedside alarm. The display is large and easy to read. Along with the current time, it displays the date and day of the week, temperature and seconds. Available for just under $20 at Amazon.com.
Advance Time Technology Solar-Powered LCD Alarm Clock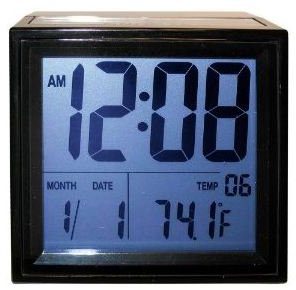 This clock is actually a hybrid. It runs on two AA batteries, which are included with purchase, but its additional solar technology lengthens the battery life for as long as five years. The large LCD display is easy to read, and pushing a button provides blue backlight as needed. You have the option of 12-hour or 24-hour time settings. Along with the time, the display provides the date and the current temperature in your choice of Fahrenheit or Celsius. You can use a second time zone setting and the alarm grows progressively louder to ensure you wake up. Around $19 at Amazon.com
Equity by La Crosse Hybrid Solar Analog Alarm Clock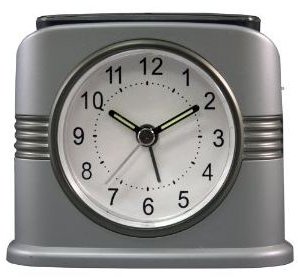 Who says a solar powered alarm clock has to be digital? If you crave an old-fashioned clock with numbers on the dial and even a second hand, this may be the timepiece for you. Another hybrid option, the solar panel on top of this retro clock extends the life of the two AA batteries, which are not included with purchase, to more than two years. The body of this alarm clock is silver and the dial features a green backlight and glowing clock hands. The alarm does have a snooze, but the ascending volume will help you get up on time. This clock is available at Amazon for just over $10.
Equity by La Crosse Hybrid Solar Desktop LCD Alarm Clock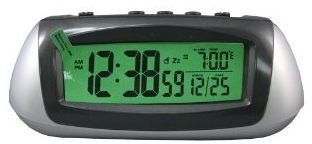 Appearing much like the traditional digital alarm clock that you might see on your nightstand, this hybrid solar powered alarm clock is easy to use and energy efficient. The solar panel extends the life of the two AA batteries, which are not included with purchase, for two years or longer. The display shows the time and date in black with a green backlight. It also toggles between the time for which the alarm is set and the indoor temperature in your choice of Fahrenheit or Celsius. Available for under $7 at Amazon.
Solar Powered Spinning Wind Turbine with Clock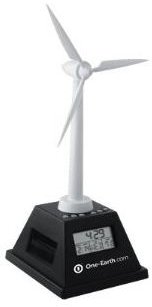 Show off just how green you are with this fun yet functional clock. Three solar panels use the power of the sun as well as standard office lighting to power both the alarm clock and the miniature wind turbine that sits on top of it. The clock, which uses two AA batteries (not included) as a backup source of power, shows the time, day, date and temperature. Around $18 at Amazon.
References
Images from Amazon.com