Top 8 Spy Gear Night Vision Goggles for Every Need

How Night Vision Goggles Work
When using spy gear night vision goggles, existing night ambient light such as the moonlight, starlight and infrared light are refracted by
the front lens of the device then directed into the photocathode tube that changes protons in the light to electrons. This process amplifies the electron to a much greater number. A phosphorus screen then changes the amplified electrons back into visible light, which then becomes visible through the eyepiece. This makes images appear clearer, green- hued and amplified.
In completely dark environments where there is absolutely no ambient light the night vision goggles would be useless without the built-in infrared illuminator. The infrared illuminator sends out an invisible beam of infrared light that the night vision goggles detect then transforms into visible light.
Types of Night Vision Goggles
To breakdown the different types of night vision goggles is quite straightforward. However, to assess all the various models, versions and brands is incredibly extensive. Basically there are two general designs of spy night vision goggles- Monocular and Binocular. Monocular is a single eye goggle and Binocular has dual eye viewing.
In terms of performance regarding optical clarity, visual quality, target detection and technical ability we differentiate between devices by a categorization referred to as 'generation'. Night vision device generation advances from 1 to 4 with 4 being the most sophisticated technology.
Generation 1 technology is very popular, it will amplify existing light several thousand times so users can see objects brighter and sharper in dark conditions. These units can view objects as far as 75 yards in pitch-dark conditions and much further in ambient conditions at a low cost.
Generation 2 technology is a modified version of the generation 1 device with the addition of a micro channel plate (MCP). The MCP produces many more thousands of electrons thus amplifying light many more times than the generation1 giving you brighter and sharper imagery. In pitch dark conditions objects can be seen 100 yards away and much further when there is ambient light.
Generation 3 technology is more advanced with the addition of a gallium arsenide layer to the photocathode tube. This produces brighter and sharper images. These devices can see up to 150 yards away in pitch-dark conditions and further with ambient lighting.
Generation 4 technology is the most advanced form, succeeding all other generations of night vision optics available. Its capabilities are improved by the subtraction of the ion film barrier and gating the system. Its overall visibility and target detection is considerably higher and puts it at the top of the tactical night vision market. In pitch-black conditions it typically reaches a distance of 200 yards or further, with considerable ambient lighting it can provide visibility of up to 1000 yards or more depending on the environment.
Continue to page 2 for our list of the top night vision goggles.
Night Vision Stealth View Monocular Goggle
We begin our list with the night vision stealth view monocular goggle.This phenomenal device uses generation 2 and 3 optics to highlight images with a powerful infrared spotlight. In extreme darkness and at long ranges, this scope produces a view that is sharp and exceptionally clear. This optical device is known for turning night into day with its advanced light-gathering technology.
Additional features include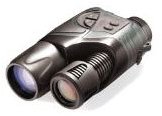 5x magnification viewing
Two infrared illuminators
Automatic illuminator when the device is ON
Images comparable to Gen 2 & Gen 3
Image-intensifier tube
In-view micro display
Adjustable eyepiece
Powerful infrared spotlight
600-feet viewing range
Weather resistant
Video output
Built-in tripod mount
2-hour continuous run time w/ IR on and 8 hours without IR
Recommended Brand - Bushnell Night Vision 5x42 Stealth View Monocular 260542
Night Scout Night Vision Goggle
Night scout NV goggles provides optimum clarity and distance with its high-resolution 1st generation intensifier tube, this produces exceptional light amplification and provides up to 5x magnification with its heavily coated glass lens. It has sensors with a computerized proximity detector that turns the unit on when in use and off when it is not.
Additional feature include
Long-range infrared illuminator
Water and fog-resistant
Head-mounted, hands-free night vision system
Infrared intensifier for vision in zero light
Super-clear 90mm glass lenses
Recommended Brand - ATN Night Scout Goggle
Night Vision Goggle 7 (NVG 7)
This night vision goggle comes with built-in high-grade 18 mm generation 2 and 3 image intensifier tube and utilizes an attractivebinocular design. It has a built-in infrared light source for close-up illumination in complete darkness.
Additional features include
Lightweight, compact rugged goggle system

Hand-held, head-mounted or helmet-mounted

Comfortable, flip-up headgear

Multi-coated all-glass optics

Wide angle infrared illuminator

Attachable 3x, 5x and 8x lenses

Weather and fog resistant
Recommended Brand - ATN NVG7- CGT
The Viper 1
The Viper 1 can be used with a Camera/Camcorder Adapter, 90mm Lens, and Magnification Doubler.
Additional features include -
Hands free night vision
Can be attached to a camera for nighttime photography
High-resolution
Adjustable Lens technology
1x, 4x, 8x Magnification
Light weight
Battery requirement -1 lithium battery
Recommended Brand - ATN Viper Night Vision Goggle
The Night Optics D-112MG Goggle
This monocular goggle is equipped with a built-in photocell that guards the unit against bright light exposure.
Additional features include -
Multi-coated 1x 40° standard lens

Flip-up headgear

Light -weight

Durable package

3x lens

Camera/Camcorder Adapter

Battery Requirement - 3v CR123 battery
Recommended Brand - Night Optic D-112 MG Goggle
Continue to page 3 for more great night vision equipment like binocular goggles, rifle scopes, and more.
PVS7-CGT Night Vision Binocular Goggle
The PVS7-CGT is a robust and dependable night vision binocular with all-glass optics and a high quality 2nd generation light intensification system. It is less dependent upon ambient light and as such produces clearer images with less distortion. The binocular configuration offers a greater sense of depth perception; this results in an enhanced sense of dimension within the scene, and longer term viewing comfort.
Additional feature include -
Water and fog proof housing
Hands Free Operation
Resolution: 40-50 lp/mm
Recommended Brand - Night Vision Binocular Goggle
Digital Night Vision Rifle Scope
This device has a built-in infrared illuminator to supplement low light conditions. The riflescope optic system employs an internal click stop focus position mechanism. Images are clear at extremely short distances and the quality is optimized at longer distances within the working range of the night scope.
Additional features include
Windage and elevation adjustable switch

Weaver scope mount rail (7/8")

Activator switch for built-in infrared illuminator

Brightness adjustment wheel

Inversion button converts color images to black to white.

External video socket for video recording and or playback

A mini-USB slot to connect personal computer

Durable

Magnifies 4.5 times

Video in/out port
Recommended Brand - Digital Night Vision Rifle Scope
Digital Night Vision Ranger Monocular Goggle
The night vision ranger provides clarity of the generation two's powerful optic magnification. It has one of the most powerful infrared illuminators ever released on the commercial market and has the capability to hook up to a television or monitor for an incredible observation experience. With its dual built-in stealth invisible infrared illuminators, it offers higher magnification and provides superb details.
Additional features include
Resolution of 40 lp/mm, w

Comparable Gen 2 and Gen 3 night vision devices

5x magnification

Day & night operation

Dual stealth invisible IR system

Image projects onto internal LCD screen

Enhanced multi-coated lenses

Extra long distance viewing, effective over 300 yards

Direct video recording output

Punch button On/Off with IR brightness adjustments

Contrast adjustment control

Fine focus knob

Long range focus adjustment

Image brightness and clarity- comparable with Gen. 2 optics

Built-in 1/4-Inch tripod socket

High-strength body

Compact and lightweight
Recommended Brand - Yukon Digital Night Vision Ranger 5x42 Monocular 28041
References
Night Vision Gears - https://www.atncorp.com
NVG7 Monocular Goggle https://www.opticsplanet.net/atn-night-vision-goggles-nvg7.html
Night Vision Optics - https://www.nightvisionoptic.com/
Night Vision Goggles - https://www.amazon.com
Image Credit - Amazon.com