5 Top Remote Control Boat Recommendations

High Wing Racing Boat
For those boat lovers who are looking for speed they will enjoy the 29.5" radio remote control High Wing racing boat made by NQD and sold on Amazon.com. This boat originally retails at $150 but is for sale for just $56.28. This remote control boat comes with a fully functional radio remote control, a duel 380 engine that provides plenty of speed, a vector push design, a rechargeable battery pack and a range up to 300 feet. Shipping weight is 10 pounds and it is a good choice for boat lovers ages 8 and up.
Photo Credit: Amazon.Com
32" Fishing Boat
Want a remote control fishing boat that actually fishes? Look no further than the Radio Ranger 32" remote control fishing boat by Fish Fun company. This large remote control boat can go out to 300 feet and is great for going around the dock and fishing for little fish. Adults will have fun using it to catch bigger fish as well with the RC fishing pole. Included in the package is full instructions on how to use it, the RC fishing pole, .2V-1800mah battery, pistol grip transmitter that comes with batteries, boat stand, wall charger and even extra propellers. This large fishing boat sells on Amazon.com and is priced at $77.95.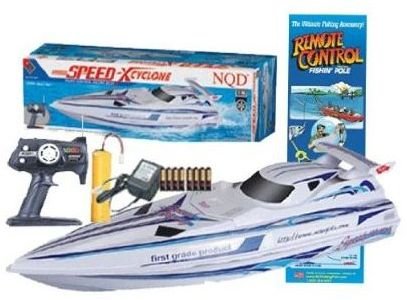 Photo Credit: Amazon.com
20" Navy Battle Ship
With speeds up to 10 miles per hour this 20" Navy battle ship by E-Toysworld is a great addition to any collection. This boat comes fully assembled so all one has to do is take it out of the box and it is ready to use. It has a controlled range of up to 60 feet and also features duel propellers. Included in the package is a 6.0v Nickel-Cadmium rechargeable battery, a 110V battery charger adapter, one controller and one 9v battery for the controller. This boat is recommended for ages 8 and up and sells for just $38.95 on Amazon.com.
Photo Credit: Amazon.com
Kid Galaxy Hydro Racer Barracuda
Looking for a remote control toy boat that is suitable for a child as young as 5? The Kid Galaxy Hydro Racer Barracuda is an excellent choice for kids aged 5 and up. With a tri hulled design it is extremely durable and sturdy and great for ponds, small lakes and pools. It offers 120 foot operating range as well as an ultra sleek look that all kids will love. The package includes the boat, remote control, and requires a 9V battery and 6 AA batteries that are not included in the package. This boat sells for $25.90 on Amazon.com.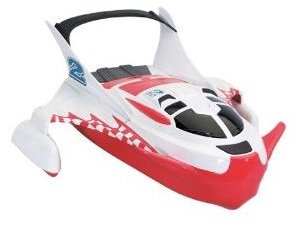 Photo Credit: Amazon.com
Pirates of the Caribbean Yacht Cruiser
For those who are looking for a pirates life will enjoy the Pirates of the Caribbean yacht cruiser by iToyStation. Selling on Amazon.com for only $50.98 this remote control pirate ship can go up to 15 miles per hour up to 300 foot in range. The pirate ship also comes fully assembled so it is ready to use and is good for smaller ponds, pools or lakes. Included in the package is the pirate ship, remote control and batteries required to make it run.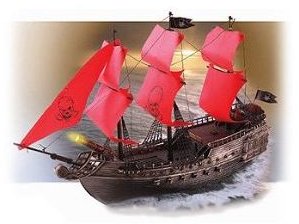 Photo Credit: Amazon.com
Sources
Sources: Amazon.com and my own research.