Robotic Remote Control Cars: Buying Guide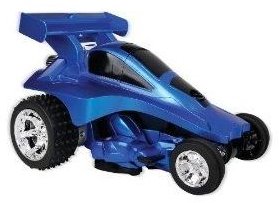 Robotic remote control cars are not only fun for kids; they are a fun hobby for adults, too. Watching the cars spin around, cut tight corners and turn into robots can keep you amused for hours. Here are some of the robotic cars that are popular today:
Blue Hat Savage Remote Control Robot Car
The Blue Hat savage is one of the most popular remote control robot cars available. It starts as a sporty looking racecar; but don't let that fool you because a tap on the remote control turns it into an ominous-looking robot that is just as likely to take on tough territory as a flat surface. The large, rugged rear wheels see to that by gripping any surface they contact and pushing the Blue Hat right over it. When it runs out of things to climb, the Savage is just as happy racing across the floor taking instructions from the remote control. You can get the radio-controlled robot car in red or blue, and each color of car operates on its own frequency so you and a friend can run two cars.
The Blue Hat Savage Remote Control Robot Car is [available at Amazon for $62.99](https://www.amazon.com/Blue-Savage-Remote-Control-Robot/dp/B0038O6XG0/ref=sr_1_11?ie=UTF8&qid=1296993287&sr=8-11 /brihub02-20).
V-BOT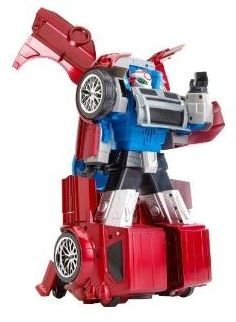 The V-BOT may have an identity crisis. It is a remote-controlled robot and car, to be sure. However, it has a unique feature: It is also an MP3 player. It may as well keep up with the Joneses, because it seems like everything else has one anymore; but not like this. This one makes the V-BOT move around and do a jig; it dances to the "Robot," to be more precise. This is a classy sport-utility vehicle with rear wheels that light up when they move. Fast, tight turns are one of the specialties of the V-BOT. Punch a button on the remote control and it turns into a 15-inch robot that is capable of more than 100 slick moves and sequences, some of your own creation and some that are preprogrammed. V-BOT's signature move is the karate chop.
The V-BOT is [available at Amazon for $255.99](https://www.amazon.com/Learning-Curve-72030A-V_BOT/dp/B000P69XS4 /brihub02-20).
Remote Control Car & Robot Transformer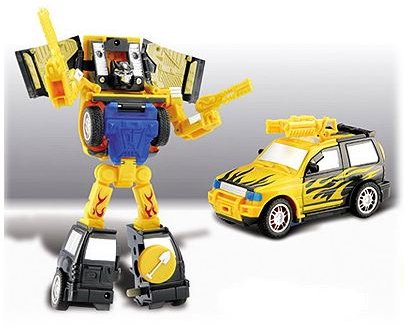 Whether in car or robot mode, the Robot Transformer is ready for trouble from its enemies. When this remote controlled car is a sport utility vehicle, it displays threatening guns on the top of the vehicle. When trouble comes, the Transformer does its thing and turns into a gun-wielding robot capable of firing darts from the previously hidden rotary cannon that stores five, rapid-fire darts. Once the threat is gone, the Robot Transformer slips back into car mode and keeps you entertained by going wherever you send it via remote control. Have your friends bring their remote control cars over, and you won't have to worry about interference; the Robot Transformer has three different channels you can use.
Originally, this Remote Control Car & Robot Transformer sold for $69; recently, it's been discounted to under $20 on the Giftspot.com website.
Remote Control Transbotix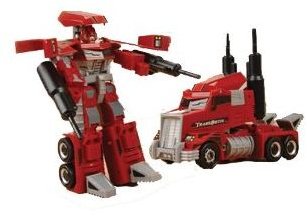 The Transbotix is an authentic looking semi truck controlled by wireless remote control. It has all of the normal actions you expect from a robotic remote control car; but watch out – it turns into a ten-inch robot that looks like it is anxious to blow something away. It is so simple to use that it is recommended for ages 5 years an up. Step-by-step instructions are included. The Transbotix works fine in truck and robot mode, but according to one of the reviews, it may be a little difficult to make the transition from one to the other.
The Remote Control Transbotix is available from Amazon for $35.99.
Sharper Image Speedborg Robotic Remote Control Car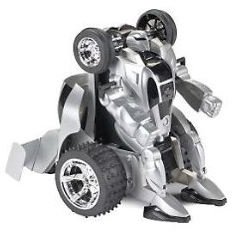 The Speedborg looks like heavy metal rock-n-roll on wheels. It parades as an all-terrain racecar, but when it is time to get down to business, you command the Speedborg to turn into an intimidating robot. It has super-sized all-terrain tires on the back that are just right for racing and performing stunts that you enter into the remote control. To make sure your friends can operate their RC robotic cars with you, the Speedborg broadcasts in your choice of two radio frequencies so their cars won't get interference from your signal.
The Sharper Image Speedborg Car is available at Amazon for $67.
Credits
Images: All images are from Amazon.com, except the Robot transformer, which is from Giftspot.com