Solar Powered USB Charger: A Look At the Lenmar PPUS20 PowerPort Solar Charger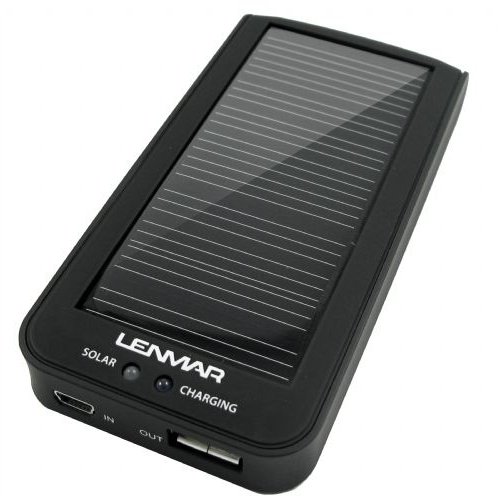 High Performance Solar Powered USB Charger
The Lenmar PPUS20 PowerPort Solar Charger is a portable, good-looking and durable solar powered USB charger for media players, cell phones and other portable devices. It is available at Amazon.for around $30 bucks, and is shipped in protective and sealed packaging, with a one year warranty.
The charger has been designed to transform the sun's energy into electricity by using photovoltaic cells. It is equipped with a rechargeable battery for storing electricity for up to one year. It is a high quality and high capacity battery of 2100mAh, that charges up fully in approximately four to six hours, and can be fully charged up to five hundred times.
Unlike some other solar powered chargers, the Lenmar PPUS20 PowerPort solar charger can charge your device while it receives and converts the sun's energy into electricity. The charger's battery can be charged by two ways - directly from the sunlight and from a USB port. One hour charging of your device through this Lenmar PowerPort solar charger will provide enough power for a ten minute phone call, or more minutes for audio playback from a MP3 player. Because the power is generated by sunlight, it is not very strong, and therefore, can not charge up a device as fast as an AC adapter does. And that's why, solar power battery chargers are only very good for emergencies or for people who spend most of their time outdoors and can not readily use a wall or car charger.
The PowerPort solar charger outputs 5.4 volts DC, 11 watts, 400-800 mA, and charges up your device's battery very quickly. Exactly how quickly it charges the battery depends on the intensity of the sunlight, and also the type of the device, but the average charging speed is very good.
The process of charging a device is fast, clean, and noiseless. All you need is to connect your device to the Lenmar solar charger via the provided USB cable and it will start charging immediately. Adapter tips for PDAs, iPhone, BlackBerry, LG, Samsung, Motorola and other phones as well as for iPods, MP3 players, GPS, digital cameras, gaming devices and other portable devices are provided in the package.
The device has two LED lights. One illuminates when the sunlight falls on the solar panels and generates power from it. The other light indicates that your device is connected and charging. The charger has a safety gauge that protects the devices from overcharging, and helps to ensure longer life.
image credit: lenmar.com
Conclusion
The PPUS20 PowerPort Solar Charger is a high quality solar powered USB charger by Lenmar. It lets you charge your portable gadgets or devices at any place from sunlight. It has a compact and lightweight design and you can carry it with you anywhere with ease. It is safe for airplane travel or air shipments and a great product for frequent travelers.