The Top 7 Electronic Chess Games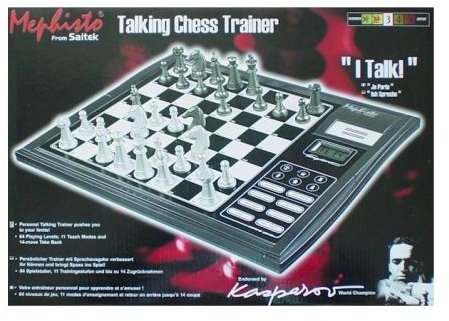 Mephisto Talking Chess Trainer
The Mephisto Talking Chess Trainer help you learn the basics quickly or improve your chess skills. 64 playing levels include Fun, Casual, Blitz, Bronstein, Bonus Timer, Tournament, Fixed Depth and Tactical. Play these levels against the computer or a friend. If you cannot finish a game for any reason, the chess trainer will save it for you.
Other features include a sensory chess board, silver and pewter chess pieces, 4-digit LCD display, dual chess clock, automatic power down feature to conserve battery life and a storage compartment. The Mephisto measures 12" x 10", with an 8" x 8" playing area. The price is $52.95.
Source: TheChessStore.com
Excalibur Electronics Einstein Chess Wizard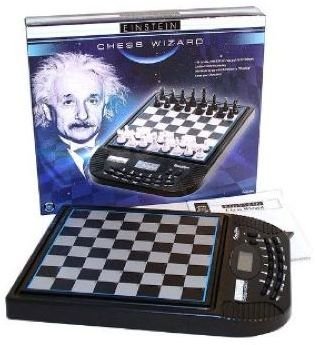 Learn popular openings, such as the Ruy Lopez and Sicilian with the book-opening trainer. Also learn how to solve your checkmate problems so that you can build your skills as a player. The Einstein Chess Wizard will guide, instruct and challenge players through 73 power levels. The Excalibur Electronics Einstein Chess Wizard measures 11" x 9" x 1". The price is $78.39.
Source: Amazon.com
Novag Star Aquamarine Chess Computer
The Novag Chess Computer will teach beginners how to play chess and challenge those who already know how to play. If you have to stop playing for whatever reason, this computer will save the game for you to play later. The Novag Star Aquamarien has several chess features including coaching, set up position mode, 2 player mode and more. It requires six AA batteries. The price is $99.95.
Source: Amazon.com
Talking Chess Trainer Electronic Chess Set Computer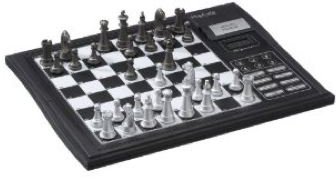 Endorsed by Kasparov, this tabletop chess computer simulates a real tournament, with real clocks that time both players. The large 4-digit LCD display shows moves, chessboard and times. This game features over 768 level setting combinations that make it suitable for all skill levels. Features include 11 teaching modes, 14 move take back, option to play against the computer or a human, hints mode, 16 opening systems, sensory chess board, pewter and silver chess pieces, automatic Power Down feature, piece storage and chess trainer speech.
The Talking Chess Trainer measures 12.25 x 10 x 1. It requires three AA batteries. The price is $79.95.
Source: Amazon.com
Ivan II The Conqueror Chess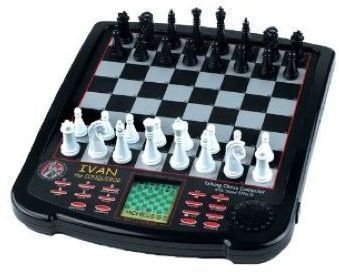 Ivan II is a talking computer, which you can set to mentor you with patient tones or commanding ones. If you do not like the sounds, simply turn it off and play one of the 100 levels. You can also play with or without the pieces, using Ivan's unique LCD. This machine measures 12.2" x 10" x 1.2". The price is $43.99.
Source: Amazon.com
Maestro Travel Chess Computer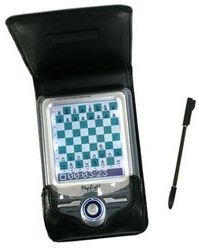 Watch how the experts play chess with 64 Study Positions or play one of the 100 playing levels. Experiment and learn by replaying your moves or taking back over 200 moves. Hints, Tips and Coach Mode are available to help you go from an intermediate player to an advanced player.
The Maestro Travel Chess Computer measures 5" x 3.25" x .5". Other features include a touch sensor screen, a backlit blue LCD display that turns off, a stylus and a cover to protect your machine. It requires three AAA batteries. The price is $89.95.
Source: Chesshouse.com
Saitek Mephisto Advanced Travel Handheld Chess Computer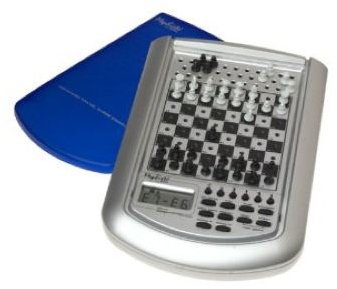 This handheld chess computer has 64 playing levels, from beginner to advanced game modes. The game modes include Beginner, Normal, Training, Tournament, Blitz and Mate Search. Play against the computer or a friend.
The computer measures 8" x 5 1/2" x 1 1/2" with 7/16" squares and a 3/8" king. Three AAA batteries are required. When you are finished playing, store the pieces inside the unit. A durable lid keeps the board and controls protected when not in use. The price is $69.95.
Source: Amazon.com
Conclusion
These are the electronic chess games that I found online. All of them offer the same basic thing: an opportunity to learn chess or to improve your chess skills. If you have used any of these games, please share your experiences with us in the comments section.