High Tech Spy Gadgets and Toy Spy Gear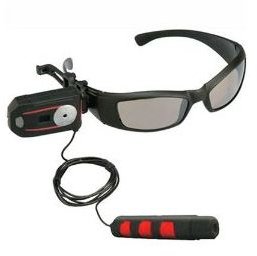 Toy Spy Gear
Toy spy gear offers some of the most satisfying items you can purchase for your child. The thought of owning such an advanced piece of equipment gives them a heightened sense of authority. It gives them the control and knowledge they crave and you will find how involved they become as they encounter the 'make believe' world of espionage.
Here we list and discuss some of the most high tech spy gadgets children will enjoy.
Spy Camera Glasses
Spy camera glasses are one of the more popular toy spy gear available among high tech spy gadgets. They now have improved the quality of video and audio recording for your spying experience. They transform footage to a new level of integrated technology. Some spy cam glasses can recode audio clips with an embedded microphone that automatically changes your voice.
Features
Embedded Microphone w/Extendable Receiver

Digital Camera attached to Sun Glasses

Take Photos w/Secret hand held remote

Camera Folds & Unfolds

Secret Push Button to Snap Photo
Technical Specs
High Tech Video Resolution
Quality Audio Signal
Audio Recode Clips
Download Photos to your PC
AAA Battery (not included)
Measures 6" x 8.5" x 1.5"
Find these Spy Camera Glasses at Amazon for around $186.
Spy Vision Goggles
Spy vision goggles are quite attractive and appealing to children. Their key feature is an eye-catching acid-green lens with adjustable head strap and penetrating light bulbs, designed to pop-out of compartments on each side. The goggles tinted lens makes images and their surroundings appear cool and supernatural even with the absence of actual night vision lens.
Features
Sleek design that looks ultra-cool.

Acid-Green Tinted Lens

Twin LED lights flip out at the touch of a button

Viewing Distance of 25-foot range in the dark
Technical Specs
Product Dimensions: 7.1 x 2 x 7.1''
Shipping Weight: 4.8 ounces
Batteries: 4 AAA batteries required.
Find these Spy Vision Goggles at Amazon for around $69.
Night Vision Infrared Stealth Binoculars
Night vision infrared stealth binoculars are very effective in acquiring authentic undercover surveillance services like never before. You can see up to 50 feet in complete darkness with actual infrared night driven vision technology. These binoculars have a dual eye display for comfortable viewing coverage of your target. The handheld design also helps you keep a constant grip whenever you are on the move. Conducting undercover and other espionage activities will be more stimulating and realistic with this exceptional toy.
Features
See up to 50 ft. in complete darkness

Real Night Vision technology

Binocular display

Requires 5 'AA' Batteries
Technical Specs
Clear visibility up to 50 feet in pitch dark environments
Product Dimensions 12 x 4 x 11.5''
Shipping Weight 1.9 lbs
Find these Night Vision Infrared Stealth Binoculars at Amazon for around $77.
Toy Car Spy Video Camera
Next on our list of top spy gear comes the toy car spy video camera. These are excellent for capturing extended undercover footage anywhere. These cars have video cameras enclosed inside with a fully functional color camera and also feature sound activation components with built-in microphones. The camera records videos and audio signals and transmits them back to the remote control.
Some of these spy camera car toys can detect audio signals from far distances and behind closed doors and walls. They may have infrared night vision lenses and can even go outside at night to investigate without being seen or jeopardizing your safety. Parents can also use these devices as a nanny cam and/or keep an eye on their children.
It is the perfect hidden surveillance item and is designed to resemble many types of automobile brands so it will fit in perfectly with either a car collector's set or child's toy.
Find these Toy Car Spy Video Cameras at Amazon for as low as $21.95 and up.
Featured Spy Car - The Mini Car Video Cam DVR - This makes an exceptional gift for children as well as gadget frenzy adults. It is designed to look like a BMW and houses a fully functional color camera and a DVR unit. This particular unit even features sound activation. The unit also comes with a suction cup stand that allows you to use your tiny car, as a car cam.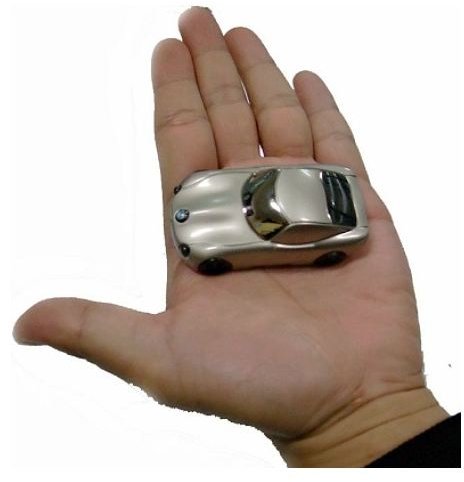 Features
Records Color Video
Takes Still Images
Resemble a Toy BMW
Working Headlights
Sound Activation
Technical Specs
Image Resolution: 1280 x 960 @ 16FPS
Color Video
Minimum Illumination: 1Lux
Supports up to 8GB SD Cards
Storage Consumption Rate (video): 1GB/40min
70 x 37 x 22mm
Runtime: 2 hours
Find the Mini Car Video Cam DVR at Pimall.com for around $159.
Walkie-Talkie
The walkie-talkie is a very essential toy spy gear to facilitate active and reliable contact between a spy and his fellow counterparts. You can maintain effective communication at relatively far distances and can look forward to experiencing minimal signal interruption even when you are in a different room or location.
Features
Range up to 2 miles (3km) depending on environment and terrain

Up to 8 channel combinations

Channel scan function

Adjustable volume control

Low battery warning

Belt clip

Ergonomic design for firmer grip

One year warranty
Technical Specs
Item weight 231 g
Product weight 454 g
Requires 3 x 1.5V AAA/LR03 batteries (not included)
2 x Binatone Latitude 100 walkie talkies Belt clip
Find the Binatone Latitude 100 Twin Walkie Talkie at Amazon for around $24.50
Spy Watch
The toy spy wrist watch has six fantastic spy functions, the features include a flashlight, world time clock, wake up alarm, locking armor, motion alarm with timer and two safe drop capsules for secret messaging. This spy piece works hand in hand with other high tech spy gadgets to get the ultimate espionage experience.
Features
World time and stopwatch

Motion alarm with a time stamp

Pop-up night scope and magnifying lens and focused LED beam

Two-drop capsules for secret messages

A Hi-Tech Watch With Cool Spy Features

Flashlight
Technical Specs
Product Dimensions 8.1 x 5 x 1.7''
Shipping Weight 4.8 ounces
Batteries Required
Find the Spy Watch at Amazon for around $12.
References