Kindle & Sony Reader: What are the Keyboard Differences?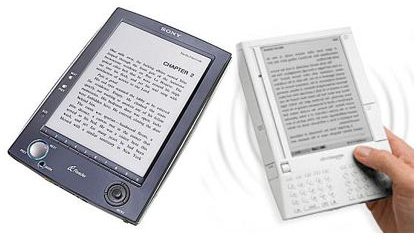 Kindle vs. Sony Reader: Two Different Keyboards
If you're looking to pick up an eBook reader such as the Amazon Kindle or Sony Reader, there are several differences you should be aware of. There's a wealth of ways in which the two platforms are similar - both are eBook readers that use electronic paper to display stored books, after all - but plenty of minor and more noticeable differences as well. In particular, the differences between the Kindle and Sony Reader's keyboard can be a deciding factor for some users when deciding which eBook reader to buy. Here we'll discuss the differences between the Kindle and Sony Reader's keyboard.
Tactile vs. Virtual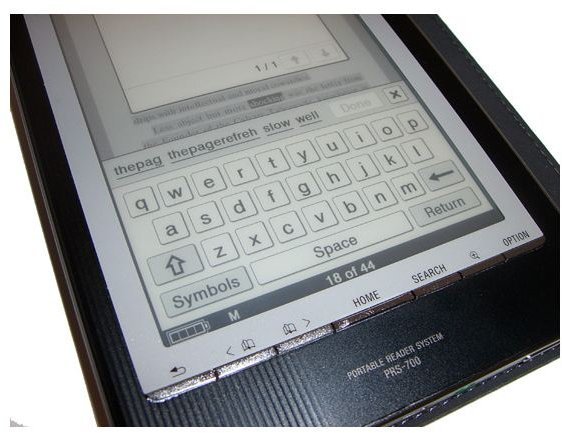 The biggest difference between the Kindle and Sony Reader's keyboards can be seen before even turning either device on: one has a dedicated keyboard and the other doesn't. The Amazon Kindle has a full QWERT keyboard mounted to the front of the device, whereas the Sony Reader, true to its name, features simply a full-screen reading area with very minimal controls. Does this mean it's an open-and-shut comparison? Not at all. Boot up both devices and you'll see how the Sony Reader handles the input problem: by providing a touch-sensitive screen on which a keyboard can be displayed, allowing users to input text by tapping the onscreen keys.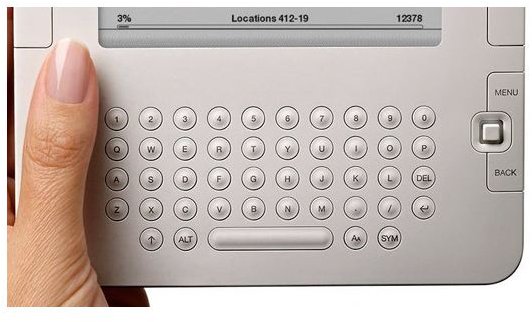 There are several differences raised by these differing approaches. The first and most obvious is the question of tactility. Some users prefer to feel a key being depressed when they push it, whereas others like the zero-feedback feeling of tapping a touch-screen. The other key issue here is that of accessibility: whereas the Amazon Kindle's keyboard is always right there waiting to be pressed, the Sony Reader's must be brought up by accessing the device's menu. Does this mean advantage to the Kindle? Not necessarily: read on.
Real Estate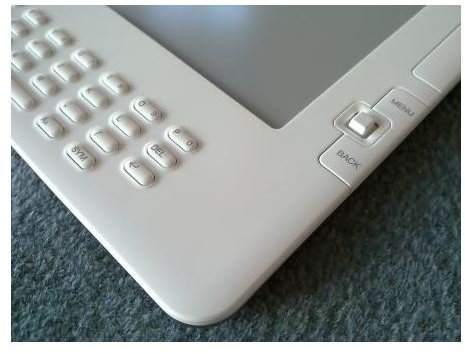 Some users like the way the Amazon Kindle, Kindle 2 and Kindle DX feature a keyboard that's physically mounted to the front of the device. It adds to the feeling of being in control of your eBook reader. However, other users feel that an eBook reader should devote every inch of available real estate (that is, device space) to presenting eBooks in as large and readable a way as possible. In this way of thinking, a keyboard full of letters hovering beneath your view-screen is distracting and takes up space that could be given over to displaying more and larger text. The question of whether the Amazon Kindle's keyboard is an effective use of space, then, is down to one's own personal taste.
Other Commands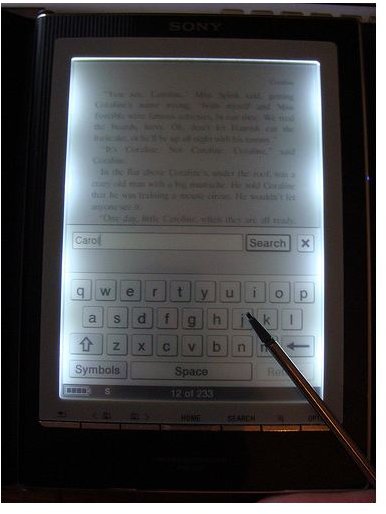 Of course you're not about to use your eBook reader to bash out a full-length novel: that's what word-processing software is for. The usefulness of the keyboard on an eBook reader is determined by how well it enables you to navigate and utilize the functions of the device itself. Here, in addition to their QWERTY-style keyboards, the devices both offer similar functions in different guises. Both provide four-way scrolling and navigation: the Kindle via a tiny thumbstick, the Reader via a game console-style directional pad. Both feature "Page Forward" and "Page Back" buttons, with the Amazon's on either side to simulate a real book and the Reader's at the bottom of the device. The Kindle's buttons are larger and more clearly labeled, whereas the Reader's, again, are smaller and less obtrusive.