Choosing a Brushed Chrome Hand Mixer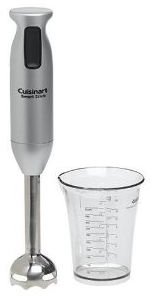 Cuisinart CSB-76BC SmartStick 200-Watt Immersion Hand Blender
If you're looking for a light-weight, inexpensive, attractive brushed chrome hand mixer that you can operate with one hand, then try this Cuisinart SmartStick. It weighs
less than three pounds, and the length, from the handle to the tip of the blade, is just over 14 inches. Its diameter is similar to that of a soda can in your hands. You can detach the blade and throw it into the dishwasher for carefree washing, and many users prefer the handsome brushed chrome look over plastic models because it doesn't stain or crack. The motor yields 200-watts of power. It costs about $24 at Amazon.com. This is the first of three Cuisinart mixers reviewed here, reflecting a testimonial to their much-touted customer service and their 3-year product warranties.
Cuisinart Power Advantage Plus 9 Speed Brushed Chrome Hand Mixer with Storage Case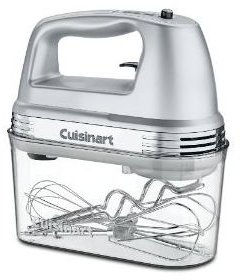 This 220-watt model, weighing in at four pounds, gives the one-two punch to thick cookie dough, butter cold from the fridge, and more. It offers the chutzpah of traditional hand-held mixers plus more: You get the mixer, two mixing blades, two dough hooks, a spatula, and a whisk. A clear plastic storage case attaches to the bottom of the mixer and holds all the utensils so that it's nice and compact on your pantry shelf. As the name implies, you can run this brushed chrome hand mixer—which also comes in white—on any of 9 speeds. The power button is separate, but both can be operated by the hand that's holding the unit. The cord swivels, making it easy to turn no matter how your bowl is positioned. It starts slowly, which eliminates spatters—something that satisfied users are commenting on. Look for it for $69.95 on Amazon.com.
Sunbeam 2551 Heritage Series 6-Speed 250-Watt Hand Mixer
This economical hand mixer is actually stainless steel but with the same classic look and benefits as brushed chrome hand mixers. It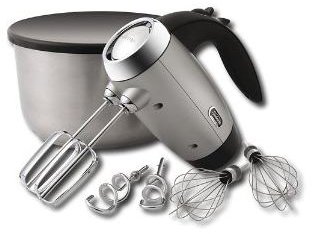 comes with a mixing bowl with a plastic cover as well as beaters, whisks, and dough hooks. While some metal-bodied mixers have plastic fixtures for the attachments, those on this unit are likewise metal, and users are happy with its longevity and versatility. All told it weighs 6 pounds, and with its 250 watt motor it offers 6 powerful speeds. Snap up this product for $43.95 on Amazon.com.
For a look at other 6-speed hand mixers, read this 6-speed hand mixer buying guide.
Cuisinart CSB-77 SmartStick Hand Blender with Whisk and Chopper Attachments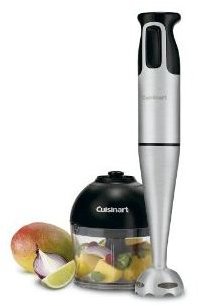 This model offers the same motor power as the 76BC SmartStick at 200 watts, but it's a tad shorter and more slender. It also comes with whisk and chopper attachments, a 16-ounce measuring cup, and a 2-cup mixing bowl. Like the other Cuisinart products mentioned on this page, it offers a 3-year warranty. It garnered a walloping 232 reviews, and over 100 consumers gave it a 5-star rating! One of the 4-star reviewers cited a story that confirmed Cuisinart's excellent customer service and then admitted she had only withheld the fifth star because she hadn't tried the whisk attachment at the time of her review. What leads many users to the SmartStick models—and this applies whether you buy this one or another model—is their ability to blend hot foods without pouring them into a blender unit: You simply immerse the SmartStick into the soup, stew, or whatever you're preparing. It's another economical choice at only $40.19 on Amazon.
Dualit 88860 500-watt Immersion Hand Blender
First, a caution to those who think they're buying the granddaddy of all blenders at 500 watts: The wattage number given on the Amazon site

applies to its British cousin. While this is a chrome and not actually a brushed chrome hand mixer, this immersion unit powers in at 320 watts–American—still easily the most powerful chrome hand mixer reviewed here today. It is one of those units that blends, emulsifies, chops, grinds, and whisks; the variable speed control starts you at 9,000 rpm and up, and it pulses at 17,000 rpm. It's 15 inches long and 2.3 pounds. You can find it at Amazon.com for $78.97.
And That's a Mix
Look at these brushed chrome hand mixers, consider their prices and manufacturers' reputations, and read about other types of hand-held mixers. You can buy stand mixers for a lot more money–and more power–but remember that many of them, especially the immersion types, are meant to be used in short pulses for best results.