Buying a Good Quality Remote Control (RC) Fishing Boat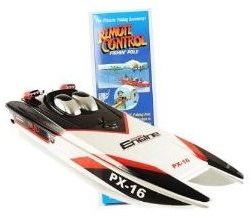 Buying an RC Fishing Boat
A remote control fishing boat is a popular product nowadays. It provides great fishing fun for people in all age groups. The best part is it manages to catch real fish, which doubles the fun. It is a safe, easy and interesting way to enjoy a day out fishing in good weather. You can use these boats from the shore, a boat, or the docks. Even kids can handle them with a fair amount of ease.
LuckyStrike RC Fishing Boat
LuckyStrike fishing boat from Fish Fun Co. delivers real fishing experience by catching real fish. It manages to catch fish of different sizes. The boat can operate within a 50-foot range and runs on heavy duty 390 twin motors. The size of the boat is 32 inches. It includes two channel radio control systems to ensure efficient remote handling of the boat. The product comes with an easy-to-understand instruction guide. Amazon sells it at a price of $75.95.
Photo Credit: Amazon.com
Radio Ranger 32" Remote Control Fishing Boat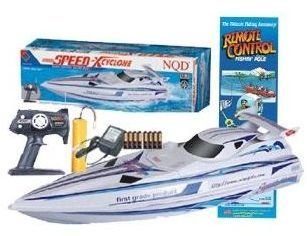 The "Radio Ranger" is an all-inclusive ready-to-go RC boat for fishing. The boat is designed to catch real fish in different sizes. The radio control has a range of 300 feet. The package includes the boat, a boat battery, RC fishing pole, transmitter with batteries, boat stand, wall charger, and extra propellers. The boat works great for kids if they wish to catch little fish near the dock. It can provide nonstop fishing fun for hours at a lake or pond. Amazon sells it at a price of $77.95.
Photo Credit: Amazon.com
R/C Fishing Pole and Boat Combo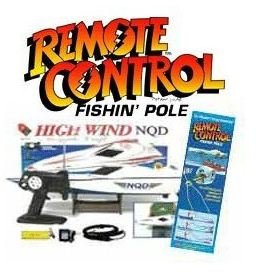 This RC boat from Fishing Fun Co. lets you fish on a lake or pond for hours at a stretch. It includes powerful twin 380 electric motors and has a radio range of about 250 to 300 feet. The best part about this boat is that as soon as it hits fish, the line comes off the boat, so it is easier to catch fish in any size. The package is a combo of the boat and fishing pole. It also includes a high-powered boat battery, transmitter batteries, and a battery charger. It sells at Amazon for a price of $70.90.
Photo Credit: Amazon.com
Aviva Ranger Fishin' Buddy RC Fishing Boat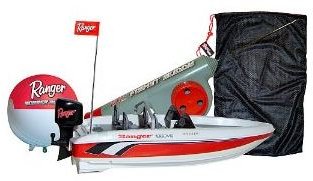 Aviva Sports Ranger Fishin' Buddy is a popular RC boat that can retrieve and catch fish of various sizes. The boat is a replica of the highly popular 1860 Angler. It features two different speeds and three frequencies to avoid interference from other boats. The boat has powerful twin motors that can manage to bring the catch back to the dock securely. The boat, manufactured by Aviva, sells at Amazon at a discounted price of $64.99.
Photo Credit: Amazon.com
MasterCaster RC Fishing Boat Combo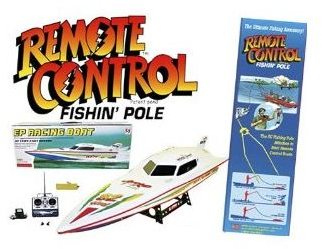 This is a 29-inch fishing boat with radio control that offers great fishing fun for people of all age groups. It is easy to drive the boat around on a lake or pond until a fish is caught. It includes powerful twin 380 motors which let the boat run at a speed of 15 to 20 mph. The line comes off the boat automatically once it hits a fish, which means that the user can catch a fish of virtually any size. Amazon sells it at a price of $68.95.
Photo Credit: Amazon.com