Ergonomic Vertical Computer Mouse: The Top 5 Models You Should Consider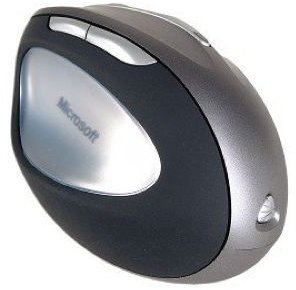 The Ergonomic Vertical Mouse
The ergonomic vertical mouse is a good alternative for people who either suffer from computer-related injuries or would like to prevent such an injury. Unlike traditional mice, ergonomic mice are designed to fit your hand while keeping your forearm straight. These mice are more sophisticated than the standard mouse that comes with your computer because you can customize them by programming the buttons to suit your needs.
Microsoft 5-Button Natural Wireless Laser Mouse 6000 (Silver/Black)
The Microsoft 5-Button Natural Wireless Laser Mouse 6000 is designed to reduce the pressure on your wrist and carpal tunnel nerve. Its four-way scroll wheel makes scrolling through documents and web pages easier. You can also use the instant viewer to sort through multiple windows. Customize the buttons to open your favorite (or most used) applications. The battery indicator light will come on when the battery gets too low. This mouse is for right-handed people only. While it is not quite vertical, compared to the others listed in this article, it is ergonomic. The price is $43.58.
Source: Amazon.com
Evoluent VerticalMouse 3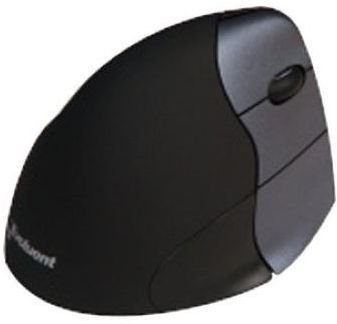 The Evoluent VerticalMouse 3 has a 2.4 GHz wireless receiver and is resistant to interference. It has an estimated 3-month battery life with non-chargeable AA batteries. Easy to use buttons make it easy to click, but they are still firm enough to avoid accidental clicking. The price is $82.99.
Source: Amazon.com
Evoluent VerticalMouse 4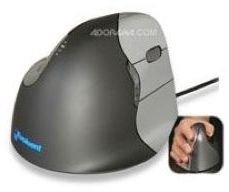 The Evoluent VerticalMouse 4 will support your hand so that your forearm will not twist while you work on your projects, thanks to its new and improved design. This design includes a flange that is positioned at the bottom of the mouse, which keeps your little finger from dragging across the mouse pad when you move your mouse.
This mouse has six buttons and a wheel. In order to program your buttons, you will need to download the driver first. It also has a top-mounted LED that will indicate the pointer speed, which you can set from extra low to high. The cost is $89.95.
Source: Amazon.com
Zero Tension Ergonomic Mouse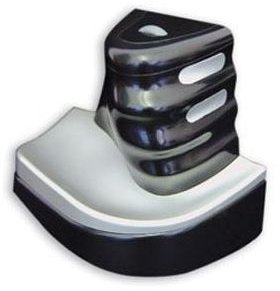 The Zero Tension Ergonomic Mouse looks more like a joystick, with the scroll wheel located at the top and the mouse buttons located at the front. It uses 2400 DPI on both the small and large models for superior cursor movement. This mouse is compatible with older versions of Windows and Macintosh (Windows 98 through Vista and Mac OS 8.6 through 10.4x). The cost is $60.00.
Source: Fentek Industries
Wow Pen Joy Vertical Ergonomic Optical Mouse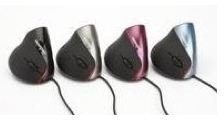 This ergonomic computer mouse is available in four colors: black, silver, blue and pink. It is not as upright as the Evoluent mice, but Amazon reviewers are very satisfied with the mouse's performance and comfort. It has five buttons, with a second right-click button so that both left-handed and right-handed people can use this mouse. It is both PC and Mac compatible. The cost is $31.47.
Source: Amazon.com
Conclusion
I have given you a good starting point in finding an ergonomic vertical computer mouse. If you have used any of these products, I would love to know what your experiences were with them, either positive or negative.