Top 5 Electronic Drums: Reviews & Buying Guide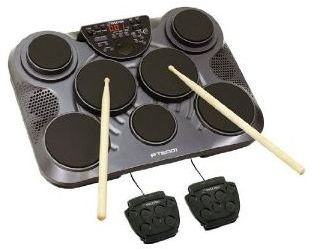 Electronic drums can be used for practice sessions at home or even live performances. Depending on your need, you should pick the right kind of electronic drums that has the feature set that will meet your demands. Here are some recommendations.
Pyle Pro Electronic Table Digital Drum Kit Top
This drum kit includes 7 drum pads and 2 pedal pads. These pads are designed with touch sensitivity, requiring less effort from the drummer to produce sounds by hitting the pads. It includes 100 songs but drummers can use other songs in their personal music library using the USB port for MIDI devices. 5 user kits and 215 percussion voices round out the features and extras of this portable and very customizable drum kit. Plus, you have the choice of using the built-in internal speakers or headphones which you can easily plug in.
Price: $151.20
Ion Audio Discover Drums MKII Tabletop Electronic Drums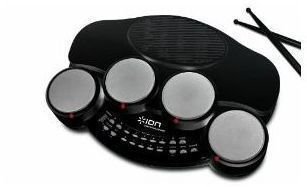 This tabletop drum kit is designed to help novice drummers learn how to play drums in the easiest way possible. Its learning feature involves pads lighting up. The drummer only has to follow the lights to learn beats, which makes the whole learning process fun and easy. It has a built-in speaker system, but if you do not want to disturb other people with your drums as you are learning, you can plug in headphones. It includes 49 patterns that you can play along to, giving you an exhaustive array of practice beats.
Price: $30.90
Alesis DM6 Kit Performance Electronic Drum Set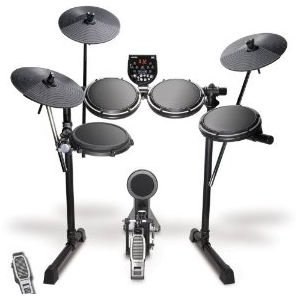 This 5-piece electronic drum set includes 15 programmable drum sets, a dual zone snare pad with rimshot capability and a USB MIDI output that can be used in software for MIDI processing and recording. 108 different cymbal, drum and percussion sounds give you endless possibilities in creating music. It provides a realistic drum set feel through rubber surfaces. It is almost like the real thing without the bulk that comes with it.
Price: $457.96
First Act 5 Pad Electronic Drums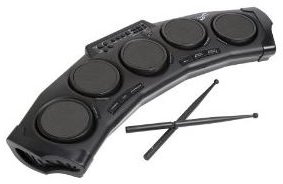 This compact electronic drum kit provides a portable tool for you to create music using 6 drum kits, 10 play along songs and a collection of 38 digitally sampled sounds. Playing along with your favorite songs is also an option since it has an input jack for MP3 players. It may not look like your traditional drum set, but it is designed with rubberized pads and a bass drum pedal provides that familiar feeling of using a traditional drum set. The package includes drumsticks and headphones, giving you a whole drum playing experience in a compact package.
Price: $41.99
Roland HD-1 V-Drums Lite Electronic Drums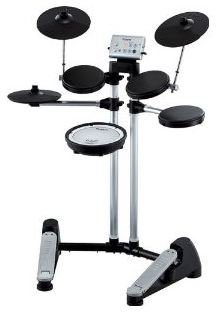 This is one of the most ideal electronic drums for home use since its volume can be controlled completely, plus it is made from material that minimizes noise. It can easily be set up and it is quite easy to use even with its wide array of features such as 10 drum kits, 10 patterns and different settings for tempo, metronome and volume. It includes an instructional DVD so novice and casual drummers can easily learn and practice their drum playing skills.
Price: $599
You may also want to check the best Yamaha electronic drums.
References
https://www.amazon.com/Pyle-Pro-Electronic-Table-Digital-Drum/dp/B0045XUU08/ref=sr_1_10?ie=UTF8&qid=1294213825&sr=8-10
https://www.amazon.com/Audio-Discover-Drums-Tabletop-Electronic/dp/B003UYUQ16/ref=sr_1_1?ie=UTF8&qid=1294213825&sr=8-1
https://www.amazon.com/Alesis-DM6-Kit-Performance-Electronic/dp/B002C4SM5W/ref=sr_1_6?ie=UTF8&qid=1294213825&sr=8-6
https://www.amazon.com/First-Act-Electronic-Drums-MI115/dp/B001D2CW6Y/ref=sr_1_8?ie=UTF8&qid=1294213825&sr=8-8
https://www.amazon.com/Roland-HD-1-V-Drums-Electronic-Drums/dp/B000UJH2HA/ref=sr_1_9?ie=UTF8&qid=1294213825&sr=8-9
Photo Courtesy of Amazon.com