Pink Remote Control Cars - For Hours of Fun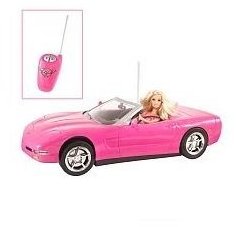 Pink Barbie Corvette Remote Control Car
With what is sure to be one of the most coveted toys of 2010, Mattel has hit it out of the ball park with their irresistible Pink Barbie Corvette. Available from Amazon.com for $77 and selling out fast, this fun and flirty convertible is sure to be a hit with kids of all ages. Barbie's Corvette measures approximately 19-1/2 inches long; it's recommended for ages 3 and up. Included with the Corvette is one Barbie, fully decked out in a glittery dress. There is room for a second doll, though; maybe Ken might want to ride along? You will need 4 "C"-size batteries, as well as 1 9-volt battery. Be prepared for squabbles galore, as everyone will want a turn playing with Barbie's pint-size pink Corvette.
Pink Remote Control Car by Chicco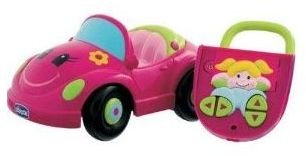 Recommended for children aged 2-5 years, the pink Chicco remote control car is a great starter vehicle for younger children. With a price as low as $30.51, this cute fuschia-pink convertible won't break your piggy bank. Measuring in at 7.5 inches x 8.3 inches x 13.7 inches, it requires 6 AA batteries. When your little one isn't busy toodling around the house with it, the remote control converts into a handy dandy carrying handle. Available with forward, reverse, and side-to-side action, a ton of fun is just around the corner with this hot pink convertible–Seriously, watch your step as the fun probably is RIGHT around the corner!
Strawberry Shortcake Remote Control Car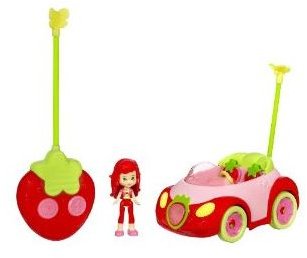 For hours of fabulous fun, check out this Strawberry Shortcake remote control car. With a price of only $24.99, you don't have to feel guilty for spoiling your daughter with this pink and red cutie. With features like Silent Cruizer mode and Very Berry mode, this tempting toy is perfect for children ages 3 and up. It even comes with its own Strawberry Shortcake doll.
Pink MP3 Remote Control Ride-On Car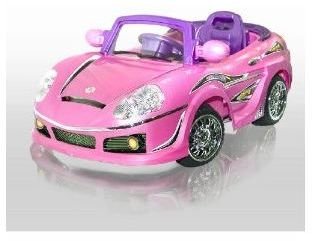 Available for $198.99 from Sky Enterprise USA, this MP3 remote control ride-on car is perfect for petite-sized pedal-to-the-metal toddlers. With a docking station for your MP3 player, you can rock out to your favorite tunes while walking beside your little one as they cruise along in this pastel pink remote control car. With a manual control for her, and a remote control for mommy and daddy, this ride-on car is perfect for all sorts of family fun.
Pink Cadillac Escalade Remote Control Car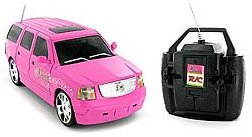 Want to be hear squeals of delight Christmas morning? Or make your little one's birthday the best birthday ever? Then this Pink Cadillac Escalade might just do the trick. Featuring a wireless full remote control, this hot little number moves left and right and also zooms forwards and backwards. Just imagine the fun that can be had playing with this on Christmas morning–or zipping around the backyard while everyone enjoys birthday cake. Built on 1:28 scale, this officially licensed Escalade has independent front suspension as well as rear wheel drive. Both the headlights and tail lights are fully functioning. This stylish stunner measures in at 8 inches long, 3.5 inches wide and 3 inches high. Your little one can have all sorts of fun zipping around the house or yard, as the remote control has a range of 100 feet. You will need 5 batteries; 2 for the transmitter and 3 for the Escalade. Investing in batteries that you can recharge is highly recommended, as everyone will want a turn playing with one of 2010's hottest remote control cars. Available from Overstock.com from only $31.99.
Regardless of which pink remote control car you choose, be prepared for giggles galore. Remote control cars aren't just for boys anymore. Indianapolis 500, here she comes!
Images Courtesy of: