Electrolux Mixer Buying Guide & Recommendations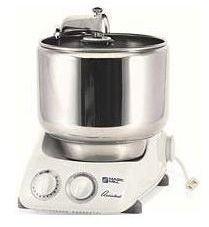 If you are looking for an Electrolux mixer, their Magic Mill line has a few solid selections. Each of these mixers have their own benefits, features and accessories. You should determine what features and attachments you want from a mixer before making a purchase.
Electrolux Deluxe Mixer Standard Pack Dual Voltage
This standard mixer is a member of Elelctrolux's Magic Mill mixer line. It can be used either in 110 voltage or 220 voltage, making it easy to use in any kind of home with sockets that have a specific voltage. It uses up 450 watts. It comes with 2 bowls and it can be used as a roller and a mixer. For any basic mixing need, this standard dual voltage mixer can do the job.
Price: $899
Electrolux White Assistent Stand Mixer N24
This iteration of the Magic Mill mixer is made of aluminum and plastic. It includes a stainless steel bowl. With its white plastic stand, it would look elegant on any type of kitchen design. It is designed to automatically adjust to the amount of food it is processing, minimizing the chances of it going out of control. It also has a built-in timer that lets you specify how long it should work, giving you the chance to leave it alone to work on something else in your kitchen. This mixer comes with several accessories like a bowl cover, a double whisk attachment, a spatula attachment and a plastic bowl.
Price: $566.84
Assitent Original N28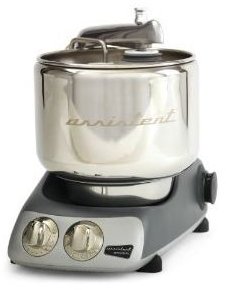 This is the successor of the N24. It has a new and improved motor that runs on 600 watts. This new motor is more powerful and yet more quiet than its previous models. This is thanks to its gear drive which has been changed from past models. All parts of this mixer are dishwasher safe, except for the aluminum strainer and the meat grinder which should be washed by hand. Different kinds of food can be prepared in different ways using this mixer and its accessories that include a dough hook, a spatula attachment, a roller, a scraper, a double beater whisk attachment, a food prep bowl with lid and an 8-quart stainless steel bowl.
Price: $649.95
Magic Mill 2 Speed Stick Blender MHB-550W

If you want something less bulky and something that can provide you with a more manual touch in preparing you food, you can use a handheld mixer like this. The Speed Stick has 2 speed controls that function at 300 watts. It has a hand grip that is comfortable when handled, which means you can use it for long periods of time without feeling uncomfortable or tired. It comes with a stainless steel stick, an 18 oz cup with lid and 4 stainless steel knife blades.
Price: $22.97
Electrolux Dito B3000 Hand Mixer

This handheld mixer runs on 350 watts. You can have varied speeds when using it, making it a very comfortable Elextrolux mixer that is easy to handle and pretty portable. It may have a compact design but it is still powerful.
Price: $446.69
Conclusion
If you are planning to purchase a mixer, there is no doubt that Electrolux can provide you with quality-made products. Look no further than the listed Electrolux mixers above for your easy, quick and no mess mixing needs.
You may also want to check another Brighthub product review on Speed Hand Mixers.
References
https://www.amazon.com/Electrolux-Deluxe-Mixer-Standard-Voltage/dp/B001G55QUM/ref=sr_1_3?ie=UTF8&qid=1293926901&sr=8-3
https://www.amazon.com/Electrolux-White-Assistent-Stand-Mixer/dp/B00006WNNH/ref=sr_1_1?ie=UTF8&qid=1293926901&sr=8-1
https://www.amazon.com/N28-Assistent-Original-Black/dp/B004HM8TBE/ref=sr_1_20?ie=UTF8&s=home-garden&qid=1293928358&sr=1-20
https://www.amazon.com/Magic-Speed-Stick-Blender-MHB-550W/dp/B003H80C0A/ref=sr_1_24?ie=UTF8&qid=1293927103&sr=8-24
https://www.amazon.com/Electrolux--Dito-B3000-Mixer-601907/dp/B002XYCZO0/ref=sr_1_12?ie=UTF8&qid=1293926901&sr=8-12
Photo Courtesy of Amazon.com