Spiral Vegetable Slicer Buying Guide & Recommendations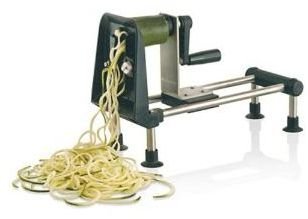 Introduction
Picking a vegetable slicer takes more than just looking at how easy it is to use. By definition, a spiral vegetable slicer only requires you to place the vegetable or fruit on the prong, then turn and push the handle to create slices. So what you should look for in a spiral fruits and vegetable slicer is the number of different slices you can create, which can be determined if you look at the number of interchangeable blades included in the package. Durability and safety are also issues you need to address when picking out a product. Taking all of these things into consideration, here are some recommended products for your slicing needs.
Paderno World Cuisine Rouet Spiral Slicer
This heavy duty slicer produces curled julienne strips and slices like ribbons from vegetables and fruits. All you need to do is place a fruit or a vegetable on the sharp spikes of the slicer's wheel, then turn and push it. The strips and slices are produced thanks to this slicer's multiple blades with different spacings and design. The blades with spacings of 5/64 inch, 1/8 inch and 1/4 inch produce curled julienne strips while the straight blade produces ribbon-like slices.
Price: $459.49
Japanese Type Turning Vegetable Slicer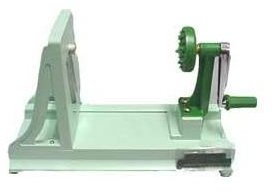 This versatile slicer includes 3 blades with different thickness levels. Depending on which blade you use and what kind of vegetable or fruit you slice, you will get a different kind of slice. The curly slices you can make with this slicer is continuous so you can be assured that you will have food that looks amazing and interesting.
Price: $55
Benriner Cook Help Spiral Vegetable Slicer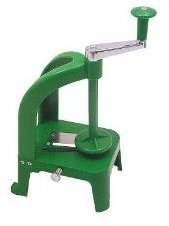 This slicer includes a 3 types of stainless steel blades that can be interchanged to produce curly strands or strings from vegetables or fruits. It is designed to be easy enough to use for both beginners and experts. It is also designed to minimize the amount of food wasted while the vegetables and fruits are being sliced into fine and continuous strings.
Price: $36.99
Joyce Chen 51-0662 Saladacco Spiral Slicer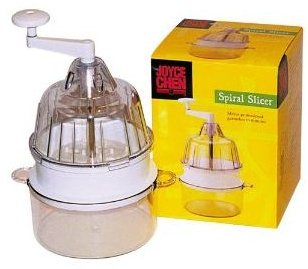 From a trusted name in cooking tools and cookware, this spiral slicer lives up to Joyce Chen's high standards in cookware. It is easy to use and it is safe as well, keeping the user's fingers far from the cutting surface. This provides safety and efficiency in the cooking and food preparation processes. It can slice vegetables and fruits into ribbons and spiral strands which are perfect for garnishing and salads. It is made from durable plastic and it is safe to be cleaned using a dishwasher. Nothing says efficient and safe than a product developed and endorsed by a world famous cook.
Price: $19.63
World Cuisine Plastic Spiral Vegetable Slicer with 3 Blades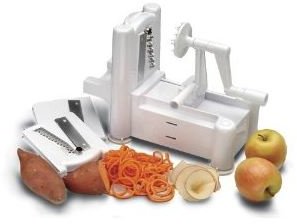 With 3 sets of slicing blades, which are composed of a blade with 1/8 inch spacing, a blade with 1/4 spacing and a straight blade, this spiral vegetable slicer can easily be used to slice fruits and vegetables into strings and ribbons. It can be used over and over again because it is made from durable plastic and it is safe to be cleaned in a dishwasher.
Price: $29.95
You may also want to check more interesting buying guide and recommendation articles on electric salad spinners and collapsible salad spinners.
References
https://www.amazon.com/Paderno-World-Cuisine-Spiral-Slicer/dp/B001E3W8IE/ref=sr_1_9?ie=UTF8&qid=1293924037&sr=8-9
https://www.amazon.com/Japanese-Type-Turning-Vegetable-Slicer/dp/B001BNQYEQ/ref=sr_1_11?ie=UTF8&qid=1293924037&sr=8-11
https://www.amazon.com/Benriner-Cook-Spiral-Vegatable-Slicer/dp/B00012F3R2/ref=sr_1_5?ie=UTF8&qid=1293924037&sr=8-5
https://www.amazon.com/Joyce-Chen-51-0662-Saladacco-Spiral/dp/B0000DDVYE/ref=sr_1_2?ie=UTF8&qid=1293924037&sr=8-2
https://www.amazon.com/World-Cuisine-A4982799-Tri-Blade-Vegetable/dp/B0007Y9WHQ/ref=sr_1_1?ie=UTF8&qid=1293924037&sr=8-1
Photo Courtesy of Amazon.com