Yamaha Electronic Drums: 5 Recommended Electronic Drums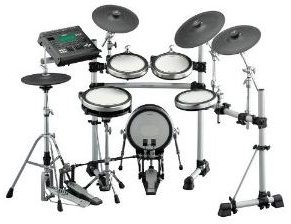 There are different Yamaha electronic drums for different people. Depending on your expertise, you may find one or two of these electronic drums relevant to your needs.
Yamaha DTX900K 5-Piece Electronic Drum Set with TCS DTX-PAD
This is the flagship model of the DTX series of drum sets. This means the best and most advanced features of the drum set line can be found here. These features inlude a well designed electronic drum rack, a high quality tone generator, a shock-absorbing mounting system and DTX-PAD drum pads which ensure that using this electronic drum set feels like real drums. These features ensure that this electronic drum set is quiet, comfortable to use and a provider of the best performance a drummer can have while playing.
Price: $4,399.99
Yamaha DD65 Digital Drum Pad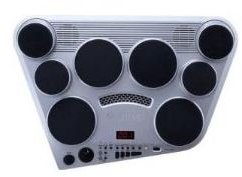 This simple and cmopact drum pad is designed to be used by all types of drummers whether they are beginners or experts. It features 8 touch-sensitive pads, built-in ported speakers, 2 foot switches, 32-note polyphony, USB MIDI and flash memory connectivity and an AUX IN port that can be used to plug in an MP3 player. The placement of the 8 pads are arranged in a similar manner as that of an acoustic drum set, making it easy for experts to adapt to this drum pad quickly. This kind of setup also ensures beginners that they would have an easy time in switching to an acoustic drum kit in the future. This drum pad comes with a pair of drum sticks.
Price: $221.47
Yamaha YDD40 Portable Digital Electronic Drums Premium Pack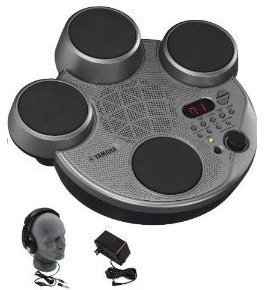 This set of drum pads is specifically designed for beginners. It has a compact body which makes it very portable and easy to handle. Learning how to play the drums or practicing to play the drums can be done easily since it comes with several accompaniments that drummers can play along to. Drummers can also plug in their MP3 players via the AUX IN port so they can play along with their favorite songs and tunes.
Price: $99
Yamaha DTXplorer 5-Piece Electronic Drum Kit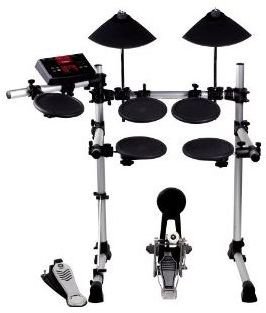 Setting up this electronic drum kit is quite easy thanks to the included coded cabling snake. Using it is just as easy. It features a bass drum pedal, rubber pads for a more natural feel, 32 preset kits, a built-in metronome, a Groove Check practice aid, a modeling tone module and a set of 214 drum and percussion sounds.
Price: $599.99
Yamaha DTXpress IV Special Electronic Drum Kit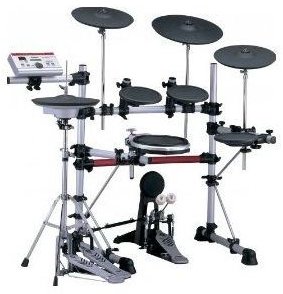 Aside from the great feel and sound experienced when using this kit of Yamaha electronic drums also provides a great practice environment thanks to its selection of 427 drum and percussion voices, 19 pad songs, 20 user songs, 50 preset drum kits, 22 keyboardd voices, 3 demo songs, and 41 practice songs. It also has an on-board sequencer that would really bring out the creativity from the drummer.
Price: $1,499.99
References
https://www.amazon.com/Yamaha-DTX900K-5-Piece-Electronic-DTX-PAD/dp/B003J9G2ZG/ref=sr_1_8?ie=UTF8&qid=1293918730&sr=8-8
https://www.amazon.com/Yamaha-DD65-Digital-Drum-Pad/dp/B000UXDETQ/ref=sr_1_3?ie=UTF8&qid=1293918730&sr=8-3
https://www.amazon.com/Yamaha-YDD40-Portable-Digital-Electronic/dp/B003JMEPKM/ref=sr_1_2?ie=UTF8&qid=1293918730&sr=8-2
https://www.amazon.com/Yamaha-DTXplorer-5-piece-Electronic-Drum/dp/B000WFWQ8M/ref=sr_1_1?ie=UTF8&qid=1293918730&sr=8-1
https://www.amazon.com/Yamaha-DTXPRESS-Special-Electronic-Drum/dp/B000YK9XB8/ref=sr_1_10?ie=UTF8&qid=1293918730&sr=8-10
Photos courtesy of Amazon.com