Free Tips on Sharing Kindle Books
Sharing Books on Kindle is Easy!
Amazon Kindle fan? You're not alone. The popular eBook reader has quickly emerged as a force to be reckoned with in the eReader world, and while competition from Sony's Reader line, Barnes & Noble's Nook and Apple's iPad mean Kindle can't afford to rest on its laurels, many users enjoy the platform for the ease of use with which it interfaces with the huge eBook library offered by Amazon themselves.
One of the ways in which Amazon's Kindle offers value-added is the opportunity to share Kindle books. Once you've purchased a paper copy of a book, you're not the only one who gets to read it: you'll want to share it with family and close friends when you're done. It's the same with an eBook, and Amazon recognizes this by allowing users options for sharing Kindle books. This is done by synchronizing more than one Kindle to the same account. This can be done with up to six Kindles, so your entire household - and a best friend or two - can enjoy sharing Kindle books between users.
(Image credit: Macworld.com - https://images.macworld.com/images/news/graphics/138722-kindle2_front_original.jpg)
Registering to Share Your Kindle Books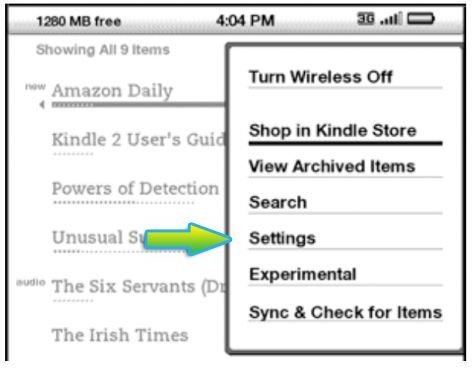 To get a family member or friend signed up to share your Kindle books, take their Kindle and press "Home." Wait for the Home Screen to load then press "Menu." Scroll down to the "Settings" section and select this menu option, then choose the "Register" option. What you're going to do here is to register the second (or third, or fourth) Kindle to the same account that your Kindle is set to: for the purposes of Amazon's servers, they'll both be the same device. This isn't piracy or fraud: Amazon allows up to six Kindles to be registered to the same Amazon account in the device's Terms of Use. So let's proceed with confidence.
Input your user details into the Kindle using the keyboard. If your user details contain non-alphanumeric characters that you don't see on the keyboard, these can be accessed by pressing "Sym" to see a menu of all other characters available for input. If you've forgotten your user details, you can retrieve them by visiting Amazon.com on your computer.

If you find the keyboard cumbersome to navigate, you can also register a new Kindle online. Go to this page if you're anywhere EXCEPT the United Kingdom (including the USA), or this one if you're a UK customer. Input the serial number from the rear of your Kindle (found near the bottom of the device) and click "Register."
(Image credits: Amazon.com, edited by the author - https://images-na.ssl-images-amazon.com/images/G/01/x-locale/cs/help/images/howto/image010.gif and https://www.amazon.com/gp/digital/fiona/manage?ie=UTF8&ref_=ya_14&)
Downloading Shared Kindle Books
Once you've registered another Kindle to share your account and books, the second user can download any of your purchased eBooks. All they need to do is press "Home" on their Kindle and select "Archived Items." They can then pick from the list of books registered to you and download as many as they wish, for as long as they like.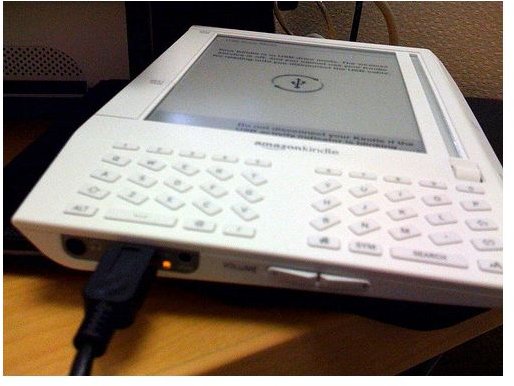 You can also transfer free non-Amazon eBooks between Kindles by connecting your Kindle to your computer via a USB cable, then move the desired files from the "Documents" folder of your Kindle to your computer's desktop. Disconnect your Kindle and connect your friend or family member's device; move the files to their "Documents" folder to share them.
(Image credit: Newsnewsforyou.com - https://newsnewsforyou.com/wp-content/plugins/WPRobot3/images/59068_kindle_usb_2679727643_d066ab4699.jpg)
A Warning About Privacy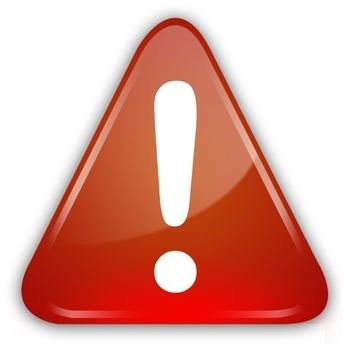 Protect your online privacy. Don't share your Kindle account with just anyone. Once someone has access to your account, they can track your purchasing and browsing history, and even make purchases on your credit card. This is why it's strongly recommended that you only register Kindles belonging to - and used exclusively by - trusted family members or your closest friends.
(Image credit: ManureMatters - https://manurematters.co.uk/radar/images/exclamation.jpg)