Remote Control Police Cars for Kids and Toddlers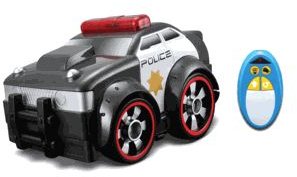 RC Police Car for Kids
One of the most fascinating toys for kids in any age group is the remote control police car. The thrill of a policeman chasing a thief gets fulfilled wonderfully with toy remote control police cars. These toy cars come in a variety of models to suit everyone from a toddler to a teenager. There are a number of good toy manufacturers offering good quality RC police car toys in various price ranges. Kids love them, so they also make a great gift for special occasions such as birthdays or as Christmas presents.
RC Junior Police Car with Easy-to-Use Remote Control
If you need a safe and reliable remote control police car for your youngster, consider this model. This toy is ideal for children in the age group of 3 to 7. There are special light and sound effects to attract the child. The remote control is designed with small kids in mind. The remote control requires two AAA batteries and the car needs three AA batteries (not included.) The car is about 7 inches in length. TrendTimes.com sells it at a price of $24.88.
1:14 Nissan 350Z Police Remote Control Car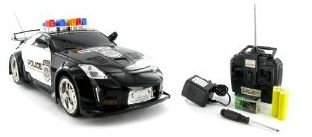 The Nissan 350Z Police Electric RC Car is a scaled-down version, which makes it appear quite realistic. The model features a full function radio control, excellent sound effects that resemble police sirens, police siren lights, and functioning headlights and tail lights. The model includes rechargeable batteries. The tires are made of rubber and the body has a high gloss finish to make it more attractive. It is sold at Amazon.com for $36.99.
Black Police Humvee Channel A Micro Remote Control Car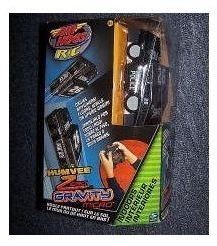 This is a unique zero-gravity remote control police vehicle that not only races on your floor, but even climbs the walls and ceiling. The car is micro-sized for optimal action, but it has a full function remote control. Performance and speed of this toy car is excellent. The headlights are functional and they serve as a battery charging indicator as well. The model needs one rechargeable LiPo battery, which is included with the package, and 6 additional AA batteries that are not included. It is ideal for kids in the age group of 8 and above. It sells for $33.95 at Amazon.com.
Kid Galaxy My First Remote-Control Go Go Police Car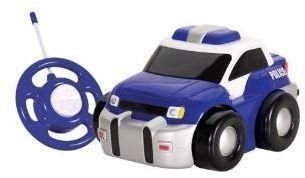 Remote control police cars for little children need to be safe, sturdy, and friendly. In this category, Kid Galaxy is a good option. This police car toy comes with a unique "Bump and Go" siren. The remote commander is designed to be toddler-friendly with very simple push-button controls. It is styled like a steering wheel, and the child can squeeze it softly. The car can run straight or spin in circles at the push of a button. Walmart.com sells it for $24.54; you can also get it at Amazon.
Super Blue Mini Police Patrol Remote Radio Control Toy Car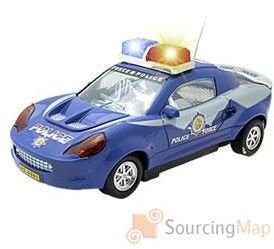 This is the classic police patrol toy car with a high speed performance through remote control. The remote function includes a 4-direction button that can send the car forward or backward or turn left or right. This police radio car requires one 9V battery and 3 AA batteries for the remote, but these are not included. The color of the car is blue rim silver. It is available at a price of $18.99 from BestOfferBuy.com.
Kids love remote control cars of any type, but if he loves the thrill of a police chase these are the best choices rated highly by consumers right now.
Images credited to the websites mentioned.