Is Kindle the Best Reader of eBooks? Take a Look
Hand-held ebook readers have grown in popularity in recent years, and this has resulted in the flooding of the ebook market with many brands and versions at varying price levels. Of the many brands, Amazon's Kindle, Barnes and Nobles Nook, and Sony stand out as the three most popular ones. The popularity and acceptance of Amazon makes Kindle the most discussed and popular one among the lot. Yet, the question begs asking - is Kindle the best reader?
Amazon Kindle
The base model of Kindle costs $139 and comes with a 6" diagonal display, built-in qwerty keyboard and 2GB memory capable of holding about 1500 ebooks. The Wi-Fi allows connection to the Amazon store. The battery charge lasts about a week. Kindle 2 is the same version plus 3G, costing $189.
The high end Kindle DX costs $389, and comes with additional features and functionality such as a bigger 9.7" screen, seamless support of PDF files, ability to view in either classical portrait or wider landscape mode and 4GB memory, twice as that of Kindle 2 and capable of holding about 3500 books.
The biggest USP of Kindle is Amazon's unmatched support. Amazon provides a superior collection of books at lower costs, and allows downloading the first chapter for free. It also allows re-downloading books already purchased but deleted from the Kindle, and synchronized reading of the same ebook across the Kindle, smart phone, and PC. Moreover most purchases come with free books and other interesting applications.
Amazon also provides a free email address, and converts other files into Kindle's proprietary mobipack file format.
All these features makes Kindle rank among the most popular of ebook readers, but is Kindle the best reader?
Image Credit: flickr.com/John Blyberg
Low End Options
eBook readers such as Aluratek Libre, Kobo eReader, and the Sharper Image Literati, cost anywhere between $99 to $129 and compete with Kindle primarily on costs. In reality, such ebook readers offer no comparison to Kindle, owing to Amazon's unmatched support and the wide range of functionality available in Kindle, making it by far a better value for money.
Sony
Sony Reader Pocket Edition PRS-350 priced at $179 is comparable to Kindle 2, but does not offer wi-fi, forcing readers to download books to their PC or netbook first and transfer to the PRS-350 via USB cable. The lack of Wi-Fi alone makes Kindle the clear winner in the low end segment.
The high end Sony Reader Daily Edition PRS-950 incorporates Wi-Fi, 3G, and priced at $299 pose a serious challenge to Kindle. Sony PRS-950 scores over Kindle in reading clarity. It comes with a much lesser internal memory of 512 MB, but allows SD memory cards, allowing for possible infinite storage. It also comes with touch screen support and a virtual keyboard that allows freehand.
Read a review of Amazon Kindle vs Sony PRS-505, and a general comparison of Kindle vs Sony ebook readers
Nook
While Kindle scores over Sony in the low end model, and Sony offers some unmatched features over Kindle in the high end model, Barnes & Nobles Nook offers the most serious competition to Kindle.
The low end model of Nook costs $149, and offers just about the same features and functionalities of Kindle's $139 model. The 3G model of Nook priced at $199 offers just about the same features that Kindle2 offers at $189. The major difference is Kindle's qwerty keyboard and Nook's touchscreen. While Nook's touchscreen scores on appearance, its size, no more than that of a smartphone touchscreen, makes Kindle the better option.
The high end Nook Color costs $249 and offers serious competition for Kindle DX. Unlike Kindle, it provides a better color reading option that makes reading magazines a pleasure. It also delivers some web browsing and multimedia features.
The Nook comes with a chess and Sudoku program on it, but strangely does not offer the facility to read MS Word Documents, something that Kindle does.
Nook's expandable memory up to 16GB is another advantage over Kindle.
While both Nook and Kindle come with long lasting batteries, Kindle's battery requires shipment to Amazon for replacement, whereas any Barnes and Noble store replaces Nook's battery.
Barnes and Nobles allows lending digital content from Nook, permits free reading of any book from the Barnes and Nobles store for an hour, and supports PDF without conversion. The Nook however cannot read Amazon's DRM formatted books bought through the Kindle store.
Verdict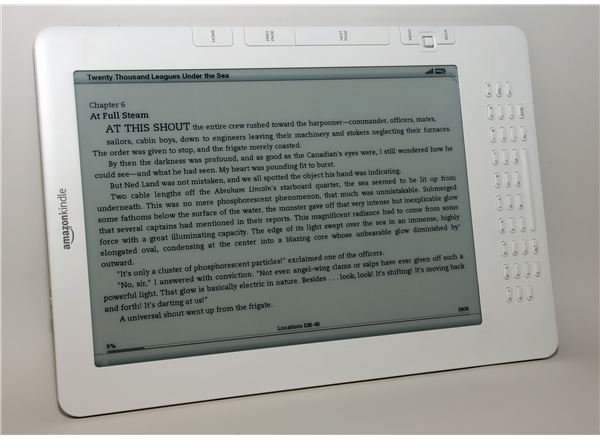 Is Kindle the best reader?
Ebook reader comparison 2010 suggests that feature and functionality wise, Kindle beats competitors hands down on the low end Wi-Fi and Wi-Fi plus 3G models.
For high-end models, both Nook Color and Sony PRS-950 offer advanced features that neither Kindle 2 nor DX provides, but at the same time Kindle DX offers some unique features such as a big screen, text-to-speech software and international wireless coverage that neither Sony or Nook provides.
What makes Kindle stand out from the others and become the best value for money preposition, edging out Barnes and Nobles Nook and Sony is the support provided by Amazon. Amazon's support is clearly superior, providing an affirmative answer for the question "Is Kindle the best reader?"
Image Credit: Wikimedia Commons