Best Handheld eBook Reader - The Amazon Kindle vs. Sony PRS-505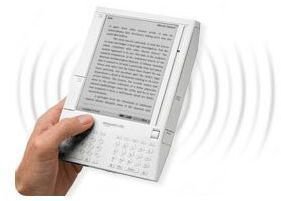 The Amazon Kindle
Why you should get it?
High-contrast screen, access to Amazon's comprehensive catalog of e-books, newspapers, magazines and blogs. Wi-Fi connectivity, built-in keyboard for note taking, SD card expansion slot and Windows and Mac compatibility. If you use an iPhone, Amazon offers its iPhone ebook reader called the Kindle for iPhone and is available for free.
Why it might turn you off?
Badly crafted design, not so elegant looks and high price tag. ($359). Wi-Fi feature would have been put into better use if the Kindle had a full web browser installed. Black-and-screen is fine, but it would have been better if an option to read in full color was also included, especially for reading periodicals and browsing the web. And one last reason, which is probably the worst lowdown of the Kindle, is the fact that it uses its own proprietary eBook format. You can not just load up any eBook file into the Kindle if it doesn't come from Amazon. Although you can send it to them for conversion free of charge, still this process can become tedious, especially if you have several eBooks that you wanted to read but couldn't since it is not supported by the Kindle.
The Kindle's tech specs include; 6-inch diagonal E-Ink electronic paper display, 600x800 pixel resolution at 167 dpi, 4-level gray scale, 10.3 ounces. If you're looking for something with more features, check out a comparison between the Kindle 2 and Kindle DX.
Our verdict?
If you're looking for an electronic reader that lets you view books and other information materials as exact replicas of the real thing, then the Amazon Kindle is the reader for you. And if you're a fan of Amazon, then we don't see any reason why you shouldn't buy the Amazon Kindle, if you have no objection to the price..
Sony PRS-505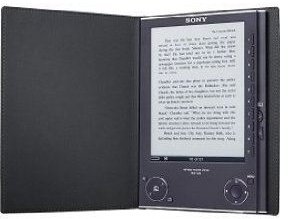 Why you should get it?
You get to choose between two color designs - silver and deep blue. It can store thousands of eBook titles and you can read them in a high-contrast screen which is as clear if not clearer than that of printed pages. In fact, you can read eBooks even when you are in a bright environment. It has adjustable font sizes to suit your visual conditions. It's got good battery life and supports PDF and Word file digital formats as well. Even cooler is the fact that you can use it to play DRM-free MP3 music files. This electronic reader accepts both DRM-free text which it converts to fit the reader's screen, as well as DRM text such as BBeB Book (LRX), Secure PDF and ePub.
Why it might turn you off?
Expensive content which is available only at the Sony online store. You have to pay extra for the optional AC adapter- but if you don't want to spend the extra amount, the included USB cable can be used to charge up the reader through your PC's USB port. No desktop software support for Macs. Although it supports PDF format, it would have better if the reader did not shrink these files to fit the screen. It is harder to read for those with vision problems, especially since the reader does not offer zooming features.
The PRS-505's tech specs include; 6-inch e-ink display; 9 ounces; 4-bit (16 gray levels) color support, lithium ion battery and Memory Stick Duo, SD Memory Card support.
Final Verdict
Feature-wise, the Sony PRS-505 beats the Amazon Kindle big time with its more powerful and innovative features. In addition, the PRS-505's price tag is definitely way lower than the Kindle. But then, Sony does not have Amazon's thousands of eBook titles and digital information catalog, which is a click away for Kindle users. But Sony is Sony, a tech company famous for making popular consumer gadgets. So take it to mean that the Sony PRS-505 is definitely the better reader at such an affordable price.