What Is the Best Handheld eBook Reader?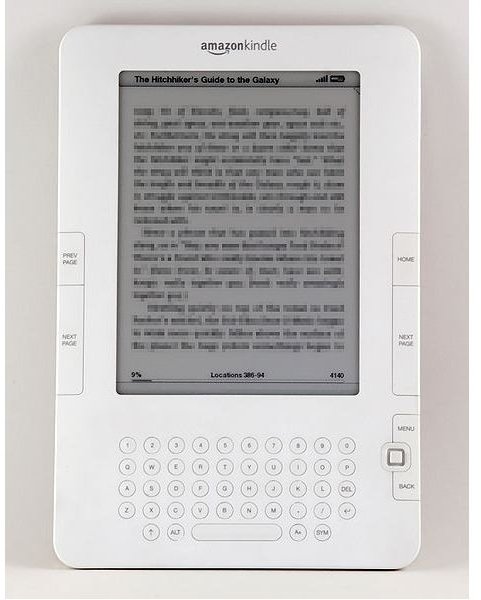 Let's take a look at some of the best handheld ebook readers to see who makes the mark in this great buying guide.
Amazon Kindle
The new Amazon Kindle is in a league of its own when it comes to eBook readers. The simplicity of the user interface coupled with the new higher contrast reading screen on one of the most comfortable and lightest eReaders out there, and that's only the icing on the majestic cake that is the Kindle. With both a WiFi ($139.00) and 3G+Wi-Fi ($189.00) version downloading books to the reader is a snap and with the new web toolkit you can even do some cursory browsing when you're not reading. The Kindle offers a toggle mode that allows for switching between landscape and portrait modes for viewing pictures or varied format books. As far as handheld ebook readers goes, this one has it all and the competitors are scrambling to keep up.
Screenshot by author courtesy of Amazon Kindle Store.
Barnes and Noble Nook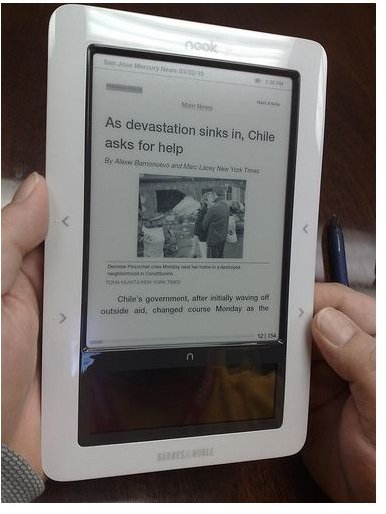 The Nook from Barnes and Noble is the only major competitor for the Kindle at the moment. When B&N launched its own ebook store, it was a sign that they were ready to play. The Nook has a compact frame and offers the same 6" display as the Kindle. Although it weighs just over three-fourths of a pound, the Nook makes up for it with an expandable memory slot which can handle up to a 16GB SD card. The Nook also offers support for more formats than the Kindle including TXT, RTF, DOC, AMZ, LRX/LRZ. At $149 for the WiFi enabled version, the Nook is well worth the price.
Screenshot by author courtesy of Barnes and Noble.
Borders Kobo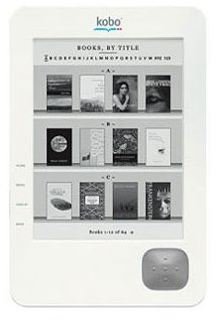 The Kobo, or Borders entry into the eReader game, weighs less than even the latest Kindle making it easy to use as a handheld reader. The E-Ink screen, two week battery life, and storage for 1,000 books make this a for real competitor. As an incentive, the Kobo comes with 100 free titles already loaded as a welcome gift. One of the nicest features of the Kobo is its quilted back which makes it very comfortable to hold. It also has an SD card reader that can handle up to a 4GB expansion card so that the reader can ultimately hold over 1,000 books. A nice new entry to the handheld ebook reader marketplace.
Screenshot by author courtesy of Borders.
Apple iPad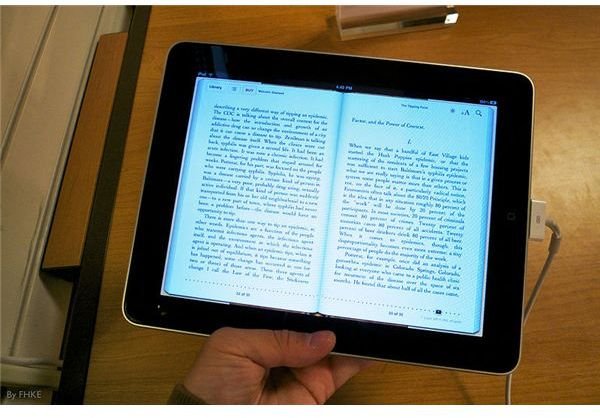 The iPad can be used as an eReader but it does have its disadvantages, the most important of which is its weight. The sheer size of the iPad makes it too bulky to be comfortably held in one hand. With several different applications that allow it to work as a reader, however, this one is a can't miss. All of the extra functionality that you get with an iPad makes it far more than just a handheld ebook reader.
Screenshot by author courtesy of Apple iPad.
Obviously there are several other options out there but for gift giving, it is better to buy a well known device that is connected to a stable retail market. When we are talking about handheld ebook readers this means readers from large booksellers like Amazon, Barnes and Noble and Borders. Besides, if you choose one of these, you'll have a happy gift recipient!