Top 5 Citrus Kitchen Gadgets: Buying Guide & Recommendations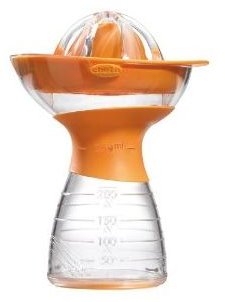 1. Chef'n Juicester Citrus/Reamer
Available at Amazon for only $15 and made by Unicahome, this citrus kitchen gadget has received 4.5 out of 5 stars in its customer reviews. Weighing in at only 1 pound doesn't mean this little juicer can't do the job. It has an ergonomic SavvyGrip handle and a no-slip base and is safe in the dishwasher (on the top rack only).
This juicer's motto reads, "Juicing up the world of citrus," and it's easy to make the juices that are your favorites. Its sharpened top edges cut into the fruit and work nicely with the lower rounded edges to capture the juice easy in one easy step. It comes with an easy measurement guide that offers up cups, millimeters, ounces, and even tablespoons and teaspoons - perfect for measuring the right amount of juice for recipes. As one Amazon reviewer put is, the Chef'n Juicester can go "From happy hour margaritas to the next morning's orange juice!" A great kitchen gadget for those on a budget.
2. Black & Decker 30-Watt Citrus Juicer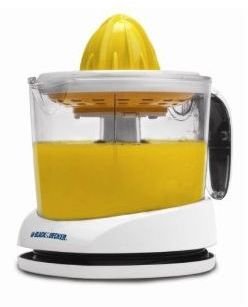 The name Black & Decker is well-known for gadgets including their 30-watt, 34-ounce Juicer available at Amazon for around $19. The automatic reversing reamer extracts maximum juice and it has an adjustable pulp control, stirrer and strainer.
The one-year limited warranty enhances this citrus kitchen gadget that features a drip-free spout and even a dust cover if you want to store it away. Its 34 ounce capacity is tops meaning you'll get large juice proportions enough for the entire family. The cord wraps up and has its own slot to keep this juicer compact but the stirrer press and the strainer are what make this Black & Decker juicer special - even for margaritas.
3. Hamilton Beach Health Smart Juicer
Also a well-known name in kitchen gadgets, Hamilton Beach offers up model 67801, the Health Smart Juice Extractor. Available at Amazon for around $25, this juicer even comes with a recipe book containing 25 drink and food recipes.
Works with fruits and veggies and features a 400-watt motor and an easy to clean and remove pulp bin. You can get this juicer in black or white and it comes with safety latches and an easy pour spout, so it's great for the kids to use too.
4. Hamilton Beach Big Mouth Pro Juice Extractor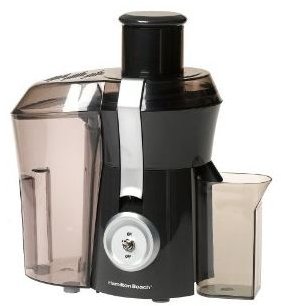 Also from Hamilton Beach, the Big Mouth Pro Juicer (model #67650) is a monster but still affordable at Amazon for around $60. For the serious juice family, this juicer has a one-year warranty and a 1.1 horsepower motor that features an off/on toggle switch. The 3-inch wide feed chute can handle large pieces of fruits and veggies with ease.
It comes with a stainless steel mesh basket strainer and has die-cast metal locking lid latches. The removable pulp bin, juice cup and cleaning brush enhance the features of this citrus kitchen gadget and all parts are dishwasher safe.
5. Breville Stainless Steel Motorized Citrus Press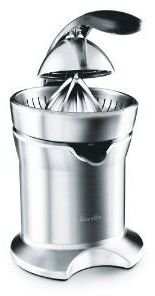 If you are serious about turning fruits and veggies into taste bud tempting treats, the Breville Die-Cast Stainless Steel Citrus Press (model #800CPXL), should be tops on your list. Available at Amazon for around $190, consider this juicer professional-grade.
Not only does it scream durable, the press is so powerful and easy to use thanks to the soft-grip handles. It even comes with built-in sensors for arm positioning and the spinning cone allows you to control pulp input. This powerful citrus kitchen gadget doesn't just have one stainless steel strainer - it has two for optimal performance. It also has a dust cover, cord storage slot, and parts are easily removed and dishwasher safe. The drip-stop spout makes for no mess on your countertop and lets the kids roll with this juicer - it has a safety switching system and what Breville calls Quadra-Fin technology meaning it can go from a small lime to a large grapefruit in a snap.
Image credits all courtesy of Amazon.com.