Sony HDR-XR500V High Definition Digital Camcorder Review
If you're looking for a camcorder or have problem with the previous one, such as the picture looks grainy in low indoor light, not responsive LCD screen, small hard disk space, then you can consider buying the Sony HDR-XR500V 120GB HDD High Definition Camcorder w/12x Optical Zoom as other customers recommended.
Specifications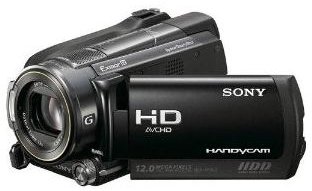 1920 x 1080 high-definition resolution
12.1- megapixels still image capture
Built-in 120 GB hard disk drive
Bionz image processor
Face Detection
3.2-inch widescreen
Touch-panel Xtra Fine LCD display
Color viewfinder
User Friendliness Designed

The HDR-XR500V compact camcorder is sleek, steady and easy to use. The dimensions are 2-13/16"W x 3"H x 5-1/2"D and the weight is 1.1 pounds or 16.4 oz. with battery.

Manual Focus Control is designed close to each other with a small round control, so it can be easily used by your left hand. It is limited only one function at any time, such as focus, exposure for back-lit subjects.

HDD Smart Protection prevents the recorded videos and images from lost when the camcorder is unintentionally dropped.

The additional set of record and zoom buttons on the frame of LCD screen is useful when you're holding the camcorder at an angle or from overhead.

Auto Shut Off: The Sony HDR-XR500V camcorder can be set to turn off automatically if it is not used for 5 minutes when powered by the battery.
Portable

This superior video and photo quality camcorder fits in your hand to capture special moments wherever you go such as Christmas, birthday, wedding, newborn baby, vacation, foreign trip, and other activities.
Price to Value

Sony's HDR-XR500V is a higher subjective quality and worth for the price ($1,499.95 at the moment, a year parts with 90 days labor warranty).
Image/Video Quality

The 3.2-inch (16:9) Touch Panel SwivelScreen LCD widescreen is very convenient to configure the options of this camcorder and view clarity with resolution improved.

The Exmor R CMOS sensor is used to improve sensitivity and shoot in low-light conditions with better results and sports a fantastic stabilizer. However, the video quality is a science by itself, so the subjective results may vary.

Sony HDR-XR500V uses the premium G Lens, instead of Carl Zeiss to produce crisper images, especially close up.

x.v.Color technology keeps colors true to life, more realistic, natural-looking footage when viewed on the x.v.Color supported TV.

Face Detection can recognize up to eight faces per frame. It can also adjust the exposure, focus, and color to capture the subjects clearly.

Built-in Optical Image Stabilization is used to keep the picture steady.

To get more natural looking smiles, the camcorder uses Smile Shutter to captures still images automatically when the subject smiles.

With built-in Sorting features, you can preview the beginning of each scene, or to find scenes easily based on which faces appear in them.

Audio Quality
The camcorder uses Dolby Digital 5.1-channel audio recording to add spacious sound to your home movies theaters.
Microphone
The 3.5mm minijack microphone input is used to add an external microphone for advanced audio recording.
Headphone
The 3.5mm minijack headphone output is used to connect an external pair of headphones for listening the audio/video playback.
Storage Devices
Built-in 120 GB Hard Disk Drive (HDD)
With built-in 120 GB hard disk drive (HDD), Sony HDR-XR500V can record and store up to 48 hours of high definition video footage (HD LP mode) at maximum quality or up to 91 hours of standard definition (SD LP mode). If you need more space, you can use a removable Memory Stick PRO Duo.

The hard drive needs replacement in 3-5 years, so you can get the extended warranty from the seller.

For about 360s HD videos (recording time is from few seconds to few minutes) and about 1000s highest quality pictures, it takes a half HD capacity.
Memory Card
Turn the camcorder on first to get the memory card out.
Battery Life

The camcorder comes with the rechargeable InfoLithium battery (NP-FH60) that has about 90 minutes (High Definition) or 110/115 minutes (Standard Definition) of continuous recording time.

Cold temperatures will reduce battery life.

The charging time is about 135 minutes.

You can also use NP-FH50, NP-FH70 or NP-FH100 battery as an optional.

The battery uses AC-L200C AC adapter with attached 5.5' cord (DC output: 8.4V/1.7A).

When using the LCD screen or in the viewfinder, the battery display will let you know such as how much the battery is charged, the recordable time left, and when the camcorder is turned off.
GPS Feature
With the built-i

n GPS receiver, you can view your current position on the map or just tag your videos with your position, and go back later to the map index and sort videos by location.

The maps show only the city names. If a region cannot be shown, you can't update the map information.

When you cross time zones, the built-in GPS receiver will automatically adjust the camcorder's clock.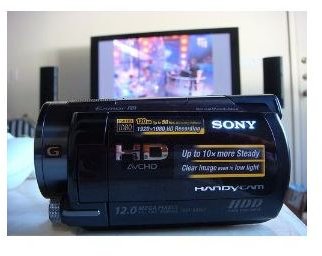 Music Transfer Software
You can transfer music files (MP3 or audio CDs) from your computer to the camcorder for Highlight Digest Playback using the supplied Music Transfer software.
Highlight Playback
The Highlight Playback with component cables is at 1080i and the remote functionality is good enough. It creates a short movie with transitions and music in a short time, no manual editing required.
Picture Motion Browser (PMB) Software (Windows Only)
The PMB software accompanying the camcorder is useful to create an AVHCD format disc/DVD-video, copy a disc, import and edit images, publish online your images/video to YouTube or any video sharing website.
HDTV Compatible
You can watch your videos on any HDTV compatible by connecting Sony HDR-XR500V using the cable that comes with camcorder as well as on the computer, play around with their Sony Playstation 3 that can reproduce the AVCHD streams.