Sony DSC-WX5 3D Camera-Capture Life
Introduction
Sony has recently launched its new digital camera model: the Sony DSC-WX5 Cyber-Shot. It is a12.2-mega pixel digital camera having an optical zoom of 5x along with 2.8-inches LCD. The screen is black in color. This camera is ideal for photographers who are always looking for a perfect shot. It has exclusive features including focus, contrast and backlight adjustment etc. A 4GB accessories kit is an additional feature that attracts every eye.
Features and Specifications (5 out of 5)
The Sony Cybershot DSC-WX5 digital camera has 3D technology that provides you with an exciting feature of taking panoramic photographs in a single press. Its 12.2 MP digital camera and 4x (25-100mm) wide-angle zoom lens provides you excellent quality pictures. CMOS sensor technology has been used in it. Additional features include 1920 x 1080 Full HD AVCHD and recording in MP4 format. This camera stabilizes the image by its Optical Steady Shot feature. It has a 2.8 inches touch LCD. Having a 5x 24-120mm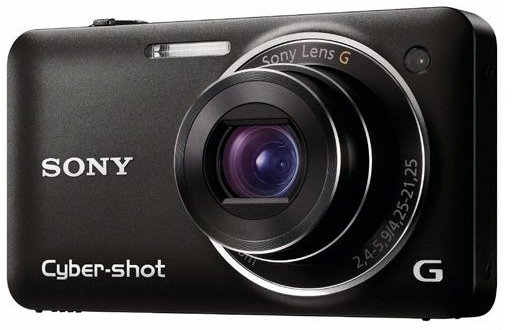 professional Song wide angle G lens, makes it even more attractive.1080i AVCHD helps out for high quality HD movies. The depth of field control is simulated by Background defocus. In this camera, Superior Auto modes and 10fps burst shooting specifications are also added. The Motion Detection feature automatically suppresses blurry images. Adding an additional memory stick can also enhance storage capacity.
Design (3 out of 5)
The Sony WX5 is much smaller in size. The camera's two-tone body, the black or silver front and the back are black in color. Its light in weight. There is a wide screen at the front section of the camera. There is no grip on the camera but you can easily hold it in your hands. It has a set of special buttons. On the upper side of the camera there is a small power button. At the right corner, there is a big power button with a zoom lever having a nice light touch. The zoom lever is pretty smooth.
If you go more towards the right, there are special buttons having special functions. One of them is the burst button that is for shooting styles. This is made for the burst mode. To disclose the HDMI connector, there is a large flip opening at the right side of the Sony WX5. At the bottom of the camera, you will find a flip opening for the USB, battery and memory card.
On the backside of the camera with the LCD, it has four buttons and two large dials. It also has a movie button at the top of the control panel. Beneath the mode dial, there are several settings for Auto Program, Background Defocus, Scene Selection, Movie Mode, Intelligent Auto, Superior Auto, iSweep Panorama, and 3D Shoots. At the left side of the mode dial, the Playback button is located. It has four-way navigation keys along with an OK button are placed in the middle. Menu button is under the navigator to the left side and delete button is located at the right side of the camera.
Price to Value
The price quoted for this beautiful handy Sony DSCWX5 Cyber-shot 3D is $299 and it has different colors including black and silver. This is surely one of the best choices for people who want to capture life.
Image Source:
Hothardware.com